WesternU joins global effort to vaccinate the public against COVID-19
October 12, 2021
Read 3 mins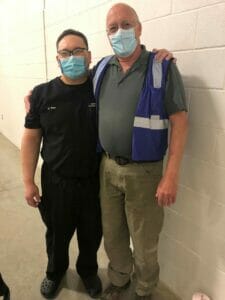 Western University of Health Sciences has administered hundreds of COVID-19 vaccines to patients at WesternU Health Oliver Station in Portland, Oregon. WesternU Health Oliver Station has also provided vaccines to WesternU students, faculty and staff.
College of Osteopathic Medicine of the Pacific-Northwest Vice Dean John T. Pham, DO, has trained more than 120 first- and second-year COMP-Northwest students to assist vaccination efforts in the Linn County community, and those students have helped administer thousands of vaccines.
In Pomona, California, the WesternU Health Vaccine Clinic joined the global effort to vaccinate the public against COVID-19 beginning Feb. 11, 2021. Western University of Health Sciences is designated a Los Angeles County community health care partner providing COVID-19 vaccines in accordance with COVID-19 Vaccine Distribution Guidelines.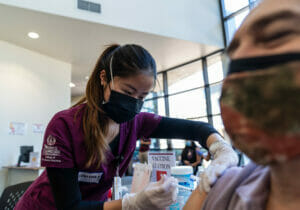 The WesternU Health Vaccine Clinic has administered more than 33,000 vaccinations to date. This required a massive volunteer effort from WesternU faculty, staff and students. More than 1,000 volunteers put in more than 10,000 volunteer hours to help the clinic operate smoothly. At its peak, the clinic administered 1,170 doses in a day and 3,000 in a week.
WesternU also partnered with the Pomona Unified School District to administer more than 1,500 doses at Garey and Ganesha high schools and collaborated with Cal Poly Pomona and Brown Memorial Temple for vaccination events.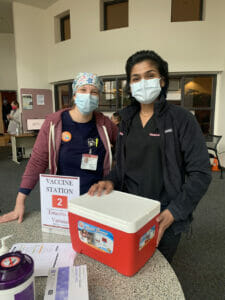 Leading the efforts are WesternU Health Vaccine Clinic Co-directors Preeti Kotha, PharmD, and Stephanie White, DO. Many faculty, staff and students also volunteered at community vaccination hubs throughout Southern California. Through these efforts, WesternU is helping to keep the community safe and providing hope for a better future.
WesternU's vaccine efforts were covered extensively in the media:
Dr. Kotha and Dr. White talk about their vaccine efforts and their pandemic experiences as working moms with The Ridgefield Moms Network in a lengthy and engaging interview.
Drs. Kotha and White talk about the vaccine clinic in this video interview with "Behind the Science with Gina Mauro."
HealthDay News interviewed WesternU faculty and students and wrote about the WesternU Health Vaccine Clinic in April.
Dr. White is featured in this Los Angeles Times story on "COVID-19 vaccine envy." The article also features photos taken in the WesternU Health Vaccine Clinic.
And one of those WesternU Health Vaccine Clinic photos appears in this Los Angeles Times story.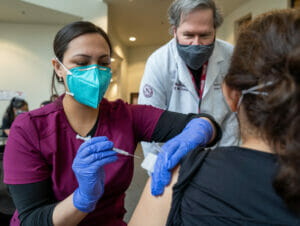 The American Pharmacists Association (APhA) has a nice write-up about College of Pharmacy Associate Professor Micah Hata, PharmD '07, of his time as pharmacist in charge of COVID-19 vaccine management at the mass vaccination clinic at Disneyland.
WesternU stories on vaccination efforts:
WesternU administrators and volunteers ensure those who come to the clinic receive compassionate, personal attention.
WesternU is providing interprofessional training to students to administer vaccinations.
WesternU faculty, students and staff also volunteered at vaccine sites throughout Southern California.
Categories: