WesternU students, faculty and staff volunteer at Care Harbor mega clinic
March 9, 2022
Read 4 mins
After a temporary shutdown due to the COVID-19 pandemic, Care Harbor Los Angeles returned to provide services to those who cannot afford health care. Western University of Health Sciences once again played an important role in care coordination and serving as volunteers.
The Care Harbor mega clinic ran at the Reef in downtown Los Angeles March 4-6, 2022, providing free care to hundreds of local residents. WesternU faculty, staff, students, and alumni from multiple colleges volunteered their time throughout the weekend.
"Giving back is one of the main reasons why we joined this field," said third-year College of Optometry student Tina Isagholian, who volunteered on Friday, March 4. "To be able to help so many people in just one day is something we all look forward to. It means a lot to us to make a difference in someone's life."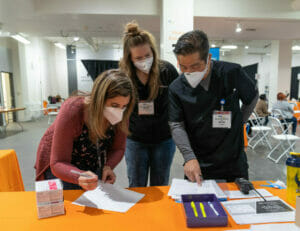 The College of Optometry coordinated the Care Harbor vision section along with the UCLA Stein Eye Institute, which handled ocular health concerns. This was the first Care Harbor clinic since the beginning of the COVID-19 pandemic.
"Especially during these times with access to care being a challenge for these individuals, I think these types of events are extremely critical, and so I'm very glad that we are able to put this on with Care Harbor," said College of Optometry Associate Dean of Clinical Affairs Raymond Maeda, OD, FAAO. "I think it's important for our students to see how they can make an impact, so when they graduate they can participate in these types of events and continue this tradition that we've started here because this to me embodies what WesternU does."
During the first year of the pandemic, Care Harbor donated thousands of gloves, masks, and gowns to frontline workers when there was a shortage of PPE, said Care Harbor CEO Donald Manelli. They have redesigned the clinic with more spacing between dental chairs and optometric exam lanes. Pre-pandemic, Care Harbor would typically help about 800 to 1,000 people per day, but this new iteration was expected to bring in about 500 per day, Manelli said.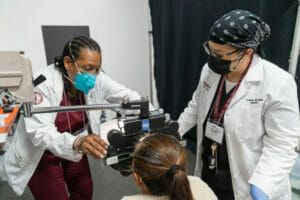 "Because the need hasn't gone away, we haven't gone away," he said. "When you do it this way, things are spaced out more and you're going to see fewer patients, but you're going to meet probably a greater need than ever."
COVID-19 not only impacted health, people lost their jobs and their insurance.
"So the population that we serve is in even greater need than they were before," Manelli said. "Our goal now is to try and do more of these. They might be smaller events like this one, but we really want to do effective outreach in the community. What we're providing is desperately needed."
WesternU College of Podiatric Medicine (CPM) Assistant Professor Rebecca Moellmer, DPM, FACFAS, FAAPSM, organized a full slate of CPM students to volunteer throughout the weekend. The College will also be volunteering at multiple community outreach events in April.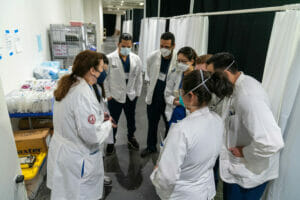 "We hope they gain confidence knowing they have been trained to do this and that they are making a difference," Moellmer said.
Third-year CPM student Shylla Taqi said volunteering at Care Harbor will help her communicate better with patients from different backgrounds and socioeconomic conditions.
"You can be knowledgeable and very bright, but if you don't know how to talk to someone who you don't usually deal with, it does affect the patient's care," she said. "You will see patients who need care at that moment, and you need to get to know them just as much as a regular patient. By talking with them and maybe educating them, you can help them make educated decisions about their health needs."
WesternU College of Dental Medicine (CDM) students volunteered alongside pre-dental students and UCLA dental students.
"It's nice to come to something like this where you can see other people who are at the same point in their career and talk to them about their experiences – what they've enjoyed, what they haven't, what they learned throughout the process," said fourth-year CDM student Caleb Parry.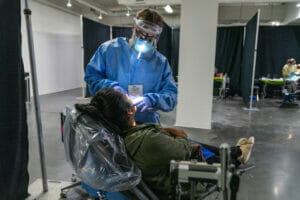 The CDM curriculum emphasizes community service, he said.
"It's pretty much instilled in us on a daily basis to try to do what we can to serve people who don't have the opportunity to provide care for themselves or can't afford it or don't have transportation," Parry said. "We're always trying to become better practitioners, so any opportunity we have to improve our skills and our patient interaction, we try to jump on it as soon as we can. If we're also helping people in the process that's the most beneficial thing that could happen."