WesternU College of Pharmacy professor earns accolades, grant funding for Symba Center
April 23, 2023
Read 1 mins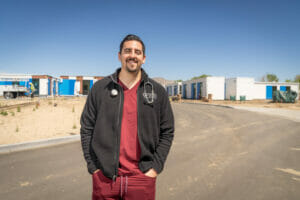 Western University of Health Sciences College of Pharmacy (COP) Assistant Professor Shawn Smith, PharmD, co-founded Symba Center, a nonprofit, faith-based free clinic in Victorville, California, to provide primary health care services to those who are low-income, uninsured or homeless.
Symba Center's community impact is evident in the multiple funding awards it has received, most recently from Duke University and the California Department of Public Health. In addition, Dr. Smith will receive the California Pharmacists Association (CPhA) Excellence in Innovation Award at the Western Pharmacy Exchange in Las Vegas on April 29, 2023. Dr. Smith was nominated by COP faculty and students, led by COP Associate Professor Micah Hata, PharmD '07, for his work on Symba Center.
"I'm thankful the nominators recognized my achievements and independently said we want to nominate you for this," Smith said. "It's cool to see your vision being realized."
Dr. Smith expresses a passion for implementing innovative solutions that make a significant impact by providing essential health care services to underserved homeless patients, improving individual and population health of the community he serves, said COP Department of Pharmacy Practice and Administration Chair and Professor Cynthia Jackevicius, BScPhm, PharmD, MSc, APh, BCPS, BCCP, FCSHP, FAHA, FCCP, FCCS, FACC.
"Although others may wish to assist underserved communities, Dr. Smith takes action in his humanistic approach to caring for the homeless population and their needs, a population with which very few pharmacists have become involved," Dr. Jackevicius said. "Dr. Smith's program is innovative in that he also involved many APPE (Advanced Pharmacy Practice Experience) rotation students to not only help provide the clinical services but to also assist with the development of the clinical programs for low income, uninsured, and homeless individuals. This gave student pharmacists a unique experience in developing innovative models of health care delivery in an area of need in the community so that they will be able to use their knowledge from their rotation and, in turn, create novel clinics in other underserved areas, furthering the impact of his innovation."
For his efforts, Dr. Smith was named COP's 2023 Preceptor of the Year.
Fourth-year COP student Gennesi Mendez, who is from Victorville, spent her six-week APPE rotation at Symba Center. She loved the rotation and recently returned for her four-month advanced elective.
"I love the work we do. I feel like the patients really appreciate it," Mendez said. "I feel more rewarded helping my own community because I know this community needs more help and there is a lot more to serve. I always hear about people who are underserved and have nowhere to go so it's nice to be in a place I can refer them to."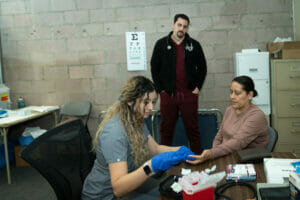 Martha Santos, 49, said she has been coming to Symba Center for about three years because she does not have insurance. Dr. Smith is helping her manage diabetes.
"He's an excellent doctor who has helped me control my diabetes. If I need other resources like therapy, they refer me to therapy too," Santos said. "He provides excellent care and is a great listener and cares about your health. This was a lifesaving experience for me because when I came to him, I was also depressed, and he and his team helped me a lot."
Dr. Smith and Dr. Bowtie Brian founded Symba Center in Victorville, California with the intention of establishing a free and charitable clinic and to get providers on board to volunteer in this HRSA-designated health provider shortage area. Then the pandemic hit, and Symba Center became a frontline provider to Victorville's homeless community.
Symba Center provided COVID compliance – testing, education for staff, developing policies and procedures for sanitation and intake procedures, and managing outbreaks – while also serving as a vital clinical rotation site for COP students at a time when many clinical rotations were being canceled due to the pandemic.
"It was a constant, ever-evolving process with the city and we ended up working with four or five shelter agencies, all with different capacities. Some had 80 people living in one space. Another had four people living in a home," Smith said. "There were a lot of different considerations to manage."
Recent funding will allow Symba Center to continue this important work: a $55,000 award from Duke University's The RADx-UP CDCC Community Collaboration Mini-Grant Program and a $348,000 award from the California Department of Public Health. CDPH partnered with Physicians for a Healthy California and Center for Care Innovations to expand access to COVID-19 therapeutics to communities disproportionately impacted by the COVID-19 pandemic.
If a patient tests positive for COVID-19, Symba Center will evaluate the patient within 48 hours and provide treatment if necessary. Anyone can request an appointment to be seen via phone, Facetime, Zoom or in person. People experiencing homelessness often have chronic conditions that put them at risk of severe complications from COVID-19, so treatment options are important.
"Their living situations and chronic conditions put them at high risk," Smith said. "All of those things contribute to why it is important to treat the population. It's not just important individually. COVID is challenging for those folks."
When he joined WesternU in September 2019, Dr. Smith shared his vision for innovation in pharmacy practice with COP leadership and received immediate support. He advocated for pharmacists to have a more advanced role in health provider shortage areas and believes that more pharmacists need to be practicing at the top of their license, managing health disease states.
"It would have been challenging to do what we wanted to do at most institutions," Smith said. "The support that my department chair and dean gave me at the time was incredible – they thought it would be great for the profession and great for students. They supported the vision and goals I had, even though they had never been asked by faculty to start their own practice site. This was new territory for us. But they believed in me and trusted in my ability. I don't think you can ask more from an institution. That's what you want as a new faculty member, for your crazy ideas to be supported."
Growing the seeds of this "crazy idea" into the blossoming Symba Center has roots in Smith's childhood. He grew up watching his grandfather, a church elder, touching lives through service. His grandfather would visit parishioners in the hospital or at their home if they couldn't make it to church.
"As I was pursuing my education, I saw the value in service and the experience people have when they're humanized and given dignity," Smith said. "I realized the area where I could have the greatest impact is in serving people who have the most need."
Service is the highest good, especially service that doesn't have any return, Smith said.
"You are giving something to people they can never give back to you," he said. "That is humbling and constantly reminds you of how as you humanize other people, you begin to see the humanity inside yourself."