The WesternU Health Vaccine Clinic is protecting thousands of people against COVID-19 while earning high praise and providing "peace of mind" for those who walk through the doors.
WesternU Health is a designated Los Angeles County community health care partner providing COVID-19 vaccines. The clinic, on Western University of Health Sciences' Pomona, California campus, is currently administering the Pfizer-BioNTech COVID-19 vaccine. Appointments are made through the Los Angeles County Department of Public Health website. WesternU administrators and volunteers ensure those who come to the clinic receive compassionate, personal attention.
"I am so proud of our amazing team at WesternU Health. We are part a wonderful tradition of caring, teaching and healing that was set forth by our University from its inception. In a time where empathy, kindness and a warm smile can go so far, we embody how collaboration and caring can make all the difference," said WesternU Associate Provost for Clinical Affairs Robert Warren, DO. "It is a heartwarming joy to experience our clinic and University working together to meet the needs of the community and to help end the pandemic. I believe that every person has an amazing story and amazing potential. It is such a thrill to be a part of everyone's story of health and wellness."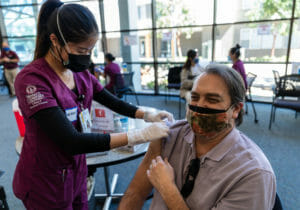 Los Angeles resident Bill Weinman received his vaccine at the clinic on March 4, 2021.
"The people here are the nicest people I have ever met," he said. "From check in to check out, everybody is so wonderful and so nice and engaging and I can't say enough about this place."
Weinman decided to make the 45-minute drive to Pomona because he didn't want to go to one of the mega-POD vaccine sites like Dodger Stadium.
"It was definitely worth the drive," he said. "I'm glad WesternU is out here and doing this. It's really wonderful."
Weinman is a producer and also a frontline worker for Angel Flight West. He drives cancer patients from Santa Monica Airport to Los Angeles-area hospitals.
"I will get to drive patients to treatments," he said. "That's what I really wanted to be doing. I had stopped, but now I can get back into it. Once I became eligible (for the vaccine), I wanted to do this to have peace of mind."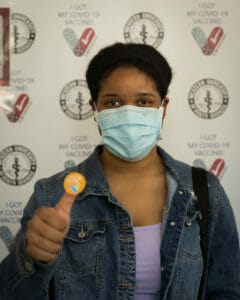 WesternU College of Veterinary Medicine student Alexis Allen recently received her second dose of the vaccine.
"I think the experience is very easy, very quick and very efficient," she said. "I feel the volunteers are doing a really good job. The vaccine administrators are very friendly and very informative. They let you know what to expect."
Allen is also earning a master's degree in public health, so she knows the vital role veterinarians play in battling the pandemic.
"A lot of times these diseases do originate in animals, become zoonotic and spread," she said. "Veterinarians play an important role in identifying these things early and working with human health care professionals to see how to prevent it or slow it down. Really, One Health is the perfect term. We are all part of one health system."
Rancho Cucamonga resident Andre White received his first dose from the WesternU Health clinic and found the experience very easy and painless.
"I think it's the right thing to do," he said. "The more people that get vaccinated, the better off we will be moving forward."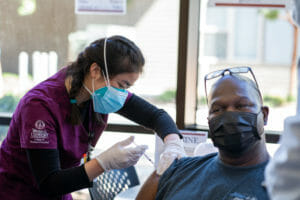 Once he is fully vaccinated, he will continue to wear a mask and act responsibly.
"I will not change what I do and how I do it. It gives me peace of mind that I have been vaccinated," White said. "I'll still wash my hands and wear my mask. This is not a ticket to do stupid, wild stuff."
WesternU Health Pharmacy Services and Operations Director Preeti Kotha, PharmD, said she believes in Albert Einstein's quote, "Only a life lived in the service of others is a life well lived."
"It has been amazing how WesternU has collaborated in this community effort to bring health and happiness to all," she said.