WesternU students learn to administer COVID-19 vaccinations from a nursing professor
To combat the COVID-19 pandemic, the U.S. Department of Health and Human Services (HHS) expanded the list of health professions students who can administer vaccines. Western University of Health Sciences is providing interprofessional training across its colleges to prepare more students across disciplines to help in vaccination efforts.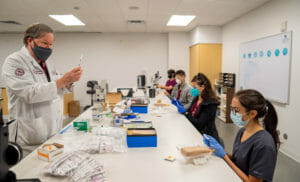 WesternU College of Graduate Nursing Professor and Associate Dean of Administration and Research Rodney Hicks, PhD, APRN, FAANP, FAAN has been teaching workshops to a small number of students since December 17, 2020. He started teaching the workshop after College of Optometry (CO) Assistant Dean of Clinical Affairs Loretta Ng, OD, FAAO, saw that restrictions for health care students from across many disciplines would eventually be eased, allowing them to administer vaccines.
CO Associate Professor Bennett McAllister, OD, FAAO, helps facilitate these twice-a-week Interprofessional Education vaccination training workshops.
"My role is to teach safe injection techniques to our health profession students so that they can work in our WesternU Health Vaccine Clinic and be safe providers," Dr. Hicks said.
On March 11, 2021, the acting secretary of the HHS issued the seventh amendment to a declaration under the Public Readiness and Emergency Preparedness Act for Medical Countermeasures Against COVID-19. The declaration stated, "designated categories of students in a health care profession training program to administer COVID-19 vaccines, including any medical, nursing, pharmacist, midwife, physician assistant, respiratory care practitioner, dentist, podiatry, optometry, and veterinarian students, subject to specified conditions."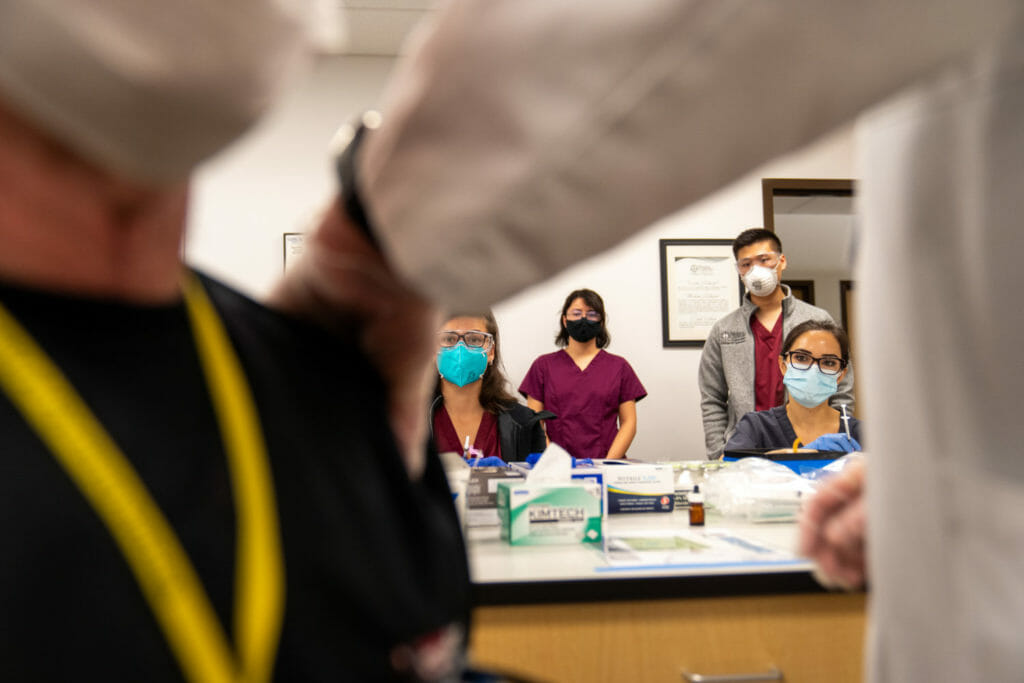 Hicks has taught students from the colleges of osteopathic medicine (COMP), podiatric medicine, pharmacy, dental medicine and optometry. Most of the students have been attending a one-hour workshop in a classroom in the Health Education Center but some learn while volunteering at the vaccine clinic.
Before taking the workshop, students are required to be certified in CPR. Students must also take a series of CDC modules to learn about all the vaccines and pass a test on that information.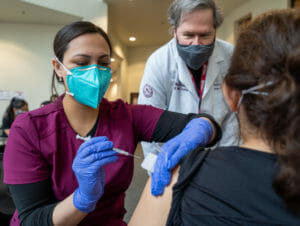 Third-year College of Optometry student Arianna Green was in one of Dr. Hicks' recent workshops and was able to administer her first vaccine at the WesternU Health Vaccine Clinic.
Green said learning to vaccinate was personal for her because she is getting the opportunity to help others and participate in their care during this time.
"I felt like it was groundbreaking as a student optometrist, not just administering vaccinations in general, but participating in helping others during such an unprecedented situation like COVID-19," Green said, "It's wonderful that optometrists and student optometrists have a broadened scope of practice where we can administer vaccinations, and definitely during a global pandemic is the time to be able to have more professions come together and provide this kind of care."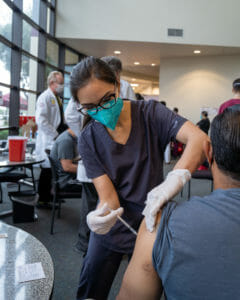 Third-year College of Dental Medicine student Chelsea Director attended a recent workshop with four College of Optometry students. Afterward, she and the other students walked a short distance down the Esplanade on the campus in Pomona to the vaccine clinic before it opened to the public. Hicks gave them a quick tour and got them settled at tables where they would administer their first vaccine and many more throughout the day.
Director said it's convenient having everything available on campus and appreciates the College of Graduate Nursing program for teaching her and other students to administer vaccines.
"It's important that we train all students in the health professions to be vaccinators," Director said.
Hicks said, as of April 25, that about 28.8% of the eligible population in California was fully vaccinated and about 29% of the eligible population nationwide are fully vaccinated.
"The pandemic requires a massive workforce," he said. "We do not have enough health care providers today to vaccinate the whole nation so we're calling upon our students in the health professions to join the ranks of the licensed providers and be on the frontline of giving vaccines."