WesternU students, faculty volunteer for COVID-19 vaccine distribution
April 16, 2021
Read 6 mins
The WesternU Health Vaccine Clinic is now in full swing, but this is not the only way Western University of Health Sciences faculty and students are helping to vaccinate the community. Several WesternU faculty and students are volunteering at vaccination sites throughout Southern California.
College of Pharmacy (COP) Associate Professor Micah Hata, PharmD '07, has been volunteering at the Anaheim Super POD (point of dispensing) at Disneyland since it opened in January, serving as the pharmacist in charge of vaccine management. He managed the inventory, accounted for all the doses and any waste, ensured proper temperature to maintain the viability of the vaccines and made sure the vaccines were used within an appropriate timeframe.
A single POD has six to eight vaccination stations. Disneyland has six PODs, so 36 to 40 vaccination stations. Hata said he offered to help because he enjoys community service, and he wants to get as many people vaccinated as possible.
"The more people we can get vaccinated, the faster we can get to the other tiers and get other people vaccinated," Hata said. "The more people vaccinated, the faster we can get back to somewhat of a normal life."
COP students also volunteered at the Disneyland super POD. Many of the health fairs they would normally volunteer at have been canceled due to COVID-19, so this gives them important hands-on vaccine training while providing a community service, Hata said.
"They are also seeing the other side of it – how do you manage a mass vaccination site in a time of pandemic, seeing how these things come together from the ground up," Hata said. "How different community partners come together to put this together – the fire department, law enforcement, people from the county, contracted health care providers coming together."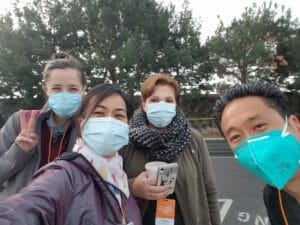 COP alumna Giang Nguyen, PharmD '01, recently volunteered as a WesternU preceptor at the Disneyland clinic. Hata then trained her to serve as the pharmacy lead. He returned in the morning to help her orient the crew, take inventory and check the vaccines, and again in the evening to help her close.
"His dedication to our community was beyond anyone I have ever worked with. I observed all the firefighters, volunteers and county workers following his lead, taking his orders, and consulting him," Nguyen said. "They respected him and seemed to idolize him at the same time. Meanwhile, Dr. Micah never complained and never put anyone down. He remained patient, efficient, firm, and humble–a true example of servant leader. I was so proud that Dr. Micah is a WesternU professor and is my colleague.  I was grateful to be working alongside him, learning from him."
Dr. Hata has also been instrumental in the opening, management of vaccines, and training of personnel at two additional Super PODS, the Anaheim Convention Center and Orange County Fairgrounds.  As of April 11, 2021, just over 2 million vaccines have been administered in Orange County, according to the California Immunization Registry. Hata estimated that he has handled about 300,000 doses at the three Super PODS.
College of Graduate Nursing Associate Professor Wendi M. Swanson, DNP, RN, FNP-C, NC-BC, DipACLM, has volunteered at Disneyland and Fairplex in Pomona, working with WesternU colleagues from the College of Pharmacy, the College of Osteopathic Medicine of the Pacific, the College of Dental Medicine and the College of Health Sciences.
"I wanted to volunteer to help with the COVID effort. It's certainly a medical response, and with the skills I have, I can help," Swanson said. "It felt wonderful to help. It's a really nice atmosphere, everyone there to help. There is a feeling of 'let's do this,' and a lot of positivity that is nice to be around."
The vaccine clinics match perfectly with the skills CGN is teaching and the profession the students are entering. CGN faculty and students also volunteered at vaccine clinics in San Bernardino County.
"It's what we do and a great opportunity. There is so much to learn from it," Swanson said. "I don't think I have participated in anything this large that will be going on for this amount of time. It will help us gain control of the pandemic and this is really our only way."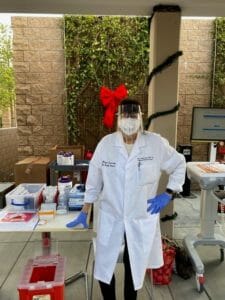 CGN Professor Diana Lithgow, PhD, DNP, RN, FNP-BC, FAANP, has volunteered at multiple sites, including Pomona Valley Hospital Medical Center, Fairplex and Disneyland.
There are so many new volunteers each day, on the second day at Disneyland she became a supervisor, Lithgow said.
One person was getting impatient waiting in line. Lithgow walked up to him and told him, "Isn't this exciting? This is an historic moment. He said, "I haven't seen my grandchildren in nine months. I want this vaccine. I want to be with my grandchildren."
Some people are fearful of the vaccine because they have heard so much disinformation.
"They're afraid of shots," said Lithgow, who has received the vaccine. "I told them, 'Look at me. I am OK. You're fine.' I show them my WesternU white coat (which lists her doctorates). I'm a scientist, too, and we have the best data that is saying it is safe."
WesternU Health Chief Medical Officer Stephanie White, DO, FAAFP, is coordinating WesternU's vaccine efforts on the Pomona campus and has also volunteered at Fairplex.
"I consider service to be a fundamental component of my oath and my commitment to this community. I have also spent many hours in the last year feeling hopeless and powerless to make any meaningful impact on the lives of the patients and the health care workers I care for," White said. "There is profound joy and catharsis in finally being able to prevent illness and loss of life. Every vaccine feels like a victory. Every vaccine feels like a love letter to my friends working in emergency rooms, intensive care units and outdoor triage centers."
This vaccination effort is our best chance to save lives, prevent long-term chronic health issues and to get our kids back to school. Not only do we prevent illness, but we also prevent lost hours of productivity for our workforce, White said.
"Our health care workers, essential workers, teachers, and all those contributing to our economy need to be healthy to perform at their best," she said. "Vaccinations are one of the most powerful tools we have in our public health arsenal and this effort is the fight of our lives."
When she volunteered at Fairplex she helped several WesternU students get vaccinated, and she worked with WesternU faculty and alumni.
"I am never disappointed when I volunteer in our community. There are always other WesternU team members, and this was no different," White said. "A nurse practitioner, a dentist, a physician assistant and an osteopath all laughing, sharing stories, catching up on news of friends and looking out for patients. It's an honor to work here with so many professionals all rooted in the mission."