WesternU welcomes 1,000 new students to the health professions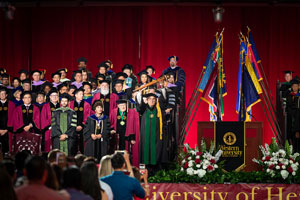 About 1,000 new Western University of Health Sciences students began their journey as health professionals at Convocation, the traditional opening of the academic year, Aug. 10, 2019 at Fairplex in Pomona, California.
WesternU President Daniel R. Wilson, MD, PhD, who presided over the ceremony, assured new students that they were each truly meant to be at WesternU.
"As we look to the future I want to remind everyone here that each of our new students will become a healer who treats one person at a time but who, in aggregate, will have in their hands the lives and wellness of thousands," Wilson said. "So, let me say to our students – always remember your gift to your patient is yourself – your hands, your mind, but most of all, your heart. Our hope is that after you have completed your education here at WesternU you will become ambassadors of the healing arts and of this University. I know you will go forth with skilled hands and compassionate hearts to help the world become a better place."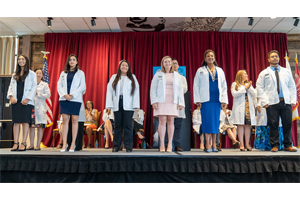 WesternU honored three faculty members at Convocation for their leadership, mentorship and service. College of Optometry Associate Professor Kierstyn Napier-Dovorany, OD, FAAO, received the Harriet K. and Philip Pumerantz Award for Leadership and Service. COMP Professor of Microbiology/Immunology Vishwanath Venketaraman, PhD, received the Provost's Distinguished Scholar Award. COMP-Northwest Assistant Dean of Academic Affairs and Professor of Physiology Colleen Talbot, PhD, received the Western University of Health Sciences Distinguished Teacher Award. Click here to read more about the faculty awards.
Following Convocation, each of WesternU's nine colleges held separate White Coat ceremonies, where members of the health care team welcome entering students to the professions by cloaking them with their first white coat.
"The event marks a very important occasion and calls attention to the individual's choice to become a health provider. Of equal importance, the ceremony brings into focus the true meaning of that choice, that we must cure but also care," College of Health Sciences (CHS) Assistant Dean Tina Meyer, DHSc, PA-C, said at the CHS White Coat Ceremony at Purpose Church in Pomona. "Students: Soon you will be cloaked with your first white coat. Wear it as a badge of pride signifying your choice to become a health professional. The white coat symbolizes professionalism, caring and your dedication to earn trust from your patients, your (fellow) students and the communities you serve. It is a powerful symbol of compassion and honor. We ask you to wear it well."
Donning the white coat for the first time means everything, said incoming CHS student Dylan Moinian, who is entering the Doctor of Physical Therapy Education program.
"It's just a symbol of the hard work each and every one of us put in to get to this point," he said.
College of Veterinary medicine White Coat Ceremony keynote speaker Glen F. Hoffsis, DVM, MS, DACVIM, urged the Class of 2023 to embrace and take advantage of the College's special educational format, which he said produces veterinarians who think quickly on their feet and work well with their peers.
"There are 30 accredited veterinary schools in the United States. Twenty-nine of those schools deliver their curriculum by a lecture format, in one way or another. One school does it completely different – and that's WesternU," said Hoffsis, who served as veterinary dean at The Ohio State University and the University of Florida, and was founding dean of the Lincoln Memorial University College of Veterinary Medicine. "You're privileged to learn in a Problem-Based Learning curriculum … Instead of having a professor that delivers information, spoon feeds you, what will happen is this professor is a facilitator of you searching out your own information based upon a problem that's given. You will be digging this out, accessing the information yourself. That's a very different process."
Hoffsis also encouraged CVM's 108 newest students to keep their minds and eyes open about how best to use their skills when their training is complete, and to stay flexible about their career paths. In addition to private practices, public health agencies, the government, the military, and pet care companies all need veterinarians, and domestic pet ownership is at a historic high in the United States, with 65% percent of U.S. households caring for 120 million pets.
"We've now reached the point where there are more households in the United States with pets than with children," Hoffsis said. "It's going crazy. We are in the most robust veterinary market I have ever seen in my life. Jobs abound. It seems like right now we have an unlimited capacity, and with the forward momentum of this economy and with demographics that are going on, it almost certainly is still going to be there when you graduate.
"So, while you're going through your education, be broad-minded about what all the prospects are, and explore everything, because something that you're not thinking about now might pop up that is just ready-made for you."
Karina Hallam of Laguna Beach, California, who graduated with biology and chemistry degrees from Oregon State University, said she was drawn to WesternU CVM precisely because of something Hoffsis emphasized. "I was really inspired by the Problem-Based Learning. I have a lot of clinical experience, so I thought it would make learning a lot easier because it was going to be so relatable to the experience I was coming in with."
With a laugh, Hallam also described Orientation Week as "exhausting," though the College white coat ceremony was essential. "It's such a big deal. I think it's an even bigger deal than graduation, because we've all worked so hard to get here. It's a very symbolic moment, I think, for all of us. I'm so excited. I can't wait to start learning."
First-year College of Pharmacy student Noah Vannarat said he is ready to start this new phase of his life. He was drawn to WesternU because of its emphasis on interprofessional education, where students from different disciplines learn how to work as a cohesive health care team.
"I'm particularly interested in the interprofessional experience since a whole bunch of different schools and departments are able to work with each other, which simulates what we are going to do in the future," he said.
First-year College of Podiatric Medicine student Alexander Carrillo-Kashani and first-year College of Dental Medicine student Raees Golwalla attended UC Riverside together and met up at the President's Ice Cream social.
"I chose WesternU because I've always heard the class is like a family. They work together instead of being competitive," Golwalla said. "That's the kind of environment I want to be in."
Convocation marks the end of Welcome Week, where students learn about their programs, get to know their classmates and faculty, and explore the campus and community.
"It's been really fun. I feel like it has been easy to click with people and find friends," said first-year College of Osteopathic Medicine of the Pacific (COMP) student Lauren Truong. "The staff were all very enthusiastic and helpful and we're all excited to start next week."
She chose WesternU because she knows a lot of students who came here, not just COMP but other programs including pharmacy and veterinary medicine. She was looking forward to the White Coat ceremony.
"I think it will feel pretty unifying knowing I'm doing it with my classmates at the same time," Truong said. "It makes me feel like I'm part of the school and its traditions. Now I'm part of something bigger."
The WesternU-Oregon campus held its Convocation and White Coat Ceremony on Friday, Aug. 2, 2019 in Lebanon, Oregon. Click here to read more and to view a slideshow: https://news.westernu.edu/ninth-class-of-medical-students-begins-journey-at-westernu-comp-northwest/