WesternU osteopathic medical students celebrate Match Day
March 30, 2021
Read 6 mins
Western University of Health Sciences College of Osteopathic Medicine of the Pacific and COMP-Northwest students in Pomona, California and Lebanon, Oregon have endured disruption, stress and a pandemic. But their grit and determination led them to a pivotal moment in their medical careers – matching into a residency.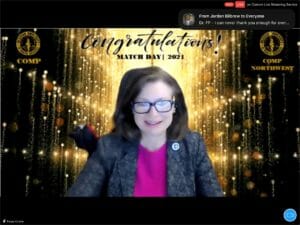 Prior to learning where they would go for their residency, COMP and COMP-Northwest Dean Paula M. Crone, DO '92, offered a toast in honor of the Class of 2021 and provided inspirational words.
"I just want you to know you represent the best of all of us. You represent our hope for a better and healthier world," Crone said. "Remember, no matter where you end up going, whether it is your first choice or not, you are moving forward in your training and you will get the training you need to follow your dreams. You are also going where you will be needed the most. There has never been a time in modern medicine where a generation of physicians such as you have been needed more than right now."
Match Day is celebrated across the U.S. as fourth-year medical students learn which U.S. residency programs they will train in for the next three to seven years. The Match is hosted by the National Resident Matching Program (NRMP), through which medical students obtain residency positions in accredited training programs. The Match, held March 19, 2021, represents the culmination of students' undergraduate and medical school education, which in most cases means a minimum of eight years of study.
Students who secured residencies through the Urology Match (read more about two COMP and COMP-Northwest student doctors who made history in this match), SF Match, and Military Matches learned where they would be going prior to Match Day.
The COVID-19 pandemic disrupted the typical process where fourth-year rotations allow students to visit clinical sites where they could potentially apply for residencies. Typically, students select a specialty in their third year and then spend the first half of their fourth year completing rotations at residency sites in those specialties across the country, said COMP-Northwest Office of Career and Professional Development Director Elisabeth Guenther, MD, MPH, FAAP. They spend one to four weeks getting to know people, and a lot of programs use that information to decide whether a student would be a fit.
"Usually, our students tend to be very good clinical performers. In an audition rotation or a visiting elective, they do a good job demonstrating their clinical skills and knowledge to be an excellent candidate for residency," Guenther said. "Without audition rotations, they were really unable to showcase that part of their talent, especially for competitive specialties such as dermatology and anesthesiology. It's harder when they don't have that opportunity. Despite that, we did very well in the Match."
More than 98 percent of COMP students placed into residency programs, said COMP Assistant Dean for Graduate Medical Education Lisa Warren, DO '01. The caliber and diversity of where they will pursue their training is additionally impressive, she said. More than 54 percent – 116 students – will be pursuing primary care specialties including family medicine, internal medicine and pediatrics.
"This class had to sustain the most resilience because it was so disruptive for them," Warren said. "Opportunities that normally would have been available were not. They had to adapt on a day-by-day basis. They had to make adjustments personally, professionally, academically. So they really rose to that challenge."
This class was placed on lockdown in March 2020. They were pulled from rotations and lost clinical exposure at the end of their third year, said COMP Office of Career and Professional Development Director Marian Safaoui, MD.
"They were able to adapt and adjust to almost weekly changes being thrown at them. They need to be congratulated on their ability to handle all this, all the changes that COVID impacted.," Safaoui said. "Everything they thought the residency process would be was thrown out the window, but they were able to make the best of it. I'm 100 percent proud of them."
One hundred and five students from the COMP-Northwest Class of 2021 have placed in residency programs. Of those students, 44 matched into primary care. Eighteen COMP-Northwest students matched into residencies in Oregon and Washington.
"They just really showed support for each other and they were really an inspiring group to work with," Guenther said. "We are all very impressed with them. We are just very proud of them and excited for them. Anything after this will be easy."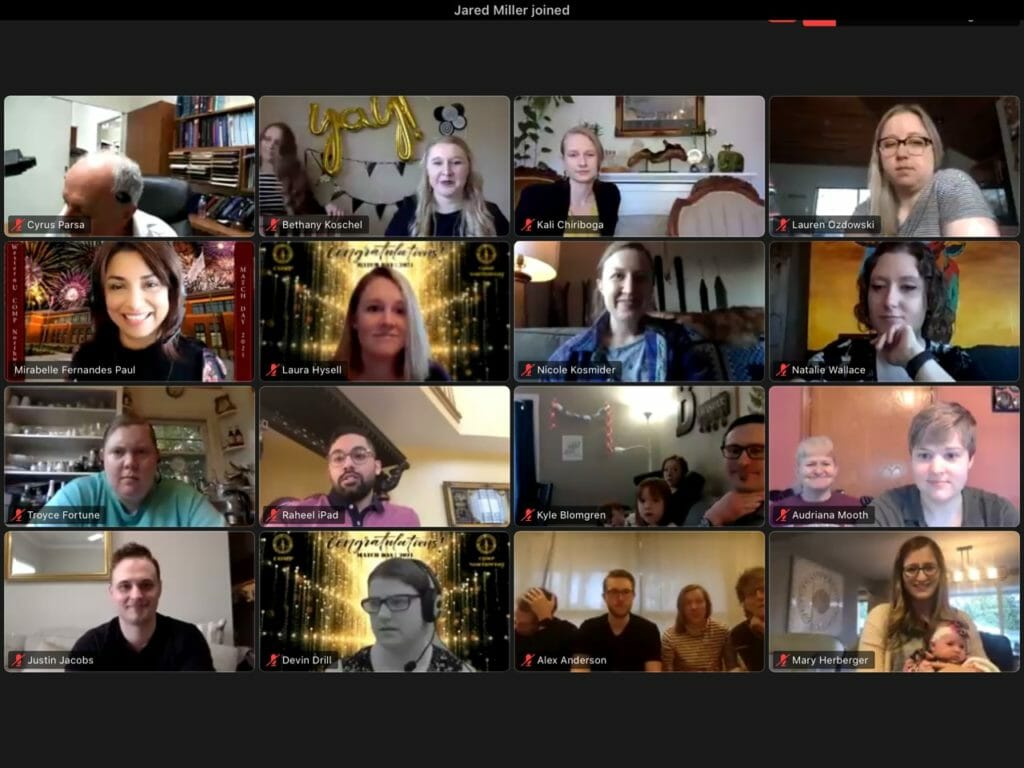 COMP students Edward Ng and Edie Waskel matched as a couple in the University of Illinois at Chicago Emergency Medicine Residency Program. They had not visited the residency site, but they have visited Chicago multiple times for national conferences because the American Osteopathic Association is headquartered there.
"There have been a lot of adapting to changes. Adapting to being placed on virtual rotations. Adapting to interviewing for jobs virtually," Ng said. "We are going to our residency sight unseen. It has been a big learning curve and adaptability test."
It has forced us as applicants to have a sense of self and a sense of grit, Waskel said.
"No matter what this year has thrown at us, we are graduating. Nothing can take that away from us," Waskel said. "We are entering into the medical field at what we hope is the tail end of the pandemic. We've gotten through this, and we will continue to get through this."
Applying for residencies was difficult for a lot of people, Ng said. It is difficult to gauge the way someone interacts in a social setting through a screen. Not until you meet a person can you figure out who they are as a human being.
"It was important for us to be genuine, to be ourselves. For us, our thought process was the programs who like us will like us, and the programs who won't like us, won't like us and we are not a fit," Ng said. "Being myself, naturally trying to find that fit, which worked out."
"It goes back to knowing yourself and knowing what you want to get across in the interview," Waskel said. "It's more important to really get your points across and show who you are and what your passions will be in residency because you have such limited time."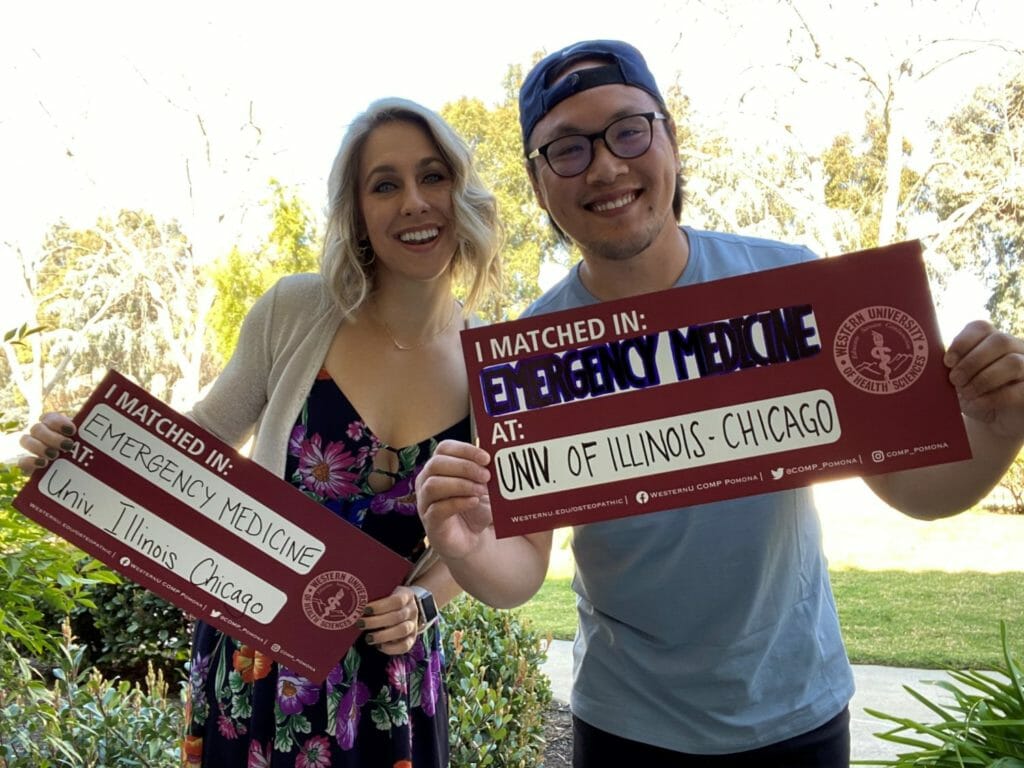 Fourth-year COMP-Northwest student Kali Chiriboga, who matched into an internal medicine/pediatrics residency at the University of Cincinnati Medical Center, told her classmates they have changed so much from when they started their journey in medicine.
"As noted, some of our families have grown in partnerships, marriages and little additions, but I also want to recognize some of our families have lost precious members during this journey too," she said. "Some of us have moved, traveled, we've worked across the country. We've been separated, we've been challenged and devastated and pushed farther than we could have ever imagined when we started this journey four years ago.
The Class of 2021 also continued their education amid a global pandemic, civil unrest and national calls for justice, and an insurrection at our Capitol, all while sending in residency applications, away applications, taking licensure exams, and conducting interviews virtually.
"We have had so many challenging firsts as a class, and so many more as individuals during the current times I won't even pretend to know them all," Chiriboga said. "However, I also believe that we will be a part of a new wave of firsts as soon-to-be physicians. Every step of the way we have shown this because we continued to push on and surpass what seemed to be impossible barriers at times. We have been called to be advocates. We have spoken up and we have created change, and in doing so we have left such a mark as a class and I cannot wait to see what other firsts and legacies everybody will make as we continue on.