A first for WesternU, two Black student doctors Match into the highly competitive urology specialty
Two Black student doctors from Western University of Health Sciences matched into urology, a feat that hasn't happened in the nearly 45-year history of the University and the programs they belong to – the College of Osteopathic Medicine of the Pacific (COMP) and COMP-Northwest.
Fourth-year WesternU COMP student Nkiruka Odeluga, MSMS '17, and fourth-year WesternU COMP-Northwest student Jordan Rashaun Bilbrew said the urology match is considered one of the fiercest to get accepted into and is highly competitive.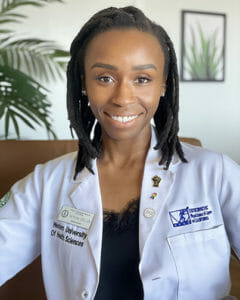 The American Urological Association (AUA) in conjunction with the Society of Academic Urologists has overseen the Urology Residency Match Program (Urology Match) for residency positions and announces their matches early.
Match Day 2021 is celebrated on March 19 across the U.S. as fourth-year medical students learn which U.S. residency programs they will train in for the next three to seven years. The match is hosted by the National Resident Matching Program, through which medical students obtain residency positions in accredited training programs. The match represents the culmination of students' undergraduate and medical school education, which in most cases means a minimum of eight years of study.
Odeluga matched at Cook County Health in Illinois. She will rotate through three hospital sites during her first year – John H. Stroger Jr. Hospital of Cook County, Provident Hospital of Cook County and Advocate Christ Medical Center.
Bilbrew matched at Detroit Medical Center.
"Nkiruka and I will add to the about 2% of Black urologists that already exist," Bilbrew said. "There has been such a small cohort of us (about 25 across the country) that the Black urology applicants of this cycle have gotten extremely close. This brought Nkiruka and me close as friends. We have frequent zoom meetings, providing support for each other, brainstorm ways to increase diversity, vent about racist frustrations, and bond over the difficulties of breaking generational obstacles."
According to the AUA's 2018 "The State of the Urology Workforce Census Book," Black practicing urologists represented 2.2 % of the workforce.
"In the 45-year history of WesternU, only seven students had matched in urology (now nine) …only one female-presenting, and no one underrepresented in medicine, "said Odeluga in a tweet. "Thus, Jordan and I had our work cut out for us, especially being minorities in medicine in more ways than one."
COMP Vice Dean of College Affairs Edward Barnes, MD, FACP, said we are very proud of both Nkiruka and Jordan for their wonderful accomplishments.
"Their hard work in the face of adversity has definitely paid off," he said. "They will serve as models for the students that follow, and we expect them to continue to shine throughout the remainder of the careers in the health care field."
Bilbrew said it's important that Doctors of Osteopathic Medicine (DOs) break boundaries into niche subspecialty specialties and to get WesternU students matched into historically MD programs.
Bilbrew spent his formative years in the Southeast as a Navy brat, raised in Jacksonville, Florida.
He said growing up was tough after his dad left the Navy and the recession hit, struggling financially.
At age 9, he was inspired to be a singer from watching the Disney movie, "The Cheetah Girls."
He continued singing through college at Florida State University, dedicating time to leadership and social justice issues. He eventually became a case manager at a re-entry program for the local county jail in Tallahassee, Florida.
This inspired him, where he found his voice, leading him to major in psychology and criminal justice and minoring in chemistry that helped fulfill his medical school pre-requisites.
He said he applied to and chose WesternU COMP-Northwest because it was close to Portland, Oregon, which is close to his family.
He chose urology as a specialty because it socially lines up with who he is.
"Growing up a queer person of color, I always found it in my nature to advocate for those marginalized," he said. "Embracing these passions inspired my interest in transgender medicine and, subsequently, urology. It did not take long into my urology clerkships to realize this was the perfect way to combine my passions, skills, and interests."
He also said urology is the most attractive specialty because of the people in this field. He has encountered the most talented, intelligent, supportive and hilarious humans along his journey.
Bilbrew feels honored to match in urology, especially since about 200 applicants did not match (into the specialty).
"It means that I get to have a career which compliments every component of my being and I get to have an amazing impact on so many incredible people who deserve to be happy," Bilbrew said.
Nkiruka Odeluga is a first-generation Nigerian American the self-described product of four-generations of lifelong sacrifice. She spent her formative years in central California, an area she says is known for hosting "a trifecta of medical, socioeconomic, and educational disadvantage."
Despite that, she describes her childhood as happy because she had books and did international medical work, which led her to the medical specialty, urology.
After graduating from University California Santa Barbara in three years, she made her way up the West Coast, focusing on nutrition while a student at WesternU, research at Genentech in San Francisco and global surgery with International Volunteers in Urology (IVU) Med in Seattle, Washington. IVU's mission states, "IVU is committed to making quality urological care available worldwide."
During her third-year general surgery rotation she moved intentionally, operating in every surgical suite to experience all surgical subspecialties.
When she made it to the urology suite, she said, "I felt a sense of clarity and belonging, like all of my seemingly disparate interests in global health, LGBTQ+ health, nutrition, sexual health, and surgery could all thrive under one umbrella. Urology chose me."
Soon to be Dr. Odeluga's mission is to advocate for marginalized communities worldwide to promote wellness.
"Medicine has always been part of my life, yet it's been fascinating to follow my genuine interests all the way to urology. The breadth and depth of our specialty is unrivaled, thus it ages well, and allows you freedom to evolve within it. As steep of a climb as it has been for me, I hope to flatten that curve for future applicants from WesternU."
She said it's WesternU's responsibility to invest in the opening and maintaining of pipelines for the matriculation, support, and graduation of BIPOC doctors.
"While I am happy to break through ceilings and cut through boxes, the demolition of these particular ceilings and boxes are long overdue, she said. "The only way for all of us to celebrate these achievements is to normalize them. Affirm BIPOC students. Seek them out for projects and opportunities. Actively sponsor BIPOC students in every capacity that you have.  And then, these achievements will be remarkable in their own right, outside of race, gender, or sexuality."