Western University of Health Sciences held the first of five Commencement ceremonies at the Pasadena Civic Auditorium in Pasadena, California Wednesday, May 17, 2023.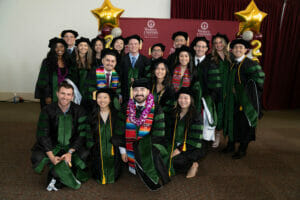 First up was the College of Osteopathic Medicine of the Pacific (COMP) and the College of Podiatric Medicine (CPM). Four ceremonies will follow through Friday, May 19. When COMP-Northwest completes Commencement in Lebanon, Oregon on May 26, WesternU will have awarded more than 1,000 degrees, bringing its alumni total to more than 20,600.
The ceremony was presided over by WesternU President Robin Farias-Eisner, MD, PhD, MBA. He told the graduates that WesternU's ethos of humanism will significantly impact the lives of those they serve.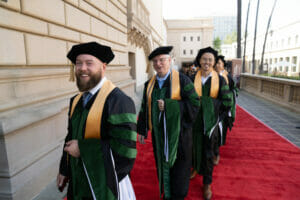 "From the very outset of your unique education you have been steeped in the holistic approach to patient care, with a focus on the interconnectedness of mind, body and spirit," Farias-Eisner said. "As you venture forth into your chosen fields, remember to always consider the whole patient, recognizing that the best care is not just about treating symptoms, but understanding the underlying causes and addressing them with compassion and empathy."
Humanism is a commitment to treat everyone with dignity, respect and kindness. It's the understanding that our patients are more than a collection of symptoms and signs. They are a complex being with their own stories, struggles and triumphs, Farias-Eisner said.
"By embracing humanism, you will forge a strong connection with your patients, empowering them to be active participants in their own care and in their own healing process. As WesternU-trained clinicians, you are truly unique and you truly have a unique skill set to offer the world," he said. "You have been trained to appreciate the body's innate ability to heal itself. This philosophy extends beyond the physical realm and into the emotional and spiritual aspects of our patients' lives. As healers, it is crucial to recognize the power of empathetic listening and genuine connection. In times of uncertainty and vulnerability, your presence and your understanding can be the balm that heals the soul as much as the body."
The COMP and CPM ceremony opened with a special rite of passage involving one of the University's foundational roles. The University Marshal leads the procession that opens every Commencement ceremony and symbolizes the spirit of the University.
Dr. Alan Cundari has served as University Marshal since 2009. This morning, he passed the mace to WesternU's fifth University Marshal, Gerald Thrush, PhD, COMP and COMP-Northwest Vice Dean for Academic Affairs.
Farias-Eisner and WesternU Provost Paula Crone, DO '92, presented Dr. Cundari with a gift on behalf of the University in gratitude for his many years of exemplary service as he transitions into the role of University Marshal Emeritus.
"Like his predecessors, Dr. Thrush embodies all that makes WesternU special. He is deeply committed to our mission of humanistic care for all. He is a mentor, friend, and sounding board for countless students, faculty, and staff. And he lives a life devoted to service, institutional excellence, and professional achievement," Farias-Eisner said. "I would like to formally introduce Dr. Gerald Thrush as our new University Marshal."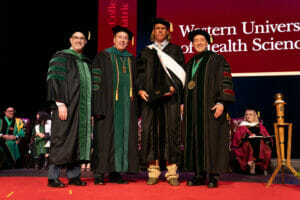 The Commencement speaker for the CPM and COMP ceremony was 10-time Olympic medalist Gary Hall Jr., a vocal diabetes advocate who is partnering with CPM to promote the podiatric medicine profession.
Among his many roles, Hall Jr. teaches children how to swim. A lot of kids come in with a fear of water. His goal is to displace that fear with confidence.
"There is a light-bulb moment that happens when they realize they can do it. They can swim. The expressions on their face change. It's magical in that moment. More powerful than standing on top of a box with a medal around your neck," Hall Jr. said. "There is a similar moment happening here today. Right now. Right here in this room. You can do this. You're ready. You're going to go out there and change the world. You're going to help a lot of people. Do it with care. Do it with kindness. Stay humble. Keep a smile on your face. Don't give up. Mentor someone and have fun. "
WesternU is having one student from each academic program serve as a graduate speaker. They are each nominated and voted on by their classmates.
CPM graduate Katherine Lucia Gutierrez, DPM '23, said each graduate has poured their love, tears, sweat, and heartache into becoming doctors.
"Today we celebrate the achievement of a lifetime, a step into the future that awaits us as podiatric and osteopathic physicians, as healers," she said. "We honor those who stood with us through this journey. We honor those who have passed along the way. To the memory of what it was and the hope of what it is to be, smile. Be as proud of yourself as I am of you. My friends, it has been a great honor to go on this journey with you. Congratulations Class of 2023. Job well done."
COMP graduate David Patrick Ashley, DO '23, said this class has endured the COVID-19 pandemic, wildfires, and the fight for social and racial justice.
"We were able to grapple with these complex problems academically before we started our rotations. We were prepared to meet and address these challenges head on, and we will be prepared to meet any challenge we face throughout our careers," he said. "We cannot allow ourselves to become jaded by challenges though. Instead, we must lean into them. Continue to learn. Not just medicine, but about the context of how our patients present to us. Remember that every patient is a person, and remember to recognize your own humanity as well. While the events of the future are uncertain, here's one thing that I do know. Each and every one of you are going to be an outstanding physician."