Olympic gold medalist Gary Hall Jr. teams with WesternU to promote podiatric medicine
March 11, 2023
Read 1 mins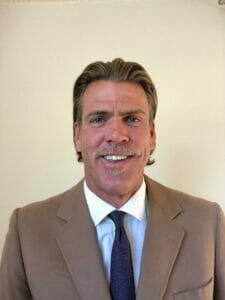 Gary Hall Jr. is a 10-time Olympic medalist in swimming, a vocal diabetes advocate, and now, he is partnering with Western University of Health Sciences' College of Podiatric Medicine (CPM) to promote the podiatric medicine profession.
Hall Jr. serves on the College of Podiatric Medicine Dean's Advisory Board. He is also partnering with CPM to increase awareness of podiatric medicine and surgery.
"I'm really excited at the opportunity and appreciative to be associated with such a prestigious institution," Hall Jr. said. "I'm really looking forward to thinking creatively about ways that we can promote the profession and get the people that need help the help they need."
Hall Jr. won two gold and two silver medals at the Atlanta 1996 Olympic Games. In March 1999, as he was preparing for the Sydney 2000 Olympic Games, he was diagnosed with type 1 diabetes.
"The diagnosis felt like a gut punch. The first question I had was how was it going to affect my swimming career? I was told by two doctors this was the end of my swimming career. It was not possible to compete," Hall Jr. said. "I went through all stages of grief, trying to figure out why this happened. I had no family history of type 1 or type 2 diabetes. It was random. So it was a really difficult pill to swallow.
"I was very fortunate to find a support team that enabled me and empowered me to feel like I was going to try, with no certainty that it could be done," Hall Jr. added. "That's how all great things are accomplished. The first decisive step is you're going to try."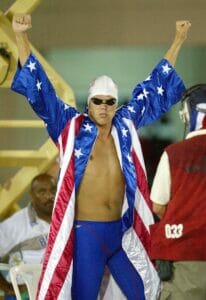 Hall Jr. did swim in the Sydney 2000 Olympic Games, winning two gold, one silver and one bronze. He then competed in the Athens 2004 Olympic Games, winning a gold and bronze to finish his Olympics career with 10 total medals. He and his father, Gary Hall Sr., were the first father-son tandem to compete in three Olympics each. Hall Jr. was inducted into the Class of 2012 U.S. Olympic and Paralympic Hall of Fame.
"To reach the Olympic Games and represent the United States of America is an incredible honor," Hall Jr. said. "In addition to that, I suddenly now represented all people with diabetes around the world. To me, that was a tremendous responsibility, but it was also an incredible support system. I felt the support of this community. They wanted me to do well. I felt it carry me perhaps farther than I would have gone. That additional support representing the diabetes community was something positive out of an otherwise devastating diagnosis."
Hall Jr. uses his platform to raise money for medical research, as well as to provide services to the underinsured and underprivileged people in the U.S. struggling with the rising costs of insulin through the years. His advocacy for people with diabetes overlapped with his involvement and awareness of the importance of podiatric medicine. Diabetes and foot care go hand in hand, Hall Jr. said.
He delivered the keynote address at the 2022 Western Foot and Ankle Conference, where he connected with WesternU College of Podiatric Medicine Dean Jonathan Labovitz, DPM, FACFAS, CHCQM. Dean Labovitz invited Hall Jr. to visit WesternU's Pomona, California campus, and then to join the CPM Dean's Advisory Board.
"The campus itself is extremely impressive, but the students and the faculty walking the halls are more impressive," Hall Jr. said. "They really captured my attention. You can see it in the students' eyes, their ambition and drive. I was very impressed with their intelligence and thoughtfulness."
Labovitz said he was honored when Hall Jr. agreed to serve on his advisory board.
"He brings a different perspective than anyone else on the board. He contributes the patient perspective and as a health care advocate with knowledge of medical research and the medical device and pharmaceutical industries," Labovitz said. "Gary exemplifies the WesternU values of humanism, a collaborative mindset, and achieving excellence, and his dedication and passion are unparalleled."
As an accomplished Olympic medalist who has overcome his own personal challenges with diabetes, Hall Jr. not only understands what it takes to be successful, but also what it takes to remain successful, Labovitz said.
"Gary will also be helping the College of Podiatric Medicine by working to increase awareness of podiatric medicine and surgery," Labovitz said. "Someone of his stature can command the audience of aspiring athletes and those living with diabetes who may want to pursue a career helping others like them."
The Centers for Disease Control and Prevention estimates 37.3 million people in the U.S. have diabetes. Most of these people with diabetes will need a podiatric physician as part of their care team. We need to take a close look at how to provide services for this large and growing population of people in the U.S., Hall Jr. said.
Many times, patients coming into the doctor's office have either recently been diagnosed and are trying to wrap their arms around the overwhelming lifestyle changes that come with that diagnosis, or they are suffering complications, which is equally trying.
"For those practitioners, it's a job, but it's also an opportunity very few others have to alleviate human suffering," Hall Jr. said. "There is something wonderful in that, beyond a paycheck or just a job. They are making the world a better place one person at a time."
Categories: