WesternU has one of the lowest student loan default rates nationwide
November 3, 2020
Read 4 mins
Western University of Health Sciences has been recognized in LendEDU's second annual report on student loan default rates for having one of the lowest default rates in the U.S. The default rate is the percentage of all outstanding student loans that a lender must write off as unpaid after a prolonged period of missed payments.
WesternU's default rate was 0.20% in the 2017 cohort year, according to the most recent data from the Department of Education. This default rate ranked No. 35 in California and No. 138 in the entire county when ranking default rates from lowest to highest. The default rate for all California schools was 6.40% and the national student loan default rate was 9.70%. Check out the full report here: https://lendedu.com/blog/student-loan-default-rates-by-school-state-2020/
"This is really quite extraordinary," said WesternU President Daniel R. Wilson, MD, PhD. "It speaks to the dedication of our students and their undeniable quest to succeed in all pursuits. This would not happen without the incredible support of the Colleges, faculty, staff, alumni, and communities that work together tirelessly to help our students succeed."
"I think our graduates appreciate their education even if they had to borrow to fund it," said WesternU Senior Vice President of Student Affairs Beverly A. Guidry, EdD. "They also take very seriously the responsibility of loan repayment. Not living up to their commitment could impact the graduate and the institution.  Responsible alumni help WesternU to maintain its great reputation."
WesternU alumni rise to the occasion in support of student scholarships, according to Senior Vice President of University Advancement Diane Abraham, PhD. WesternU received more than 40 donations totaling $93,740 as of early August. Donors have included alumni, friends, faculty, and staff, as well as the Student Government Association and even individual current students. The University has awarded funds to 65 students totaling $59,223.
"Our communities step up to offer our students hands-on experience, employment, and most importantly, scholarships to lighten the financial burden," Abraham said. "At the onset of the pandemic, we were one of the first universities to develop a Student Emergency Support Fund."
WesternU's Office of Financial Aid provides support and counseling that begins during the admissions process so students understand the financial commitment they are making from the beginning.
"I think getting them right when they get in the door is good," said Financial Aid Co-Director Theresa Poullard. "We give them a view of what is coming and the importance of staying on top of it."
WesternU is a graduate health professions institution, so its students enter sought-after, relatively higher-paying careers. WesternU offers career paths toward 16 of the top 20 best health care jobs, according to rankings released earlier this year by U.S. News & World Report.
"It speaks to their skillset and the quality of our educational system in place, as well as to the faculty and staff of our University," Poullard said. "Because these are graduate health professions, this is a different group of students – typically more mature, more focused. The types of programs our University offers takes strength of character. We want them to be able to achieve that goal."
Due to the COVID-19 pandemic, Financial Aid is holding information sessions with students virtually via Microsoft Teams. Counselors encourage students to keep their loans as low as possible. Students can return borrowed funds within 120 days if they think they borrowed too much, said Financial Aid Co-Director Linda Frenza.
"We encourage students to return funds. We do that for every student who has taken out loans," Frenza said. "We encourage our students to contact their counselors if they have specific questions, even after they graduate."
If a graduate becomes delinquent in their loan payment, Financial Aid calls them to help them get back on track.
"We encourage students to do a one-on-one session to speak directly to their loan indebtedness," Frenza said. "We get a lot of students making appointments to discuss specific needs during their repayment schedule."
"To a large extent, the students themselves hold this in their hands. It's the quality of their decision making and mature approach to managing money," said WesternU Vice President for Finance Joshua McFarlen, CPA, CA, MPAcc. "And it's great to have this expertise in the Financial Aid office and have that working in tandem."
College of Podiatric Medicine Dean V. Kathleen Satterfield, DPM, FACFAOM, spoke with several CPM graduates about their student loans. She was happy to learn that they are equipped with confidence.
"They know that they are prepared with the qualities for success – excellent education, superior training and strong mentorship," Satterfield said. "They have joined multi-specialty and orthopedic practices, independent private practices and academic health center practices. The paradigm for podiatric practice has changed drastically since I graduated in 1991 where a single podiatric physician practice was the norm. I am excited and hopeful that our graduates are leading the way to the future."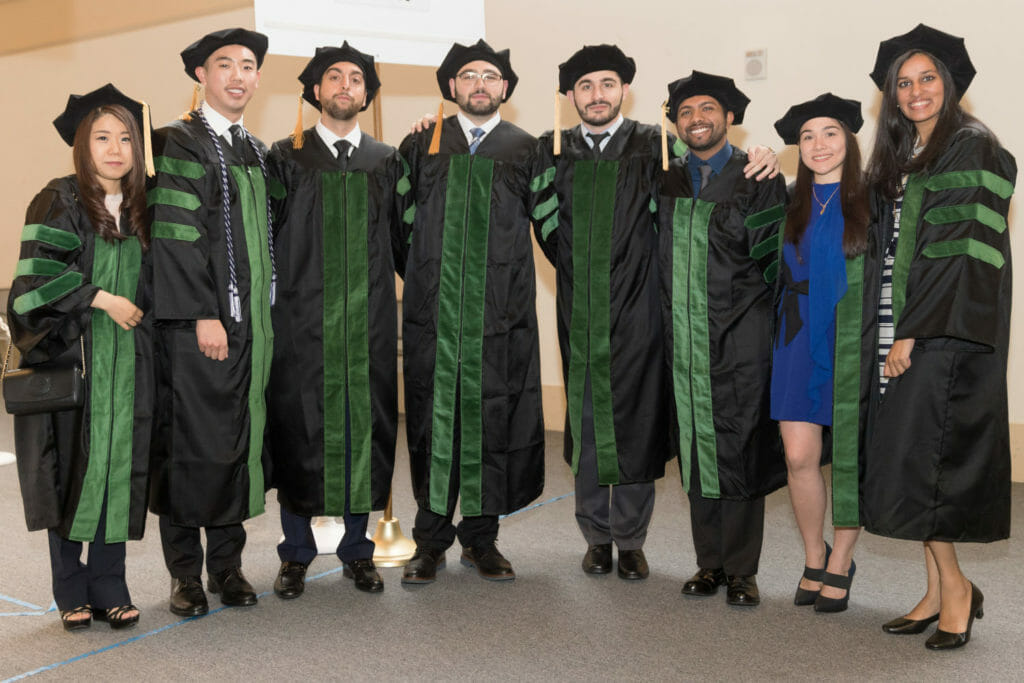 Categories: