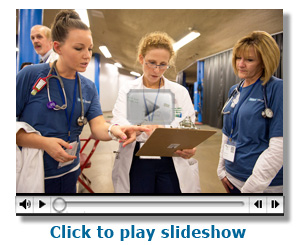 Western University of Health Sciences students and faculty volunteered at one of the largest free health clinics in California.
Care Harbor Los Angeles provided free medical, dental and vision care to an estimated 4,000 uninsured, underinsured and underserved people at the Los Angeles Sports Arena Oct. 15-18, 2015.
The four previous Care Harbor LA clinics served more than 13,000 patients and brought together more than 12,800 volunteers. Click here to visit the website: http://www.careharbor.org/care-harbor-los-angeles/
College of Osteopathic Medicine of the Pacific Director of Clinical Education Natalie Nevins, DO, MSHPE, is the medical director of Care Harbor LA. This event is not Band-aid care nor is it a one-time opportunity for people to get help, she said.
"Because of our partnerships with community clinics and the Community Clinic Association, what makes us unique is a patient who needs a follow-up medical appointment will have one scheduled before they leave the event," she said. "That's the power of what we're doing here. It's connecting people with a patient-centered medical home so that hopefully in the future they will not need a clinic like this."
Nevins said she has met volunteers who had come as patients in previous years.
"That's probably the most gratifying experience I could hope for, to see someone in a volunteer T-shirt come up and say, 'Hi, Dr. Nevins. I was your patient last year and I'm doing great and I'm here now to help,'" she said.
Serving as medical director for Care Harbor LA requires a lot of time and effort, but Nevins said she keeps coming back because of patients' needs.
"We are our brother's keeper. And if any part of our world is suffering, we're all suffering," Nevins said. "If you have the capability to give, you should. That's why you see so many people here, because they have the same philosophy."
She is also pleased by the volunteer efforts of WesternU students and faculty.
"I feel it's imperative for students and residents to have the opportunity to volunteer in venues like this, because when they train in service, they will stay in service," Nevins said. "If they see that their attendings and their school value service and they have an opportunity to experience how fulfilling it can be, then the likelihood is they will continue to be in service for the rest of their lives."
College of Graduate Nursing Assistant Professor Ruth Trudgeon, MSN, RN, volunteered with eight WesternU nursing students on Oct. 17 and four students on Oct. 18 in the triage area, taking patient histories and their vitals as they arrived.
"It was a great experience for my students, as they really got to see firsthand the diverse array of people with chronic, unmet needs in the community," Trudgeon said.
Third-year College of Podiatric Medicine student Caitlyn Lee volunteered Oct. 16 with classmates and faculty from her college.
"I'm so glad to have had the opportunity to help out at Care Harbor with this team providing care and education and being part of a multi-specialty health care event for the people of my hometown, Los Angeles," she said.
Fourth-year COMP student Robert Vela volunteered Thursday, Oct. 15. Vela said he grew up in a poor neighborhood and understands the population served by Care Harbor LA.
"My heart is always to give back and help the demographic we see here," Vela said. "I want to practice in a low-income community in a county hospital."
Volunteering at Care Harbor LA is a privilege, he said.
"You get to see the changes you can bring and just the positive impact you can have on people, even just talking to them," Vela said. "Some people are having problems financially and socially. A lot is just talking to them, hearing out their story, not just the medical exam. It's an awesome experience every time you get involved in charity work. It brings back perspective on why we stay up all night studying for exams."