WesternU COMP students celebrate matching into residencies
March 16, 2019
Read 3 mins
Match Day for Western University of Health Sciences College of Osteopathic Medicine of the Pacific students is bigger than ever. But the central message remains the same: These future osteopathic physicians are going where they are needed and where they will make a tremendous impact.
COMP students celebrated Match Day March 15, 2019 at the DoubleTree by Hilton Hotel in Ontario, California. Match Day is celebrated across the U.S. as fourth-year medical students learn which U.S. residency programs they will train in for the next three to seven years. Students opened envelopes at 9 a.m. that revealed the location of their residency.
Once again, a large percentage of COMP students in Pomona, California and Lebanon, Oregon matched into primary care. Of the 213 total matches in Pomona as of March 15, 114 matched into primary care. Of the 104 students in Lebanon, 58 matched into primary care.
COMP Dean Paula Crone, DO '92, addressed both campuses as the clock wound down to the 9 a.m. reveal. First she thanked Vice President for Enrollment Management and University Student Affairs Beverly Guidry, EdD, and Provost and COO Gary Gugelchuk, PhD, who is retiring at the end of the academic year, for their support. She toasted both campuses for their accomplishments.
"Over the last four years you learned so much and you've grown so much. You started in one place in your lives and in four short years you have just come so far and you are now ready to take the next step," Crone said. "No matter where you are going, when you open up that envelope, whether it's your first choice or your 20th choice, it doesn't matter. You are all going places where you are needed. You are all going places where you are going to be able to make a tremendous impact."
Fourth-year COMP student Tania Gutierrez matched into a family medicine residency at Eisenhower Medical Center in Palm Springs, her first choice. For the previous few days, she said, she had been happy and calm simply from knowing she had matched somewhere.
"And then this morning I woke up nervous," she said. "I couldn't sleep last night wondering where I would be going. And when I opened it I was so happy. The last four years have been a lot of hard, good work that brought me here."
Gutierrez said she wants to get to know her patients, their families and the community they live in, which is why she chose family medicine.
"I love primary care because I will be able to take care of everybody I see," she said. "My whole drive and goal in life is to build relationships. In primary care you have continuity of care. You get to know the whole family, which is why I love family medicine."
Fourth-year COMP student Mac Barton matched into a general surgery residency at Baylor University Medical Center in Dallas, Texas.
"Baylor had a combination of a good feeling among the residents and staff, really high quality of education, and the variety of experiences in the surgery caseload," Barton said. "I just really like being in the operating room. I like being hands-on, really working in there doing procedures."
He had watched the previous two COMP Match Day broadcasts on YouTube when they were held in WesternU's Health Education Center lecture hall, which seats about 350.
"I will say this feels a lot bigger than the last two years," Barton said. "It's very exciting, and I like how it was set up. I think it's great that people were able to bring all of their loved ones."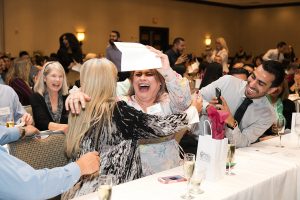 COMP moved the event to an off-campus site to accommodate more guests. The move also illustrates how much Match Day has grown in recent years.
"Match Day is such an important event for our students," said COMP Associate Dean Edward Barnes, MD, FACP. "They value this day as highly as they value Commencement. They really wanted to share this day with their families. Moving to an offsite venue where we're looking at probably about 600 attendees is such a big deal for our students. They've asked for it and we've been able to accommodate them this year, and I think it was a very successful event."