WesternU COMP-Northwest celebrates Class of 2019 during Match Day
March 15, 2019
Read 4 mins
More than half of the class will go onto primary care residency programs
Student-doctors from Western University of Health Sciences' Oregon campus celebrated another momentous occasion this morning by participating in Match Day, Friday, March 15.
Match Day is celebrated across the U.S. as fourth-year medical students learn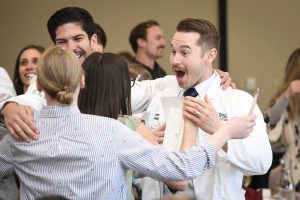 which U.S. residency programs they will train in for the next three to seven years. The   Match is hosted by the National Resident Matching Program, in which medical students obtain residency positions in accredited training programs. The Match represents the culmination of students' undergraduate and medical school education, which in most cases means a minimum of eight years of study.
All 104 students from the College of Osteopathic Medicine of the Pacific-Northwest's Class of 2019 have placed in residency programs. Of those students, 58 placed into primary care fields including family medicine (27), internal medicine (21), pediatrics (seven), and OB-GYN (three). Students also placed into emergency medicine residency programs (18); psychiatry (five); dermatology (four); general surgery (three); neurology (three) with one child neurology; and anesthesiology (two); among other specialties.
"This class has done exceptionally well," said Lisa Guenther, MD, director of WesternU COMP-Northwest's Office of Career and Professional Development. "We have students that are running the gamut of really amazing opportunities. We have students that will be going out and serving on the front lines in primary care and in rural populations. We have students going to top notch academic universities who have not accepted DO students before."
Last year, only nine osteopathic medical students in the nation matched into dermatology pro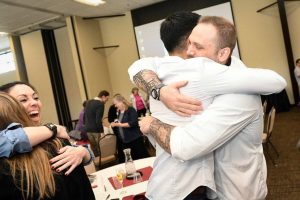 grams through The Match. "This year we have four students from this class," Guenther shared. "We have one success story after another."
Approximately two-thirds of COMP-Northwest's Class of 2019 calls the Pacific Northwest home, and faculty and staff were happy to learn students landed residency programs in Oregon, Washington, and Idaho. Thirty-four students will complete their training in the Pacific Northwest, which doubles the number staying in the region from last year's Match. Of the 34, half of those students will train in Oregon: nine in Portland hospitals, seven at Good Samaritan Regional Center in Corvallis, and one in Klamath Falls.
Fourth-year COMP-Northwest student Robert Mousselli was excited about his match. He will head 3,000 plus miles away, across the country, to Hollywood, Fla. "This was my number one choice – my top pick," he said. Mousselli matched into Memorial Healthcare System's physical medicine and rehabilitation residency program.
WesternU COMP-Northwest Class of 2019 President Dylan Rogers and classmate Alexis Buffington went through a couples' match and will be headed to Beaumont Health in Michigan.
"This feeling is just surreal," Rogers said, shortly after opening his envelope. "There was a lot of built up, anxiety, worry and stress getting to this moment. Going in as couples' match – and my fiancé Alexis going into dermatology – it just felt like a lot of odds were stacked up against us, but we did it." Buffington landed a dermatology residency, and Rogers will go into family medicine.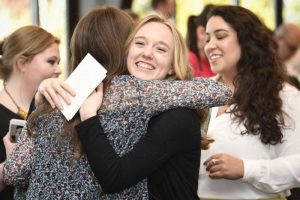 "I'm just really excited to know where we are going, and that we are going together," Buffington said. "The couples' match was stressful, but it was also nice to have someone to go through the process with."
While many medical students opened their envelopes together at 9 a.m., others had to stream in to learn of their match.
Fourth-year COMP-Northwest student Josh Nelson was in Capri, Italy during the Match, but Holli Southern, WesternU COMP-Northwest administrative associate for the Office of Assessment and Outcomes, opened Nelson's envelope during a video chat.
"I couldn't be more excited with the results of my match," Nelson said. He will head to Desert Regional Medical Center in Palm Springs, Calif., for his emergency medicine residency program. "I'm sad I couldn't be there in person, but so glad I belong to the COMP-Northwest family and had the chance to participate via video."
With their residency programs now lined up, WesternU COMP-Northwest's Class of 2019 now counts down to Commencement, which will be Friday, May 31, 2019. This will be the fifth class of graduating physicians from WesternU COMP-Northwest. Oregon Governor Kate Brown will give a governor's address at the ceremony, and former Oregon Governor Barbara Roberts will deliver the keynote address. More information on the ceremony can be found by visiting https://commencement.westernu.edu/lebanon.