WesternU Alumnus dies at age 35 from complications of Pulmonary Hypertension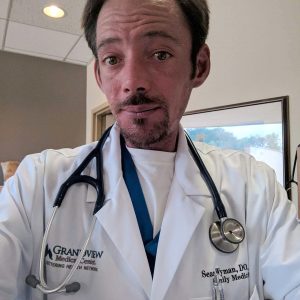 WesternU alumnus Sean Wyman, DO '17, died from complications of pulmonary hypertension in the early morning hours of April 13, 2018 — less than 24 hours after learning he was placed on a waiting list to receive a lung transplant.
"Listed … now we wait," Wyman wrote at 5:43 a.m. April 12, posting to his Facebook page from the Cleveland Clinic in Ohio.
Wyman was a 2012 graduate of the Master of Science in Medical Sciences program and a 2017 alumnus of the College of Osteopathic Medicine of the Pacific (COMP). He was well known for raising awareness about Pulmonary Hypertension (PH), a rare disease resulting from a buildup of pressure on the right side of the heart, typically due to constriction of the blood vessels within the lungs. High pressure sends many patients into heart failure.
In January, during his first year of a family medicine residency at Grandview Medical Center in Dayton, Ohio, Wyman took a leave of absence due to deteriorating health. He needed a lung transplant. A GoFundMe fundraising campaign launched in March to help raise money for his medical costs. This campaign is now the Dr. Sean Wyman Memorial Fund.
Wyman had been raising awareness about PH since shortly after his 19thbirthday when friends and family were concerned with his blue lips, a fairly common symptom of PH known as cyanosis.
Fellow COMP Class of 2017 alumnus John "Elixard" Quiamas posted to his Instagram page after learning his close friend had died.
"My family lost a dear friend to the god above, Dr. Sean Wyman. A friend who has sheltered me throughout my failures and celebrated with me through my success," Quiamas said. "When Sean was hospitalized for his PAH, my mom took care of him at the ICU several times. Not only did we bond in our hopes of becoming a physician since 2011, our family got to know each other through difficult times. He was the face of the Pulmonary Hypertension community, and his advocacy surely advanced the cause. He was dedicated to medicine (and) education, and (he was) selfless. You left a big shoe to fill in this world my friend. See you again. Rest now."
One of Wyman's signature achievements was creation of an animated series about the potentially deadly disease, a project fittingly called "Lips Painted Blue." The goal was to provide children and teens with pulmonary hypertension a tool to better understand the disease.
Wyman was able to work on the video series thanks to the Tom Lantos Innovation in Community Service Award through the Pulmonary Hypertension Association (PHA) during his second year at COMP.
A November 2014 story by WesternU, titled "COMP student raising awareness about pulmonary hypertension," describes Wyman's advocacy through the creation of the animated series. An earlier story, "COMP student inspires, educates while battling pulmonary hypertension," describes Wyman's journey and how doctors told him the severity of the illness would prevent him from ever working or going to school. 
"But Wyman was destined for more than that," the article said.
He graduated from UC Riverside in 2011 with a bachelor's degree in psychology, earned a MSMS degree from WesternU in 2012, and enrolled in WesternU's College of Osteopathic Medicine of the Pacific in fall 2012. He graduated in 2017 and became an osteopathic physician.
While at WesternU, he spent three years as a member of the Pipeline to Health Careers student club, volunteering his time as coordinator for WesternU's American Indian Health Career Ladder(AIHCL). The AIHCL program conducts a series of hands-on Saturday morning activities and workshops for American Indian high school students to learn about careers in the health sciences.  
Pomona Health Career Ladder and AIHCL will recognize Wyman with a memorial Saturday, April 21, during the Health Career Ladder awards ceremony.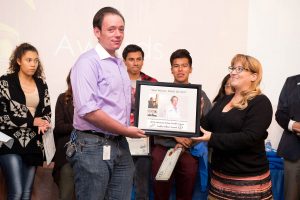 Elizabeth Rega, PhD, associate vice provost for Academic Affairs, will reflect on Wyman's life as a WesternU student and his role in AIHCL.
"Dr. Wyman was a dynamic individual who gave an incredible amount of himself to the students at Sherman Indian High School through his teaching and leadership," Rega said. "Even when sick, his first thought was promoting the welfare of others."
LaDonna Cash, administrative associate for the Harris Family Center for Disability and Health Policy at WesternU, will accept a memorial plaque on the Wyman's family's behalf.
Wyman is survived by his fiancé, Amber Buckelew-Parks, and her two children, Elizabeth and Emily, as well as his mother, Evan S. White.
"My heart (breaks) knowing that he has left us behind, but I know his battle is over and he is now breathing freely," Buckelew-Parks said on the GoFundMe page, noting that even in death, Wyman sought to be of service. "Sean donated his body to Ohio State University, and his eyes, so that someone else may see."