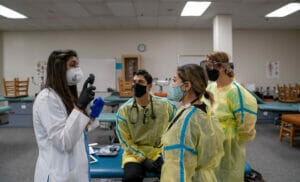 The PA Profession and its contributions to the nation's health are recognized during PA Week, held every year on Oct. 6-12, 2021 in honor of the first class of PAs that graduated on Oct. 6 at Duke University under the guidance of Dr. Eugene Stead.
PAs are medical providers who diagnose illness, develop and manage treatment plans, prescribe medications, and often serve as a patient's primary healthcare professional.  PAs are so versatile and collaborative that you see them in every state and in every medical setting and specialty.  PAs have documented success in improving health care access and quality.
PAs' specific duties depend on the setting in which they work, their level of experience, their specialty, and state laws.  Generally, PAs can:
Take medical histories
Conduct physical exams
Diagnoses and treat illness
Order and interpret tests
Develop treatment plans
Prescribe medication
Counsel on preventive care
Perform procedures
Assist in surgery
Make rounds in hospitals and nursing homes
Do clinical research
While the profession was established in the United States in 1967 with the first 3 PAs, the profession is now larger than 150,000 PAs nationally.  PAs are responsible for more than 400 million patient interactions per year.
To obtain PA Certification, the PA must graduate from an accredited PA Program like the WesternU College of Health Sciences' MSPA Program, which has held accreditation since 1990 when the first class was accepted. Then the PA must pass an initial certification exam. After that point the PA needs to continue to accumulate 100 hours of continuing medical education every two years. A recertification exam occurs every 10 years.
PAs practice in every work setting and are found in all specialties including, but not limited to, primary care, internal medicine, emergency medicine, and pediatrics.
PAs were ranked #1 in both the Best 100 Jobs list  and the Best Healthcare Jobs List in 2021 published by U.S. News and World Report.
Categories: