Western University of Health Sciences offers pathways to six of the top 10 jobs in the U.S., as ranked by U.S. News and World Report.
The jobs are: No. 1 physician assistant, No. 3 nurse practitioner, No. 4 medical and health services manager, No. 5 physician, No. 9 dentist, and No. 10 veterinarian. The Top 100 Best Jobs of 2021 are rankings of all jobs across all disciplines and careers.
WesternU has nine graduate health colleges that integrate and work together interprofessionally, said WesternU Senior Vice President and Provost David Baron, DO, MSEd. The COVID-19 pandemic has demonstrated how critical it is for different disciplines to coordinate their efforts in caring for patients and maintaining public health.
"Interprofessional education is not something we do in the abstract, we do it as part of our curriculum. Students learn to be respectful and appreciative of what other professions provide. That is the future of health care delivery," Baron said. "All of our deans work very closely together. They problem solve together. At WesternU we are interested in taking care of the whole person. We are able to demonstrate where health care is going, and where it is going is a collaborative, interprofessional way. At other schools you can read about it. At WesternU, you get to live it."
Topping the list of best jobs is physician assistant. PAs diagnose illnesses, develop and carry out treatment plans, assist in surgeries, perform procedures and guide patients. A 2015 AAPA study found that more than 96 percent would recommend their physician assistant career to others. The Bureau of Labor Statistics projects 31.3 percent employment growth for physician assistants between 2019 and 2029. In that period, an estimated 39,300 jobs should open up, according to the report.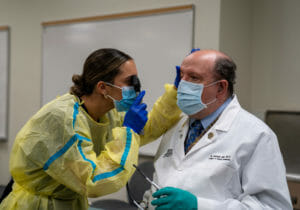 WesternU offers a Master of Science in Physician Assistant Studies (MSPA) degree through the College of Health Sciences (CHS), which has several highly-ranked programs in the Best Jobs list.
"The PA profession is still very young and for it to be No. 1 for jobs validates the need for the profession," said CHS Department of Physician Assistant Education Chair Roy Guizado, MS, PA-C. "As a PA educator, this type of news provides motivation for the students currently in PA programs who are undertaking a very challenging curriculum so that they can be providing health care in the very near future. As a practicing PA, this news is rewarding in that the profession is being acknowledged from many different angles to come up with the same conclusion I have always had: PAs do meet a need in health care, PAs provide excellent health care, and PAs are happy to be PAs."
CHS also has the Master of Science in Health Sciences (MSHS) program, a pathway to the No. 4 ranked job, medical and health services manager.
"Health Sciences is important in helping the community to navigate the health care system, maintain quality of life and support clinicians," said CHS Department of Health Sciences Education Chair Gail Evans Grayson, EdD, MA. "Health Sciences is creating leaders who serve as the pillars of the community that deal with and address social determinants of health, locally in the U.S. and internationally."
CHS has a Doctor of Physical Therapy program (PT ranked No. 21) in Pomona and will welcome its first DPT students in Lebanon, Oregon in July 2021. CHS will also open a Doctor of Occupational Therapy (OTD) program (OT ranked No. 19) in Lebanon in 2022.
PT's ranking acknowledges the continued increasing demand and the profession's critical role in providing a "positive alternative to pharmaceuticals or surgery," and occupational therapy's ranking confirms that this is the perfect time to add OT in Lebanon to the CHS family, said CHS Dean Dee Schilling, PT, PhD, FNAP.
"The projected job growth exceeds that of other health care professions. OTs enhance the quality of life of patients/clients both physically and mentally utilizing a holistic approach to assist the individual, family and environment," Schilling said. "We have so much to be proud of and thankful for in CHS. Our programs are the future of health care and create the leaders of tomorrow."
Nurse practitioners (No. 3) are registered nurses with additional education. Extra schooling allows these professionals to take patient histories, perform physical exams, order labs, analyze lab results, prescribe medicines, authorize treatments and educate patients and families on continued care. The Bureau of Labor Statistics projects 52.4 percent employment growth for nurse practitioners between 2019 and 2029. In that period, an estimated 110,700 jobs should open up.
Nurse practitioners develop assessment and treatment plans that emphasize the well-being of the whole person. Nurse practitioners not only address the patient's problem but guide the patient toward a healthy lifestyle with health education and counseling, said College of Graduate Nursing Dean Mary M. Lopez, RN, MSN, PhD.
"The College of Graduate Nursing is a leader in educating the next generation of nurse practitioners. All of the NP faculty are doctorly prepared and many are Fellows in the American Academy of Nurse Practitioners," Lopez said. "The CGN faculty make outstanding contributions to nursing education, policy, clinical practice, and evidence-based practice year after year. CGN is furthering the profession of nursing by developing nurse clinical leaders of the future."
The College of Osteopathic Medicine of the Pacific and COMP-Northwest provide opportunities for prospective students to become osteopathic physicians. The Bureau of Labor Statistics projects 4.3 percent employment growth for physicians (No. 5) between 2019 and 2029. In that period, an estimated 18,500 jobs should open up.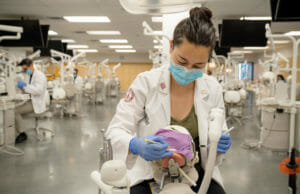 The Bureau of Labor Statistics projects 2.8 percent employment growth for dentists (No. 9) between 2019 and 2029. In that period, an estimated 3,700 jobs should open up.
"It is gratifying to not only see dentistry in the Top 10, but also several dental specialties and allied positions throughout the top 100," said College of Dental Medicine Dean Steven Friedrichsen, DDS. "The resilience of the dental profession, including dental education has been especially evident this year. Even in the midst of the pandemic, the rewards of caring for patients' oral health needs combined with an appealing work-life balance and variety of practice settings continues to be highly appealing. The College of Dental Medicine's curriculum and unique culture prepares our graduates not only for contemporary dentistry, but also for leadership within the profession and their communities."
The Bureau of Labor Statistics projects 15.9 percent employment growth for veterinarians (No. 10) between 2019 and 2029. In that period, an estimated 14,200 jobs should open up.
Veterinarians are in high demand, and over time the profession has proven to be recession proof – even during the last great recession, said WesternU College of Veterinary Medicine Dean Phillip Nelson, DVM, PhD.
"Veterinarians serve in the unique nexus between animals and man by managing health care benefits and threats that arise between the various species, including humans," Nelson said. "As such, the role of the veterinarian in assuring the well-being of the public health is the underlying basis of the value of the profession to society."
If you are interested in pursuing a degree at WesternU, please visit our website: https://prospective.westernu.edu/