WesternU's Trends in Autism forum to focus on adult transition
October 5, 2016
Read 2 mins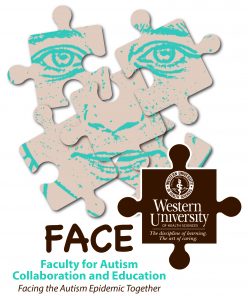 Autism services cost U.S. citizens more than $230 billion annually, with the majority spent on adult services – $175 billion to $262 billion, compared to $61 billion to $66 billion for children, according to the Autism Society. Yet much of the attention on autism focuses on childhood diagnosis and intervention.
The 15th annual Trends in Autism Education and Resource Forum: FACE-ing Adult Transition will take place from 9 a.m. to 1 p.m. Saturday, October 15, 2016 at Western University of Health Sciences, 309 E. Second Street, Pomona, Calif. 91766. The forum is organized by WesternU's Faculty for Autism Collaboration and Education (FACE). Click here for more information.
"Autism is not just a pediatric disorder. It affects adults as well," said FACE Chair Gail Singer-Chang, PsyD, MA, MS. "And this adult population is generally not the topic that is focused on as much with the emphasis on early intervention. FACE is committed to the full spectrum of the autism population.
"Bringing attention to the adult population is extremely important," she added. "That population is growing, and there are not as many resources currently in place for them."
The forum will feature a screening of the documentary "Autism: Behind the Camera" by Lillian Vasquez from the KVCR Autism Initiative. The documentary focuses on Normal Films, a program that teaches video production skills to people with autism to give them employable skills.
Following the screening, Vasquez and others will participate in a panel discussion on adult transition. Among the panelists: Meristem, a community engagement and work transition program; Brilliant Learning Center, which offers GED opportunities; Autism Spectrum Therapies; and Vocational Steps Customized Employment.
"We are always promoting lots of different, integrated perspectives. You never know what is going speak to people with autism," Singer-Chang said. "We will have a wide variety of panelists to have an engaging discussion. This is going to be very grassroots and very personal. There will be a lot of networking and discussion to get the community engaged."
The forum will end with a shopping bazaar by the Autism Society of America featuring artwork and crafts for sale by artists with autism. The forum is open to the public. Cost is $20 for general admission and $15 for students with advance registration, or $25 at the door.
"More and more people with autism are aging out of the school system," Singer-Chang said. "Eighty-six percent are sitting at home with nothing to do and no direction. It's important that we share the resources that do exist so we get the community thinking about pathways to success for people with autism, who are unnecessarily becoming a marginalized population. We want to hook them back into the community to help them lead productive lives."