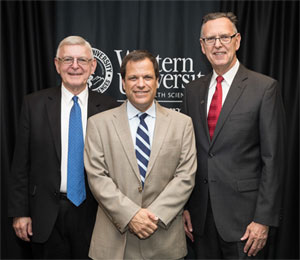 Providing broad access to life-saving drugs and rewarding the innovators who develop those drugs often end up in opposition, but there is a better way to address this problem.
That was the message from Dana Goldman, PhD, Leonard D. Schaeffer Chair and Distinguished Professor of Pharmacy, Public Policy and Economics at the University of Southern California, who served as the keynote speaker for Western University of Health Sciences' Ray Symposium April 20, 2017.
The Ray Symposium, presented by WesternU's College of Pharmacy and Interprofessional Education program, honors Max D. Ray, MS, PharmD, Dean Emeritus of the College of Pharmacy. The symposium focused on "Re-Thinking Value in an Era of Health Reform."
Goldman opened his talk by explaining the "innovation and access dilemma." In the short run, the public wants unfettered access to a new, highly-effective drug treatment. High prices might limit access to the drug, so ideally the prices should be set at the cost of production.
But pharmaceutical research and development is risky, and in order to get people to invest in risky endeavors you have to pay them a reward, he said.
"We developed things like patents, market exclusivity and research subsidies that are designed to generate innovation. We want to reward the innovators," Goldman said. "In the long run we want prices to be high for innovation, but in the short run we want them to be low."
This is not merely an academic, theoretical debate. It played out quite dramatically with the development of highly active antiretroviral therapy to treat HIV in the mid-1990s.
"The goal for medical innovation is to have people live longer. In 1994 we were starting to make some progress with drugs like AZT. But by 2000 we'd shifted out their survival curve even more," Goldman said.
The life expectancy for a patient with HIV went from19 years in 1984 to 34 years by 2000.
"So we shifted it by 15 years. That's a remarkable accomplishment. You take an illness that was affecting people in the prime years of their life and you're adding 15 years of life and perhaps more," he said.
Manufacturers of those drugs made $63 billion in profit.
"You might look at that and think that is a very large number. And maybe you think that's not even ethical," Goldman said. "On the other hand, if you take the hundreds of thousands of people who get HIV and multiply that by 15 years of life each one of them gets, then multiply the value of a life year, say $100,000 to $150,000, you get $1.4 trillion in patient health benefits."
Of the value created to society, about 5 percent of value was returned to the innovators.
"That $63 billion that sounded like an unethical number becomes 5 percent of return to the innovator, and it raises important questions. You could even argue that the returns were too low. It doesn't encourage enough innovation," Goldman said.
Another health issue that also illuminates the problems with innovation versus access is the development of statins, or cholesterol-lowering medications. There are millions of Americans who are not meeting their cholesterol goals. We have a problem of under-treatment, and one reason is people don't comply with their doctor's orders, Goldman said.
"If you charge people a $10 copay for their statins you'll find, regardless of their cardiovascular risk, only about 60 percent will take their medicine the therapeutically-optimal amount of time," Goldman said. "If you double that copay, you'll get a 12 percentage point reduction in compliance. We know cost-sharing matters."
But there are other pricing models that encourage innovation, Goldman said. Drugs are not like an office visit. They have more in common with something like a Microsoft operating system.
"Microsoft spends a whole bunch of money on R&D and hires programmers, and then they shrink wrap their product and sell it to you," Goldman said. "Now, Microsoft does not charge you every time you turn on your computer. What they want you to do is use it as much as possible. What you buy is a license to use the product, and that license is designed to reward the innovator for developing the product."
So to place statins into this example, instead of charging a $25 copay, you could charge a $195 license – paid by the insurer – and that license will give you access to however much statin as you and your doctor think you need.
"What we showed is by doing that, you suddenly remove any of the effect of copay on use, and you can magically improve adherence from about 65 percent to 80 percent," Goldman said. "In a population of about 10,000 people that means 127 fewer hospital stays during the year. The manufacturer ends up getting the exact same profits. But who has won? Society has won. The patients have won. They get better compliance."
The health plan actually saves some money and that money could be divided among the health plan, the manufacturer and the patient, Goldman said.
"If we get out of this model of paying per use and thinking about rewarding the innovation, we can maybe do better," he said.