WesternU's Ray Symposium focuses on utilizing technology to make health care more affordable and accessible
Emerging technologies are evolving quickly, and future clinicians will have the opportunity to blend the best of them to provide more accessible and equitable health care.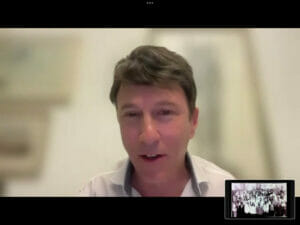 Daniel Kraft, MD, served as the keynote speaker for Western University of Health Sciences College of Pharmacy's 17th annual Ray Symposium on April 27, 2023. Dr. Kraft is a prolific presenter on the future of medicine and health care and has been invited as a keynote speaker in many health-related professions conferences including the American Pharmacists Association (APhA) and American Association of Colleges of Pharmacy (AACP) annual conferences. Dr. Kraft is a Stanford and Harvard-trained physician-scientist, inventor, entrepreneur, and innovator and serves as the Chair of the XPRIZE Pandemic & Health Alliance Task Force.
He presented "Catalyzing the Future of Health and Medicine: What's next?" to an online audience of more than 600 registered attendees. He focused on widespread technologies and how they will impact the delivery of health care.
"We really have this opportunity to think about the future of health and what's next in the context of making it more intelligent, making it more digital, smart, data driven, potentially crowd sourced in terms of knowledge and big picture making health care more accessible more affordable and equitable around the United States and around the world," Kraft said. "Many of these technologies are moving quickly and it's our opportunity, particularly those of you who are students, to play with these technologies, connect the dots with them, and help us move from where we are today, episodic, one size fits all, sick-care model to a rapidly-emerging future that's much more continuous, often blended with virtual and hybrid and in person, hopefully more precise and personalized and really can start to bring us into this new era of health care."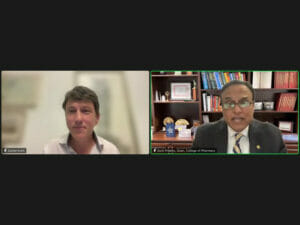 We're mostly practicing sick care. We usually get our data from the four walls of the clinic, emergency room, or the intensive care unit. This intermittent and episodic data leads to our reactive mindset where we tend to wait for a patient to show up with a heart attack or a stroke or cancer, which often presents late and not proactively, Kraft said.
"In a nutshell, the future of health and medicine we're hopefully building is one that is more continuous with our data, where that data becomes more useful. It's personalized, it's proactive, and it can start to bring care anytime, anywhere, arguably at much lower cost with better access and better outcomes," Kraft said. "That's a big picture look of I think where we're heading."
New technologies are being developed, such as using a microphone and speaker to diagnosis an ear infection or using a camera to measure pain on a person's face. While technology is exciting, it doesn't live in a vacuum. We need to align incentives with new technologies, measuring outcomes and rewarding when that drug works or that medical device works, Kraft said.
We know that our genetics play a role in our outcomes, but our behaviors drive most of our outcomes, especially our bad behaviors – too much stress, not enough sleep, bad diet, too much alcohol, Kraft said. And now we are in the era where we can start to measure our behaviors. Thirty to 40 percent of Americans have some sort of wearable, such as a Fitbit, Kraft said.
"These wearables and other-ables can start to measure almost every element of physiology and behavior, and they're going from a sensor on our wrist to sensors in a pill that can tell whether a patient has been taking their medication," Kraft said. "Almost everyone is walking around with a smartphone that could be really useful in tracking patients in all sorts of ways."
So where are we going with this big picture?
"What's starting to shift and is really going to unlock in the next few years is a shift to quantified health where our patients will start to be sharing their data and we'll use that to optimize precision wellness and optimize health span," Kraft said.
All this big data may help measure health and proactively identify diseases, but it can be an impediment as well.
"How do we align accessibility of data and make it digestible, actionable, reimbursable and aligned with our incentives?" Kraft said. "If you're going to prescribe someone a wearable, do you want to see that data every day? Do you want to log into a separate app? We need to be very smart in how we integrate these new forms of information because we've seen the challenges of dealing with information, how much burnout it causes all of us to be dealing with electronic medical records and being data scribes as opposed to clinicians.
"So when you're thinking about new solutions, don't just think of better outcomes, better cost, better patient experience, but how do we make it better for all of us as clinicians going forward," he added.
To close, as you think about the future of health and medicine in a broad sense, it's not about any one technology, it's about how we layer these technologies, many of them moving quickly, sometimes exponentially, and put them together to solve the pain points that we still see in many elements of health care around the world and that's going to really change the clinical landscape, Kraft said.
We're going to have increasingly asynchronous communications. We're going to have blended virtual and physical care. We're going to use remote patient monitoring in new ways. Digital tracking and wearables are going to come together to synthesize data and meaning.
"So while we're putting together this future of health care, don't just think about where we are today, which is already pretty incredible in 2023, but be like Wayne Gretzky, the famous hockey player, and skate to where the puck is going to be in 2025 or 2033, because the next decade will be moving quickly and it's our opportunity to shape it together," Kraft said. "So let's take us from where we are now, in an era of intermittent, reactive sick care that's often physical, one size fits all, based on the condition of one or two clinicians, to a near future that's one of continuous information, that's physical and virtual and blended. That's personalized and precise, leveraging crowd-sourced knowledge that is enhanced by AI but not replaced by it aligned with incentives and workflow to really bring health care everywhere and to make it more accessible with much better outcomes.
"And let's not take incremental steps, let's take exponential ones. In many ways, the future is already here, just not evenly distributed," Kraft added. "It's up to all of us, particularly those of us early in our medical careers, not just to predict that future of health and medicine but to build it collaboratively together for all of us here on spaceship earth."
The Ray Symposium, an annual speaker series, honors Max D. Ray, MS, PharmD, Dean Emeritus of the WesternU College of Pharmacy. As Professor and Dean from 1996-2006, he created a stimulating educational environment that fostered excellence and professionalism.