WesternU's Ray Symposium focuses on improving health systems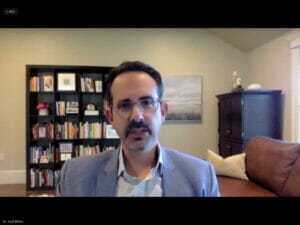 Many scientists may focus on developing breakthrough innovations, but equally important are follow-through innovations that allow those breakthroughs to be equitably delivered worldwide to reduce suffering.
Asaf Bitton, MD, MPH, executive director of Ariadne Labs, presented this message in his keynote speech "Health Systems Improvement: Scaling for the Globe" at Western University of Health Sciences; Ray Symposium April 28, 2022. The Ray Symposium, held on Zoom, is an interprofessional program presented by the WesternU College of Pharmacy.
Dr. Bitton is an Associate Professor of Medicine and Health Care Policy at both Harvard Medical School and the Harvard T.H. Chan School of Public Health. Ariadne Labs is a health systems innovation center at Brigham and Women's Hospital and the Harvard T.H. Chan School of Public Health.
"Our vision is that health systems equitably deliver the best possible care for every person everywhere, every time," Bitton said. "To really align on a mission of saving lives and reducing suffering for people everywhere by creating not just pilots, demos or interventions but scalable systems-level solutions that measurably improve health care. We use the tools of academic inquiry to make sure that we are building solutions that have valence and have an effect in changed behaviors and changed outcomes. But our products are not just papers or presentations. Our products are partnerships with much larger organizations or even governments or private sector partners that enable these good ideas to get better, and then to get out into the field and help as many people as possible."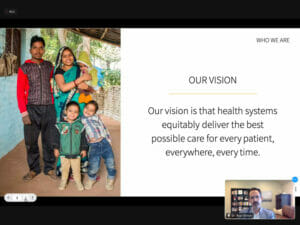 The COVID-19 pandemic resulted in tremendous suffering and loss, but also showed the power of health sciences to develop mRNA vaccines and therapeutics. These breakthrough innovations have spurred many gains in a short time.
"But the reality is that millions in our communities nationwide and worldwide face needless suffering because systems of care break down even though we know how in theory or we know how in guidelines to deliver that care. People don't get the care they need when they need it," Bitton said. "The fundamental gap here is that we have breakthrough innovations to save lives and reduce suffering, but we often are attracted only to the breakthrough or as a government or a health care scientist or students focus mainly on the science of discovery and not the science and practice of implementation."
We need to match breakthrough innovations with "follow-through innovations" that will close gaps that prevent the breakthrough innovations from reaching every person everywhere, every time, Bitton said.
"And that's where we live in Ariadne Labs," he said. "We want to apply and understand how to bring breakthroughs to all by the creation of follow-through innovations, follow-through ideas, that go into practice, into design, into testing, and if they are still effective, they get scaled."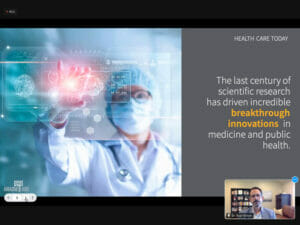 The reason some breakthrough innovations don't get scaled is because of the "know-do" gaps, the gap between what we know should happen in a clinical interaction or in a public health policy or strategy, and what actually happens in real life. The measuring of the suffering that results from that gap can be understood, and it's in that gap in that space that we aim to implement our shared interventions in order to reduce suffering, Bitton said. Ariadne Labs works in three areas.
"We work to narrow safety gaps by improving health care processes. We work to improve the purposeful interactions that people have with their health care teams by narrowing communication gaps, and we work to improve and impact population health at scale by narrowing integration gaps," he said.
Ariadne Labs estimates its surgical and childbirth and primary health care tools has reached nearly 90 million patient lives, mainly through interactions in childbirth and with the surgical checklist work and primary health care work at regional and country level in majority of the countries in world.
Surgery is an enormous risk, and the average person in a high-income country has eight surgeries in their lifetime, Bitton said. Ariadne Labs partnered with the World Health Organization to develop a Surgical Safety Checklist.
"It's not just a piece of paper but it's a set of communications standards, evidence practices, even tools around the operating room including how to deal with operating room emergencies, how to make sure critical equipment is available, how to utilize new devices in the surgical arena in a safe way," Bitton said.
The most critical step is the introduction of the entire surgical team to each other and to the patient. Each team member can then identify their roles.
"It's not that people are forgetting to give antibiotics, it's that they don't have a communication channel as surgical teams form and come apart and then form again, especially in acute emergency settings," Bitton said.
The surgical checklist was shown in the global trial to reduce mortality by more than 40% in the surgical space. Subsequent work in implementing the checklist in every hospital in Scotland showed that over a seven-year period, as part of a quality improvement bundle, there was a sustained 36% decrease in surgical deaths since 2008.
Ariadne Labs partnered with Lifebox to provide pulse oximeters – which is the one piece of technology that the checklist demands – to countries all over the world.
"We use the delivery of the equipment as a way into surgical safety, into surgical training and team training and checklist use. And we have seen enormous uptake all over the world in a variety of resource settings," Bitton said. "The surgical program is an example of taking an idea into a prototype that is simple at its core but complex and diverse at its edges, then building the prototype with a series of evidence-based steps and key international and national partnerships. Producing the evidence but then using the production of that evidence to stimulate implementation and policy change and integration into routine practice and then measuring that and seeing a large effect."
Ariadne Labs is making digital clinical tools – such as UpToDate and Osmosis – available to low-income countries by working with the companies that developed those tools to donate access to them to providers in countries that could not otherwise afford it.
"After the start of the war in Ukraine, we were able to turn on UpToDate for any clinician in Ukraine, and also in the humanitarian regions of the countries that border Ukraine that are taking care of Ukrainian refugees," Bitton said. "We already have almost 1,000 providers we distributed it to, to help them establish and access up-to-date information. We're also in an exciting partnership with almost half the medical schools in Sub-Saharan Africa. We distributed effective digital clinical tools to them before they're even graduated so they can practice the use of clinical tools at the bedside in web format to make better decisions."
Bitton closed with some words of inspiration for the students in the audience. The pandemic resulted in breakthrough innovations in COVID-19 vaccines, and now we must take the next step with follow-through innovations.
"We've learned a lot about how to come together really fast, and now we just need to encode in a follow-through way those lessons into our future work. It's a really exciting time," Bitton said. "I'm really hoping the wide variety of health sciences professionals that are trained at WesternU can really see in their work the future potential and excitement and hopefully we've offered a little bit of inspiration, and you'll do better, and go faster and farther than we have."
The Ray Symposium, an annual speaker series, honors Max D. Ray, MS, PharmD, Dean Emeritus of the WesternU College of Pharmacy. As Professor and Dean from 1996-2006, he created a stimulating educational environment that fostered excellence and professionalism.
Categories: