WesternU's Ray Symposium examines key controversies in drug regulations
April 26, 2021
Read 8 mins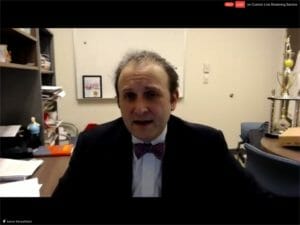 Western University of Health Sciences' annual Ray Symposium, held online April 22, 2021, featured keynote speaker Aaron S. Kesselheim, MD, JD, MPH, speaking on "Drug Regulation in the 21st Century – The FDA, Policy, and Politics."
Kesselheim is a professor of medicine at Harvard Medical School and a faculty member in the Division of Pharmacoepidemiology and Pharmacoeconomics in the Department of Medicine at Brigham and Women's Hospital. He is the director of PORTAL, which focuses on the intersection of law, therapeutics and public health.
The role of the U.S. Food and Drug Administration (FDA) is to protect consumers, advance knowledge and promote well-functioning markets, Kesselheim said. Regulatory standards for new drugs were first approved in 1938 and amended in 1962 to require both efficacy and safety to be demonstrated before a drug can reach the market, he said. The statutory standard for efficacy is that a drug has to show substantial evidence of efficacy that arises from adequate and well-controlled investigations.
"This was because in the decades leading up to that time, a lot of drugs had been developed and widely sold without any evidence that they worked," Kesselheim said. "The goal was to try to ensure there was substantial evidence that was provided and that substantial evidence was supposed to come from adequate well controlled investigation."
Kesselheim addressed three key controversies in drug regulation: the inability to access a drug during its efficacy testing, extended FDA review times, and questions about how many pivotal trials should be required in approving a drug.
The FDA process requires a lot of testing before a drug is approved, and during that time the drug is available mostly to people who are enrolled in the clinical trials. What do we do for people with life-threatening illnesses who don't have any other treatments we can offer them?
"I think most people feel some empathy for people in that situation, and feel there is some sort of ethical responsibility that the system has to try to allow exceptions," Kesselheim said.
Formal, expanded access pathways opened during the HIV epidemic of the 1980s to allow patients access to medicines who maybe didn't qualify for the clinical trial during this clinical testing process, Kesselheim said. Expanded access had existed for many decades but was institutionalized in 1987, and then in 2009 the system was revised to provide three levels of expanded access. Individual patients could now appeal to the FDA to try to get access to products if the FDA determines that the potential benefits justify the risks, and the treating physician determines that the probable risk from the drug is not greater than the risk from the disease.
Historically, the FDA found it didn't have the resources it needed in order to conduct drug reviews as efficiently as it might have wanted. In the 1980s, amid the deregulatory Reagan era that starved the FDA of funds and the HIV epidemic cresting, review times were 2 ½ to 3 years, as compared to the average clinical development time of five to six years, Kesselheim said.
The solution initiated in 1992 was the Prescription Drug User Fee Act (PDUFA), which required manufacturers to submit a user fee at the same time they submitted their new drug application. The user fees would fund the FDAs drug review authority.
The user fees have grown quite substantially since then and have been extended to medical devices, biosimilars and generic drugs. User fees now make up 40 percent of the FDA's overall budget and 80 percent of the FDA's drug review budget, Kesselheim said.
On the plus side, review times dropped from two-and-a-half to three years in the 1980s to seven to eight months now. But this has also led to concern about the closeness of the FDA and industry.
"This closeness has been reinforced through each of the successive Prescription Drug User Fee Act renewals every five years," Kesselheim said. "These days, when the act gets renewed every five years, usually the FDA and industry start thinking about what the new FDA budget and FDA priorities are going to be for the next five years in closed-door meetings anywhere from one to two years before the renewal. And then they ultimately end up presenting Congress with a compromised piece of legislation that has been negotiated between the FDA and industry.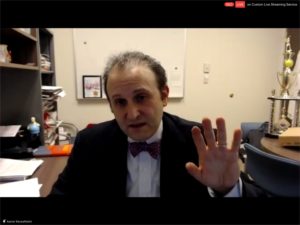 Congress usually passes that as a must-pass bill because if the Prescription Drug User Fee Act wasn't to be renewed, then the FDA would lose so much of its budget that it wouldn't be able to continue. Some worry this undermines trust in the FDA because of the fact that the regulated entity is paying the regulator to do the work."
Kesselheim suggested the FDA receive public funding to separate it from the industry and PDUFA money.
"Adequate public funding in place of user fees would allow the FDA to continue its current performance levels while promoting maximum confidence in the public," he said.
Trust in the FDA is an extremely important ethical and regulatory principle, Kesselheim said.
"The willingness of people to engage with important products like vaccines really depends in some part on the trust they have in the FDA, so maintaining this trust is an essential component of thinking about FDA policymaking going forward," he said.
The FDA generally interprets the statute to prefer two adequate and well-controlled studies showing the drug has certain efficacy. Clinical trials are expensive and take time. The FDA has multiple expedited development and approval pathways, including Fast Track, Accelerated Approval, Priority Review and Breakthrough Therapy.
The implementation of efficacy standards the FDA uses is becoming more flexible over time.
These days, about two-thirds or even three quarters of new drugs qualify for an expedited pathway. What was supposed to be the exception is now really the rule, Kesselheim said.
Comparing pivotal trials from 1995-97 and 2015-17, the proportion of new drugs supported by at least two pivotal trials decreased from 80.6 percent to 52.8 percent. The proportion of approvals based on at least one pivotal trial that used an active comparator as opposed to a placebo or historical controls fell from 44 percent to 29 percent. The proportion of approvals based on nonrandomized studies with only a single intervention group increased from 4 percent to 17 percent.
"And at the same time, there has been greater reliance on surrogate measures of all kinds. Of course, there are advantages to surrogate measures, including the ability to identify drug safety problems and predict efficacy sooner," Kesselheim said. "But if you look at pivotal efficacy trials in the 2000s as compared to the 2010s, the number approved based on surrogate measures has increased from 45 to almost 60 percent now. This provides a lot less clear understanding of what the drugs actually do once they reach the market."
In Kesselheim's study published in 2015 on cancer drugs, "about two-thirds of cancer drugs
are approved based on surrogate end points and only one-third were based on showing changes to overall survival, which is why we give cancer drugs, to extend survival of patients," he said.
There have been substantial problems with implementation of some of these pathways. For example, accelerated approval is a pathway that allows approval of drugs based on these unvalidated surrogate measures. The idea is the drug company is supposed to conduct a confirmatory trial after the drug is approved.
But Kesselheim and his colleagues looked at drugs approved through accelerated approval from 2009 to 2013 and found that nearly 40 post-approval studies were required, but a minimum of four years later, only about half of them had been completed and a slightly fewer number than that were published. And then when you look at the trials themselves, only half of those trials were randomized. Most of them used surrogate measures as endpoints for these confirmatory trials.
"We need to have a process in place to make sure that we identify promising drugs in development, getting them to the patients who need them. I don't want anybody to come away from this thinking that I don't believe that flexibility is the right thing or that I don't think it's important to try to have some understanding of circumstances where there is unmet medical need," Kesselheim said. "But I think it's also the case that multiple expedited pathways are inefficient, confusing and they don't seem to be applied as rigorously as they should be. These are supposed to be exceptions from the normal pathway."
The history of pharmaceutical use is littered with drugs that have been approved or used on the basis of changes to surrogate measures where those drugs have later shown to be dangerous and been withdrawn form the market or not as effective as we might have thought, Kesselheim said.
"We also need to be vigilant of the possibility that expedited development will lead to drugs that have risks that outweigh benefits. This is a good opportunity for the use of post-approval evaluation and real-world evidence to try to enhance our understanding of drugs when they are approved," he said. "I think we should go even a step further and consider reassessing the efficacy and safety of new drugs after they've been on the market for a certain amount of time such that we can actually really look at all the studies that have been done and try to understand whether or not the labeling of the drug needs to be changed or whether or not in rare circumstances the drug may even be need to be withdrawn from the market."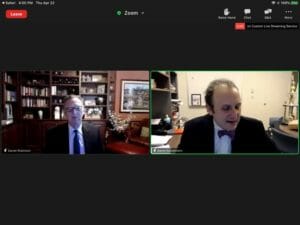 A lot of patients and physicians don't know about some of the various ways a drug can be tested in order to reach the market, Kesselheim said.
"Being more open with patients about the various pathways may be useful in informing the decisions that patients make," he said. "One of the ways we can do that would be to better present information about the drug's approval to prescribers and patients by providing details on those products and not leaving that up to the pharmaceutical company and the advertising campaigns that they engage in. Their use is a really important decision that physicians and patients need to make. We need to make sure they make that decision with optimal information."
The Ray Symposium honors Max D. Ray, MS, PharmD, Dean Emeritus of WesternU's College of Pharmacy. The Ray Symposium, an interprofessional program from the College of Pharmacy, brings speakers to WesternU who can address national health care issues that would appeal to the broadest possible audience.
Categories: