WesternU's Pumerantz Lecture focuses on medical simulation and innovation
September 19, 2022
Read 5 mins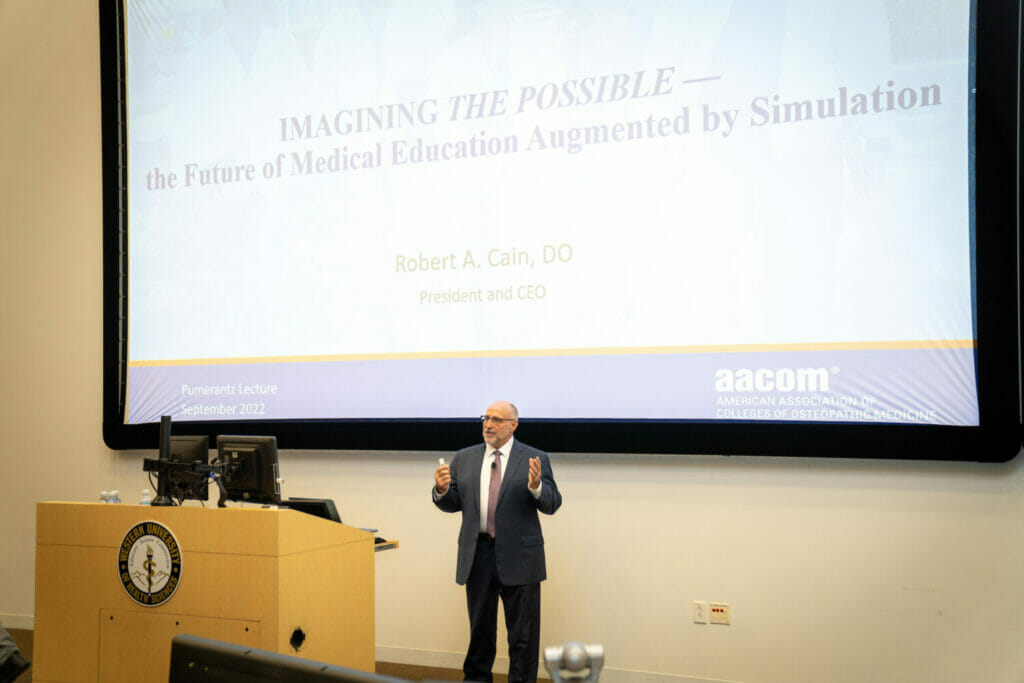 Medical simulation plays an important role in preparing health professions students to care for actual patients, and future innovations may lead to the transformation of health care education.
Robert A. Cain, DO, FACOI, FAODME, President and CEO of the American Association of Colleges of Osteopathic Medicine (AACOM), presented "Imagining the Possible – the Future of Medical Education Augmented by Simulation," at Western University of Health Sciences' 12th Dr. Philip Pumerantz Distinguished Lectureship Sept. 15, 2022.
"This lectureship was established in 2009 in honor of WesternU's founder and president emeritus, Dr. Philip Pumerantz, and is made possible thanks to a generous donation from Dr. Elaine Sarkaria and the late Dr. Daljit Sarkaria of Orange, California," said College of Osteopathic Medicine of the Pacific and COMP-Northwest Acting Dean David Connett, DO '84, FACOFP. "Today, we are grateful to have with us representing the Sarkaria family Dr. John and Neena Sarkaria. Let's show them and the entire Sarkaria family our gratitude with a round of applause."
For more than two and a half years, COVID-19 has forced us all to become experts in teaching, learning, and working in a virtual world, said WesternU President Robin Farias-Eisner, MD, PhD, MBA. WesternU has been using a different kind of virtual teaching and learning for decades with simulated patients, such as actors or high-fidelity manikins, to allow our students to practice and master their clinical skills.
"In 2015, we opened the J and K Virtual Reality Learning Center and hosted virtual reality pioneer Dr. W. Paul Brown as that year's Pumerantz Lecture speaker. This year, as we prepare to open the new (simulation suite), we welcome a renowned expert to share with us his views on the benefits and future of medical simulation," Farias-Eisner said.
The term "innovation" is overused and often misunderstood, Cain said.
"To begin with, innovation isn't a department. It is not a project, and it isn't a team. It's a mindset," he said. "Innovation can and should happen at every level of an organization, it shouldn't just be limited to a few individuals."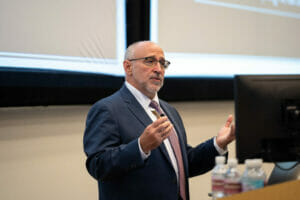 Cain talked about three kinds of innovation: sustaining, adaptive and disruptive. Sustaining innovation is typically generation-based improvements, such as Windows 95, 97 and 98, or the multiple versions of the iPhone. Windows is also a disruptive innovation, replacing prior operating systems like DOS. The iPhone displaced the Blackberry and has made the landline nearly obsolete, Cain said. Adaptive innovation is what happens when an entity reinvents itself, creating a competing product that displaces its own prior product, essentially doing what a disruptor will do.
Cain said he remembers the fear and uncertainty he felt when an attending physician placed a large-bore needle in his hand and asked him to insert a central venous catheter in the large vein behind a patient's collarbone. Imagine a patient listening to the physician describe what this student is going to do for the first time. Medical simulation can eliminate that uncertainty.
"As a replacement for that procedure taking place for the first time on a living human being, a student can now practice central venous catheter placement dozens of times or more, learning and mastering every step before ever trying at the bedside," Cain said. "Not only is safety improved, but the patient doesn't have to experience that anxiety as the attending guides the student through the procedure for the first time. This effect on the patient experience alone would be reason enough to develop simulation, but we must also consider the impact on assessment and patient care outcomes. There is through simulation an opportunity to measure student progress, and to reduce errors and complications for patients."
Central line insertion is a task-based, single procedure similar to drawing blood or maintaining an airway, Cain said. But advancements in medical simulations allow for these procedures to be integrated into more complex scenarios that involve decision making, communication skills and interactions between learners and other health care professionals.
"Imagine total immersion into this experience of being a physician or other health care professional, versus task-based simulation," Cain said. "Imagine being able to manipulate and broadly change learning conditions. We could rethink how the clinical experience is integrated into medical school by creating a foundation prior to the student ever setting foot into a hospital, clinic or the office. And having done so, recognize that 'learning by doing' that needs to occur today on each rotation can be shifted toward a greater emphasis on demonstrating what has in fact been learned and on the competency that has already been achieved."
"Done correctly, the quality of rotations can be improved, and the role of the busy preceptor evolved," he added. "We know the pressures they feel today to be good teachers. How do we make it easier for them? With the right computer-generated scenarios, we will train across the health professions and teach students to act in teams and to lead them."
Opportunity will also exist to integrate such learning across the continuum of medical education, and more broadly, health care education. Medical simulation will just be learning devices for novices and advanced beginners, but also for master learners, Cain said.
"Airline pilots already use advanced immersive training to regulate, maintain and improve their skills. Why not practicing physicians?" Cain said. "Application of this immersive environment in the continuing education space can redefine lifelong learning and perhaps foster more rapid adoption of new procedures and methods of care."
We cannot advance virtual reality and simulation on our own, so let's identify the unrecognized entities that could help us and collaborate by bringing core competencies together for the benefit of students, educators and patients, Cain said.
"From the beginning, efforts by early medical educators to simulate tasks in medicine was about seeing the possible and training a better physician. The opportunity before us today is to train a better health care team," Cain said. "The tools at our disposal are only now beginning to be used together in unique ways that are going to transform not just medical education but health care education as a whole. Will transformation be done to us, or will we lead the process? How will you use the technology to change health care education and improve our health care system? You are limited only by your imagination and the degree to which you are anchored in the past. Thank you for this wonderful opportunity. My best to you as you continue in the spirit of Dr. Pumerantz to elevate the quality of education at WesternU and beyond."