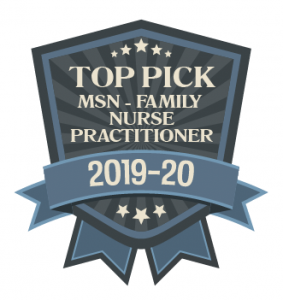 The Western University of Health Sciences College of Graduate Nursing Family Nurse Practitioner program is one of the best in the west, according to recently-released rankings by GraduateNursingEDU.org.
CGN's Master of Science in Nursing-Family Nurse Practitioner (MSN-FNP) program was named one of the best MSN-FNP programs in the West Region. Among the criteria: accreditation, success rates on national certification exams, convenience and flexibility, student satisfaction and funding and research grants.
"Congratulations to faculty, staff and all our support departments across the University who contribute to the ongoing success of the College of Graduate Nursing's FNP program," said CGN Dean Mary M. Lopez, PhD, RN. "We are thrilled and honored to be recognized as one of the best FNP programs. Our FNP program prepares NPs to work at the top of their ability in all settings and health systems to improve access, decrease cost and enhance high-quality outcomes for patients and communities."  
GraduateNursingEDU.org did an exhaustive review of every fully accredited MSN-FNP program in the country, looking for schools that offer an exceptional student experience.
"When we came across Western University of Health Sciences' College of Graduate Nursing, we knew we had a program we could feel good about recommending," said GraduateNursingEDU.org Senior Editor Tony Smith. "With a reputation for pioneering the delivery of advanced practice nursing degrees online, minimal on-campus requirements, and flexible scheduling options to accommodate the busy schedules of working nurses, WesternU easily earned its place on our list of Top Picks for the Best MSN-FNP Programs for 2019-20."
CGN started the first online FNP program in the United States, and the College continues to innovate and improve the program, said CGN FNP Program Director Khoa (Joey) Dang, DNP '18, MSN, RN, FNP-C. Dang earned both his FNP certificate and his Doctor of Nursing Practice degree at WesternU.
"When I first saw that, it gave me a sense of pride having gone through this program, and it gave me a different level of pride now that I'm director of the program," Dang said. "We encourage and expect all of our faculty to be relevant and current in clinical practice. Every faculty member brings real-world experience to the program, improving the quality of education."
One factor cited by GraduateNursingEDU.org in giving CGN a high ranking is the program's flexibility. CGN's FNP program is designed for nurses who wish to continue working, keep family commitments and live in the same community while pursuing their graduate education. The FNP program has a web-based curriculum, with students coming to the Pomona, California campus for two weekend sessions each semester. Students can also complete clinical training in their own community under the supervision of approved preceptors.
Another positive factor cited by the website is that the College received funding from the Office of Statewide Health Planning and Development's Song-Brown program to increase primary care services for Californians in medically underserved areas. This dovetails with one of the primary reasons many nurses want to become FNPs, Dang said.
"It's attractive to a lot of people because they see how we can impact the health of the individual or of a population, particularly with the underserved population and rural areas where quality care is not readily available," he said. "That's where the NP shines. They decrease the barriers to access and improve the quality of health care."