WesternU's East West Scholarship Dinner celebrates student achievement
April 14, 2017
Read 3 mins
The 2017 East West Scholarship Dinner honored Western University of Health Sciences students for their academic excellence and community service and also recognized a longtime WesternU supporter.
The dinner, held April 8, 2017 at the Hilton San Gabriel, featured 38 awards totaling more than $50,000 distributed to WesternU students from all backgrounds and programs. Since its establishment in 1991, the event has raised more than $380,000 for the East West Scholarship Endowment Fund and has distributed scholarships to more than 500 students. Generous donors also have endowed their individual family scholarship funds so their legacy of supporting WesternU students will continue in perpetuity.
T.G. Chow, MD, received the Lifetime Achievement Award for his unending support of WesternU. Chow and his family befriended Founding President Philip Pumerantz and his wife, Harriet, when they arrived in California in 1977 to establish the College of Osteopathic Medicine of the Pacific.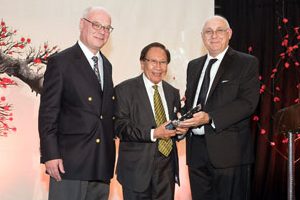 Click to view larger image
Chow has practiced family medicine in the Los Angeles area for more than 50 years. His brother, Frank, graduated with COMP's inaugural class in 1982, and Frank's daughter, Laura Chow, is a 2004 graduate of WesternU's College of Pharmacy. T.G. Chow's son, Bruce, was awarded a DO degree from COMP in 1996.
Chow, who was born in China, is proud of his heritage and has been heavily involved in the region's Chinese community since his youth. His father was one of the organizers of the Chinese Benevolent Society, and Chow has carried on that tradition as an active business and community leader in the Chinatown area of Los Angeles and throughout Southern California.
Chow was chief of staff at the French Hospital, now Pacific Alliance Medical Center; president of Physicians for Chinatown, past president of the Chinese Physician Society of Southern California, and a member of the Chinese-Canadian Medical Society. He also has several other business interests, including trucking, a real estate leasing firm, and property management concerns.
East West Scholarship recipient and COMP student Maureen Nwaokoro, DO '19, said she is grateful for the generous support of scholarship donors. She is standing on the shoulders of many giants who have helped pave the way for her to reach this stage of her medical education, she said.
"To my new giants, East West Scholarship donors, I want to say thank you on behalf of the College of Osteopathic Medicine of the Pacific, Western University of Health Sciences and, especially, my fellow scholarship recipients," Nwaokoro said. "Thank you all so very much for your belief, support, and for investing in the future of health care. We students are prepared to wash our hands, put on our gloves, and provide excellent patient care or conduct important research, in a hospital setting, lab, or in underserved communities – wherever we can make a difference."
The East West Scholarship Dinner was supported by the following sponsors: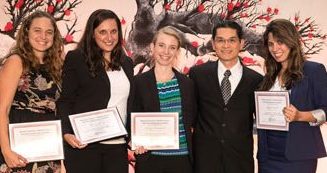 Click to view larger image
Diamond Sponsor
Pacific Alliance Medical Center
Gold Sponsors
Arcadia Dental Group
T. G. Wing Chow, MD
Kon Leung, DDS and Josephine Yeong
Alan Cundari, DO, MSHPE
Sandy and Daniel R. Wilson, MD, PhD
Geri and Robert Witt
PAMC Health Foundation
Silver Sponsors
Mary Lopez, PhD, Dean, College of Graduate Nursing
Tai-Hing Wu, MD, PharmD
Donors
Drs. Virginia and Tony Chan
Vincent Chan
Howard Y. Chen, DDS
Dinh V. Dinh, DO
Independent Financial Group
Roger Joe, DDS
LCS Constructors, Inc
SynerMed Inc.
Ronald Vogel
George Li Wang, PhD