WesternU's College of Podiatric Medicine to hold inaugural Dean's Lecture March 3, 2016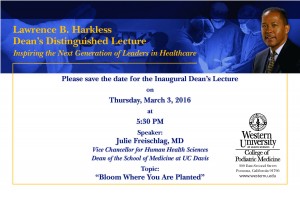 The College of Podiatric Medicine will hold its inaugural Dean Lawrence B. Harkless Distinguished Lecture at 5:30 p.m. Thursday, March 3, 2016 at Western University of Health Sciences' Health Education Center, Lecture Hall 1, 701. E. Second Street, Pomona, Calif. 91766.
Keynote speaker Julie A. Freischlag, MD, Vice Chancellor for Human Health Sciences and Dean of the School of Medicine at UC Davis, will present "Bloom Where You Are Planted."
Freischlag oversees UC Davis Health System's academic, research and clinical programs, including the School of Medicine, the Betty Irene Moore School of Nursing, the 1,000-member physician practice group, and UC Davis Medical Center.
The event is open to the public. Click here to view the website.
Categories: