WesternU's College of Podiatric Medicine to hold Dean's Distinguished Lecture March 13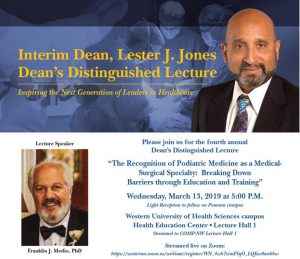 The College of Podiatric Medicine (CPM) will hold its fourth annual Dean's Distinguished Lecture at 5 p.m. Wednesday, March 13, 2019 at Western University of Health Sciences' Health Education Center, Lecture Hall 1, 701. E. Second Street, Pomona, Calif. 91766.
Keynote speaker Franklin J. Medio, PhD, President of Consulting Services for the health professions, Charleston, South Carolina will present "The Recognition of Podiatric Medicine as a Medical-Surgical Specialty: Breaking Down Barriers through Education and Training."
CPM Interim Dean Lester Jones, DPM, MS, said Dr. Medio was a great choice as keynote because he has served both the podiatric and osteopathic professions in evaluation and assessment of graduate medical education, he was the primary architect for an early revision of approval standards and guidelines for podiatric medicine and surgery residency programs in America, and he currently serves as a member of the Accreditation Council for Graduate Medical Education lending his expertise on behalf or graduates from colleges of osteopathic medicine.
"Dr. Medio will share with our students, faculty and administration outcomes of some of the work he has been able to impart on behalf of students of colleges of podiatric and osteopathic medicine with instances on how those paths have similar patterns of growth and development, making these two great professions so important to patient care in the 21st century," Jones said.
The lecture will be streamed via Zoom link to COMP-Northwest Lecture Hall 1. Live streaming of the event will be available via this link:https://westernu.zoom.us/webinar/register/WN_4wh7zimFSqO_LQKw0mcbbw.
The event is open to the public. Click here to view a flier.