WesternU's Austin Lecture focuses on children's vision challenges
April 11, 2023
Read 1 mins
An optometrist and public health expert who has worked on international vision care policies provided insights into the challenges of providing equitable and accessible vision care for children at Western University of Health Sciences' 9th Dr. Robert L. Austin Endowed Lectureship in Pediatric Medicine, Pharmacology & Health Care Policy.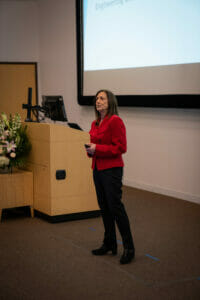 Sandra S. Block, OD, MEd, MPH, FAAO, FCOVD, FNAP, FARVO, presented "Meeting the Increasing Vision Challenges Facing School-Aged Children" at the Austin Lecture on WesternU's Pomona, California campus April 4, 2023. Click here to watch a recording of the lecture.
Dr. Block is a Professor Emeritus at Illinois College of Optometry. She received her OD degree (1981) and completed a Pediatric Residency (1982) at the Illinois College of Optometry after which she taught from 1981-2020. She completed her Master of Education at National Louis University and her Master of Public Health from the University of Illinois, School of Public Health. Dr. Block retired from a faculty position in 2020 after 39 years of teaching with her last position as the Medical Director, Illinois Eye Institute, Princeton School, a school-based vision clinic serving low-income children in Chicago.
Dr. Block discussed multiple high-profile projects she was involved in that examined the importance of vision care. The National Academies of Sciences, Engineering and Medicine published "Making Eye Health a Population Health Imperative" in 2016. Among the findings, "we needed to do a better job to make sure the public is aware of vision and eye health issues and the importance of accessing care before the damage is done," Block said. "We know based on the poor surveillance systems that we had that we needed to get better evidence, and thank goodness since this time has taken place, there has been a lot of support expanding and improving surveillance at the CDC. We know we need to expand access to clinical care because there are a lot of populations that are not able to access it for a number of reasons. We needed to do a better job in public health capacity. We're not just talking about the health care system, we're talking about accessibility. We're talking about changing communities so people with visual impairments can get around independently. And we needed to have communities have buy-in to that."
Another high-profile project that Dr. Block worked on was the World Report on Vision, published in October 2019 by the World Health Organization. One of its conclusions: "Everybody, if they live long enough, will experience at least one eye condition in their lifetime," Block said. "It could be something insignificant, like conjunctivitis. It could be something devastating like retinal detachment. But the fact is everybody will be touched at some point in their life."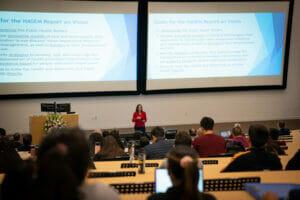 The report also identified cataracts and refractive error as two conditions that were the highest prevalence and also had something that you could do to improve outcomes.
"Those are all preventable or treatable issues. But the cost factor associated with it at that point was $14.3 billion. So clearly there was an issue," Block said.
With the aging population there is going to be an increase in significant causes of visual impairment as it relates to macular degeneration, Block said. The number of cases is expected to rise from 195 million in 2020 to 243 million in 2030. Glaucoma is expected to see a similar rise.
"The World Report on Vision came up with some really important concepts," Block said. "They said eye care needs to be integrated into universal health coverage. We shouldn't be siloed. We shouldn't be separate. We are part of the health care team and that's the way it should be."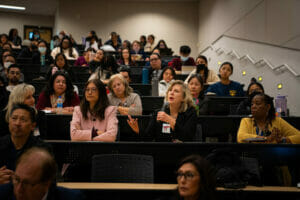 Another concept in the report is "integrated people-centered eye care."
"We need to look at our patients from the health promotion piece through the screening to the diagnosis to the treatment to the rehabilitation," Block said. "We need to be there for that patient for all of that continuum.
"The other piece that came out of here is everybody should be entitled to eye care services that are acceptable to them, accessible, and affordable," Block added. "Those three things are really part and parcel of ensuring equality for everybody."
At least 2.2 billion people have vision impairment worldwide. At least 1 billion people have vision impairment that could have been prevented or is still to be addressed, Block said.
Schools conduct vision screenings, but in the U.S. only 33 states have statutes related to vision screenings, so there is a lot of variation in how and when vision is assessed.
"What the data is showing is if a child fails a vision screening, the average time from failing that screening to actually accessing a full comprehensive eye exam is 18 months," Block said. "That's a year and a half of school they've lost."
The prevalence of myopia in children is rapidly increasing, Block said. In China, the prevalence of myopia increased from 56% to 66% from 2006 to 2015. The causes of myopia are multi-factorial – genetic, environmental, behavioral, and lifestyle. Worldwide, Myopia prevalence increased from 163 million in 2000 to 399 million in 2020, Block said.
"The World Council of Optometry really took this research seriously. We as a profession can no longer address myopia as simply a refractive condition," Block said. "We need to look at it as a disease entity and we need to be very serious how we do it through mitigation, measurement, and management. We need to do a better job."
The Dr. Robert L. Austin Endowed Lectureship in Pediatric Medicine, Pharmacology and Health Care Policy is made possible by a generous donation from Mrs. Gloria L. Austin of La Mirada, California in memory of her husband, Robert, a pediatrician, College of Osteopathic Medicine of the Pacific (COMP) faculty member, and early supporter of the University. In addition to the lecture, the endowment provides funds for annual scholarships for both an osteopathic medical student and a pharmacy student.
"On behalf of WesternU and the Austin Lectureship Committee, I am honored to extend sincere gratitude to the Austin family here today in the ongoing support of our mission and our students," said COMP Associate Professor and Chair of Pediatrics Lisa Warren, DO '01, who serves as Chair of the Austin Lectureship Committee. "Their impact is felt within our community, our classrooms, patient care centers, and in all who benefit from the knowledge and resources because of the family's contributions."
In attendance were Lynette Austin, Liz Fields-Austin, and Linda Goldman, DNP '13, the daughter, daughter-in-law, and cousin of Robert and Gloria Austin, respectively. Dr. Goldman is also a graduate of the WesternU College of Graduate Nursing.
"It is particularly important that we honor individuals like yourselves because it very much is in alignment with our own mission," said WesternU President Robin Farias-Eisner, MD, PhD, MBA. "We're all dedicated to community. It's very important to us to continue that tradition – to reach out into the community and to do whatever we can to create scholarship and also to create opportunity for underrepresented communities. That really is part of who we are and what we want to continue to be. Thank you for your continued support of this initiative and these endeavors."