WesternU's A Tribute to Caring honors VCA, raises money for student scholarships
November 8, 2016
Read 4 mins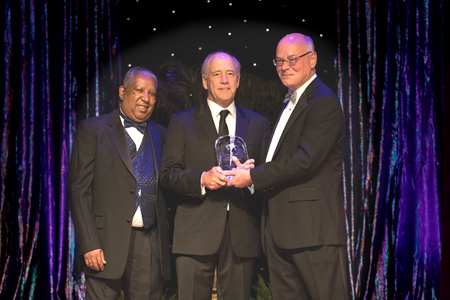 Western University of Health Sciences held one of its most successful fundraisers ever, attracting a capacity crowd of nearly 700 guests and tallying more than $400,000 in ticket sales and sponsorships for its annual gala, "A Tribute to Caring" Nov. 5, 2016 at the Disneyland Hotel in Anaheim, California.
Amid a Bollywood theme, WesternU honored longtime friend and partner VCA Inc. with the Corporate Award for Excellence in Health Care. VCA's family of businesses include: VCA Animal Hospitals, represented by approximately 800 small animal veterinary hospitals in the U.S. and Canada; Antech Diagnostics, a preeminent nationwide clinical laboratory system that services all 50 states and Canada; Sound, a leading animal diagnostic imaging company in the veterinary field, and Camp Bow Wow, which provides pet services including boarding and doggy day care.
VCA has established the largest small animal private practice post-graduate education program for veterinarians in the world, and employs the largest group of veterinary specialists of any veterinary care company. The company has approximately 4,500 veterinarians, including nearly 600 board-certified specialists, and more than 25,000 skilled pet care providers, support staff and managers.
 VCA supported WesternU Founding President Philip Pumerantz, PhD, when WesternU opened its College of Veterinary Medicine, said WesternU Senior Vice President Thomas G. Fox, PhD. VCA supports and contributes to the One Health concept and the psychological bond between humans and animals, he said.
"The role of veterinarians in public health, as well as medicine, has gained in significance, going beyond the diseases that affect both animals and man," Fox said. "The concept of One Health and its public health significance contributes to and mandates a healthy environment, healthy animals and healthy people. Robert L. Antin, as Chairman of the Board, President and Chief Executive Officer, has had VCA in the forefront of efforts to improve the understanding of the importance of One Health."
VCA co-founders Robert Antin, his brother, Chief Operating Officer Arthur J. Antin, and Senior Vice President of Development Neil Tauber started VCA around the time Dr. Pumerantz and WesternU were exploring the opening of a veterinary college.
"We have a lot of memories together, and we share an awful lot of experiences — how hard it is to start something and build an incredible culture at the same time, and I think we share moments together now that are just spectacular," Robert Antin said. "I think together between the university and us, and our dedication to One Health and what we do in a company in building a culture and affecting the profession, is more important than whatever dollars we can bring in."
When they look back at creating VCA, Antin said, it's not the buildings they will remember.
"It's the people. It's the careers. It's the opportunity that people have, and even though it's a tough go and building something is very tough, I think right now we feel awfully proud," he said. "We love the profession. We believe in one another so strongly. Our lives are intertwined with yours. And I hope in the future we keep on building it."
CVM alumna Jaimie Siegel, DVM '07, grew up with Bob Antin as a neighbor. She babysat his children and, when he found out she wanted to become a veterinarian, he helped her get a job as a kennel assistant at a VCA hospital at age 16. That early experience helped her gain a realistic view of her future profession.
"It's one thing to want to take care of furry animals, it's another thing to understand what it means to provide day-to-day care and to do the less glorious parts of the job," Siegel said. "That was an amazing thing to understand about yourself, that you're capable of doing it."
Siegel continued to work for VCA while attending WesternU, and completed an emergency critical care and surgery internship at VCA after earning her Doctor of Veterinary Medicine degree. She worked at VCA for nine years before starting her own concierge practice in Hermosa Beach.
"VCA is very accepting of who you are as a person. They think about the individual more than a lot of other companies," Siegel said. "I'm here tonight as a supporter of the company — the work they do, their mission statement. VCA is about individualism. It's about the individual client and the individual animal."
Every CVM student takes the "Diagnostic, Laboratory and Pathology" course at VCA's Antech Diagnostics Laboratory in Orange County, and many VCA practices provide training opportunities to CVM students.
CVM alumna Cynthia Kinney, DVM '07, said the Antech Diagnostics rotation was a high-quality learning experience, and she continues to use Antech as a resource when she needs help with cases. Kinney worked at VCA from 2007 to 2015, and is now medical director for the Inland Valley Humane Society.
"I love VCA. I'm a big proponent of VCA. They've been very good to me," Kinney said. "I think it's a great organization to work for. It's a very supportive environment, practicing high-quality medicine. They have great leadership."
Several WesternU students attended ATC and mingled with the many guests who were there to support student scholarships.
"It's amazing to see that people really value our education and value what we're doing," said third-year College of Veterinary Medicine student Hygan Baghoyan. "I think it's very humbling and very nice to see people go out of their way to support students."
WesternU thanks its ATC Gold Sponsors, Henry Schein and VCA Inc., and its Silver Sponsors: Ethan R. Allen, DO, & Alice Allen, Chino Valley Medical Center, Royal Canin, Elaine Sarkaria, EdD, Wells Fargo Bank, Henry K. Yoo, DVM, MSc, MBA, and Zoetis.
Click here to view the "Dreams into Action" video presented at the "A Tribute to Caring" gala.