WesternU's 'A Tribute to Caring' builds new endowments, honors two doctors who care
November 11, 2019
Read 6 mins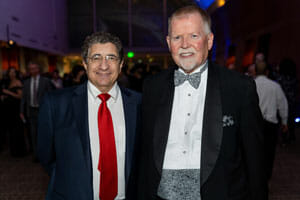 Western University of Health Sciences celebrated a number of firsts at its annual fundraising gala "A Tribute to Caring," from the unprecedented establishment of three new endowed scholarships to honoring its first graduate for his stewardship of the University.
WesternU held "A Tribute to Caring" (ATC) Nov. 9, 2019 in its home city of Pomona, California for the first time, an elegant, star-accented affair at the Sheraton Fairplex Hotel & Conference Center. ATC had a Presenting Sponsor for the first time, a generous supporter who wished to remain anonymous. The generosity of this sponsor and the 562 guests who attended was appreciated.
"A Tribute to Caring acknowledges the outstanding work being done by our amazing students, faculty and staff, and the importance of every student and scholarship," WesternU President Daniel R. Wilson, MD, PhD, said to the many guests in the audience. "But it is also a celebration of all of you. By supporting 'A Tribute to Caring' and Western University of Health Sciences, you are creating future generations of healers, researchers, community health advocates and engaged citizens who will ultimately impact the lives of – literally – millions of people over generations to come."
ATC proceeds are divided among each of WesternU's nine colleges to award as Academic Excellence Scholarships, and a portion is added to an endowment to fund future scholarships. ATC 2019 raised more than $365,000 and increased the endowment's value to more than $1.5 million, said WesternU Senior Vice President of University Advancement Diane M. Abraham, PhD, MBA, CFRE.
WesternU honored Solomon Hamburg, MD, PhD, a clinical professor of medicine in UCLA's Department of Medicine and Division of Hematology Oncology, with the Doctors with Heart Award. Hamburg is a general hematologist and medical oncologist who practices in Beverly Hills and Encino. He has been treating cancer patients for more than 40 years.
Education, health care and insurance are constantly changing, and medical care providers need to keep up, Hamburg said.
"But what will always be the single most important thing is the relationship with the patient and their family," he said. "It is not enough to know all of the facts. It is not enough to just wonder about the business aspect or the technology or what's changing. It's always needed to understand the person, their illness, their family, the connections you need to make with the patient."
He told the students in the audience to always remember the humanity behind the explosion of information that the profession brings. Hamburg, who is Jewish, said he prays for his patients every year at the High Holidays "because it's so important for me to believe that it's not only what I know, but how I care for them that will make real impact on their lives. So to the students, to the University, for everyone here, remember that really this award and this evening is about caring more than about anything else."
In honor of Hamburg, longtime WesternU supporters Josephine Yeong and Kon L. Leung, DDS, established the Doctors with Heart Endowment Fund. The fund will annually award a cash prize to WesternU alumni who demonstrate heart through their professionally related charitable acts, Abraham said. "Although 'doctors with heart' are abundant in University alumni, the couple wish to select individuals who go well beyond and above in their professional careers," she added.
WesternU honored Board of Trustees Chairman Richard A. Bond, DO '82, DrPH, with the Commitment to Stewardship Award. Bond earned his Doctor of Osteopathic Medicine degree as a member of the inaugural College of Osteopathic Medicine of the Pacific (COMP) Class of 1982 and has practiced family medicine for more than 30 years. He joined the WesternU Board of Trustees in May 2000 and has served as chairman since March 2013.
All he wanted to be was a physician, and COMP afforded him that chance, Bond said. All he had to do was commit to an untested institution in a shopping mall.
"Fortunately, I made the right choice. I became the University's first graduate, which I owe entirely to my classmates who dragged me through the basic sciences," Bond said. "It all started to click when I got to clinical studies. Working with patients suited me better than learning from books."
In addition to faithfully serving his patients, Bond has held multiple leadership positions, including serving as president of the Orange County chapter of the California Academy of Family Physicians and the Orange County Osteopathic Medical Association.
"I've been lucky. I took chances. I didn't take the easy route. I was willing to change when change was needed. I didn't set out to be a leader, but when everyone else stepped back, I accepted the challenge. I never sought recognition … but it feels good," Bond said with a laugh. "Thank you for this honor."
In addition to leading the Board of Trustees, devoting time to his patients and stewarding the University, Bond and his wife, Elizabeth, are dedicated financial supporters of WesternU. They were a Silver Sponsor of ATC and they have included WesternU in their estate planning. And now, the Bonds have established the Richard A. Bond Endowed Scholarship, which will provide financial support to WesternU students who, like him, have demonstrated leadership and service to the University community.
"Tonight is a night for firsts. For the first time, this event has led to creation of not one, not two, but three new award endowments," Abraham said.
The third award was created by WesternU board member Tony L. Chan, PharmD, in honor of his friend and fellow Trustee, the Hon. Consuelo M. Callahan, LLM, JD.
The Honorable Consuelo M. Callahan Endowed Scholarship, along with the other two awards, in this year alone total nearly $150,000 for WesternU. While not directly related to ATC, Abraham announced an additional four recent endowments that will support WesternU students:
The Greg Allen Memorial Scholarship, established by WesternU founding Trustee Ethan Allen, DO, in memory of his son.
A scholarship funded by RxPrep to support College of Pharmacy students.
A scholarship supporting College of Graduate Nursing students.
An endowed scholarship by optometrist and former state Sen. Ed Hernandez, OD, which will establish a scholarship and a leadership and mentorship program in the College of Optometry.
"Combined, these four endowments will total nearly $250,000," Abraham said. "So let me conclude by saying in the past few months these generous donors, along with all of you here tonight, have provided much needed new financial support for our WesternU students and it totals over $765,000. Thank you very much for your support."
Several appreciative WesternU students attended ATC as guests, and two had a more prominent role in the festivities. College of Podiatric Medicine student Eduardo Glass and COMP student Gilbert Hernandez served as masters of ceremony for ATC. As master of ceremonies, it was an honor to talk about the core values of WesternU – caring, empathy and humanism, Glass said. He is appreciative of everyone who donates to the University, and the key is to pay it forward, he said.
"The only way to thank them is to continue my education, continue to do the best I can, and eventually build to when I can give back to the University," Glass said.
First-year Master of Science in Physician Assistant Studies student Nhi Pham said her parents, refugees from Vietnam, came to the U.S. to give their family a better life. She is the first in her family to attend graduate school.
"Growing up, being able to apply for scholarships and getting financial aid meant a lot to me," she said. "I appreciate that my parents' efforts paid off. My parents are really proud."
Given the opportunity, Pham said she would tell donors her family's story to explain how much their generosity has impacted her.
"This is where I came from. This is how you helped me get to where I am," she said. "I made it this far because of you."