WesternU welcomes second class of kindergartners for Mini-Medical School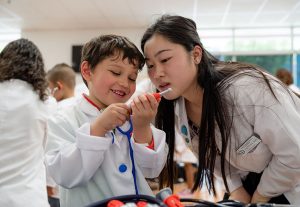 Western University of Health Sciences students from the Pediatric Interest Group (PIG) hosted more than 40 kindergarten students from La Verne Science & Technology Charter school, part of the Pomona Unified School District, for the school's second Mini-Medical School.
Kindergartners learned about the human body and medicine Friday, April 26, 2019 on WesternU's Pomona campus.
Children received special white coats when they arrived, then rotated through stations, ending with an award ceremony.
The five stations taught by WesternU students were the Bone Station; Heart and Pulse Station; Hand Hygiene Station/Operating Room Preparation; Mini Operating Room Station and the Medical Equipment Station.
First-year College of Osteopathic Medicine of the Pacific student and President of PIG Justin Ramos said WesternU is dedicated to working with local communities and inspiring young minds, and as medical professional students, they are zealous about health care and helping others by sharing these passions.
The WesternU Office of Strategic Alliances (OSA), a division of the Provost's office, helps sponsor Mini-Medical School. OSA has more than 10 years of experience hosting the Health Career Ladder (HCL) Saturday academies, inspiring middle and high school students at an early age to the spectrum of health care professions.
"We'll get to inspire these kindergartners to start thinking about health at a young age while learning through modeling and observation, and through teaching and roleplaying," Ramos said. "They'll get to step into our shoes and learn what it means to be in a white coat and help others. By doing so, they'll develop a greater sense of compassion and autonomy and will ultimately feel more comfortable going to their own pediatrician as well."
First-Year COMP student Taylor Thiesen added, "Seeing doctors, or any medical professional, can be an extremely scary and vulnerable experience to individuals of all ages, and here at WesternU through activities like PHCL and Mini-Medical School, we hope to reduce some of that anxiety and create a supportive learning environment to get children interested in science and caring for others."