WesternU welcomes new students to the health professions
August 11, 2022
Read 7 mins
Western University of Health Sciences students are ready to learn the skills needed to help humanity. 
WesternU welcomed more than 900 students to its Pomona, California campus during Welcome Week Aug. 1-5, 2022 and celebrated their entry into the health professions at white coat ceremonies Aug. 5-6. With WesternU's osteopathic medicine and physical therapy programs in Lebanon, Oregon welcoming about 160 incoming students in July, the University has nearly 1,100 new students for the 2022-23 academic year.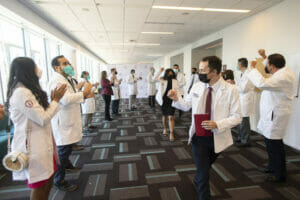 Students picked up their white coats and equipment at the WesternU Campus Store, went on scavenger hunts to learn about the campus, and bonded with classmates. First-year College of Optometry student Kevin Tran said everyone he has met so far have been super friendly, and he looked forward to the white coat ceremony.
"I already imagine it is going to feel like the culmination of all the work I've done up to this point," Tran said. "It's also signaling I'm finally at the start of the journey I have envisioned for myself. Ever since I was young, I have always been attracted to health care."
First-year College of Graduate Nursing MSN-E student Karina Gordeychev said she already exchanged phone numbers and started a group text with three of her classmates. Her interest in becoming a nurse was sparked while volunteering in the Cedars-Sinai emergency room at the start of the COVID-19 pandemic.
"Pretty much since I can remember, I have always been interested in health and making people feel better. Not necessarily in a clinical way, but generally," Gordevchev said. "It became a natural evolution. I want to apply all of this clinical knowledge to my ability to help people."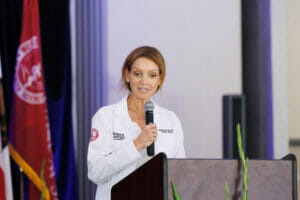 Each college held a white coat ceremony on Aug. 5 or 6, where students are welcomed into the health professions by donning their first white coat. California Podiatric Medical Association (CPMA) President Holly Spohn-Gross, DPM, said at the College of Podiatric Medicine ceremony that the white coat "is a powerful symbol of professionalism, compassion and honor, and it comes with moral responsibility. But don't forget when you wear that coat and it comes off, you are still held to those same standards."
She told CPM students that they will possess a surgical skill set that can change people's lives.
"You will all be leaders in your community. Soon you will be asked for your advice and support," Spohn-Gross said. "When you put on your white coat, wear it with pride and know that great things are going to happen to you. And always remember the CPMA is there for you."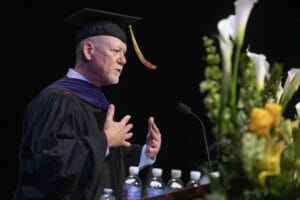 Andrew T. Mccabe, DVM, JD, chief executive officer of the American Association of Veterinary Medical Colleges, served as keynote speaker for the College of Veterinary Medicine on Aug. 6. Mccabe urged the student doctors to begin thinking like scientists as they begin their journey.
"Cultivate your curiosity. Give it room to grow by challenging your assumptions," Mccabe said. "Contrary to popular belief, the greatest advancements in science do not occur when someone said, 'Eureka, I've found it.' The greatest breakthroughs happen when a researcher said, 'Huh…I wasn't expecting that.'"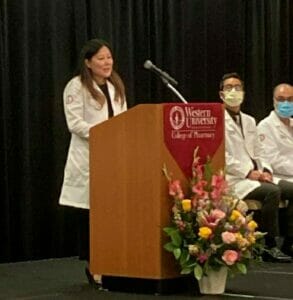 College of Pharmacy alumna Levita Hidayat, PharmD '04, told students at the COP white coat ceremony to use the question, "what do I want to do when I grow up?" to periodically take their professional pulse throughout their education and their professional life.
"Don't be afraid to be uncomfortable. Push yourself. Be the best student you can be anywhere you are at and give it your best effort," Hidayat said. "Show up to your responsibilities and I know success will follow. I would like to challenge all of you today to be committed to make positive changes in our profession. It is easier to follow than to innovate. There are plenty of opportunities to advance our profession."
College of Health Sciences Executive Vice Dean and Director of Diversity, Equity & Inclusion Gail M. Evans Grayson, EdD, MA, talked to CHS students and their guests about the importance of cultural diversity.
"In the College of Health Sciences, (cultural diversity) is an opportunity to increase your knowledge, skills and motivation to build and maintain effective and productive relationships based on respect for differences and recognition of common interests and needs," Evans Grayson said. "As CHS interacts with our students, faculty and staff, we continue to build a bridge to trust, respect and understanding of cultures.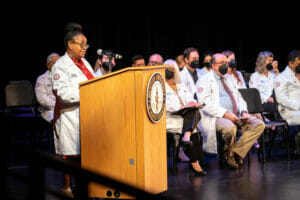 "And speaking about cultural diversity, we must realize that we all have prejudice, biases and values that lead to stereotyping based on our background. It's common. However, we must understand our attitudes toward differences can impact lives," she added. "It means encouraging and respecting diverse points of view, creating a climate that supports honesty, open dialogue and resource sharing. There is only one way we can enhance our ability to communicate, work in teams and problem solve effectively, and that's through having courageous conversations."
First-year College of Dental Medicine student Jisoo Kim said she appreciates the diversity on campus.
"People come from very different backgrounds. There are a lot of untold stories just based off our introductions," Kim said. "I look forward to getting to know my classmates and where they come from."
Her parents were not educated about the importance of oral health, so she first saw a dentist as a teenager after years of severe pain, Kim said. She has since learned the important role good oral health plays in overall health.
"WesternU is doing a really good job training future doctors to be compassionate and very aware of what's going on in this world with health disparities," Kim said. "I'm humbled, knowing I'm at the right place at the right time. Knowing this set of people trust in me to become a well-trained clinician. It's so inspiring."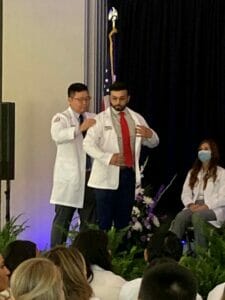 First-year CPM student Auqib Hassan said he chose podiatric medicine because he is guaranteed to practice surgery while also having various practice settings to choose from. He was looking forward to donning his white coat for the first time.
"I will be learning a skill set to help humanity. This is a humbling experience," Hassan said. "That's the first step toward it. It's a great honor to put on the white coat and help communities. It's motivation."
First-year College of Pharmacy student Josephine Batte said returned to school after earning an accounting degree because she didn't like doing taxes.
"I was making good money, but I was not happy. It was just repetitive," Batte said. "I wanted to do something that challenged me, something different. I looked into pharmacy. This career is diverse with a lot of opportunities."
First-year College of Health Sciences Doctor of Physical Therapy student Kady Flores also came to WesternU after a career change. She was a graphic design major, but she couldn't see herself sitting at a computer her whole life. She coached high school sports and loved to learn the fundamentals of how a body moves.
"I love helping people. Seeing a person at their most vulnerable, allowing them within the process to feel as independent as they can and grateful to be more educated on their body is what I find gratifying about this program," Flores said. "I'm a mom of two and a wife and a daughter. Working toward the highest degree I can possibly earn is very rewarding, knowing I will be there in three years. I'm blessed and excited to have my support system help me get to that point."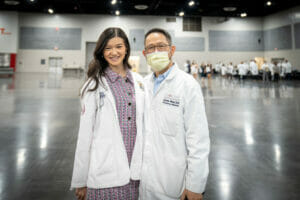 First-year College of Osteopathic Medicine of the Pacific (COMP) student Cat-Ly Winn is following in her father's footsteps. Her father, James Winn, graduated from COMP in 1989 and planned to cloak her onstage at the white coat ceremony.
"It's always been a school I thought highly of because of how well-versed my father is in emergency medicine," Winn said, adding her father left the decision of which medical school to attend completely up to her. Once she chose COMP, he did offer her words of wisdom.
"He said 'Everyone is in the same position you are. When you feel overwhelmed, remember it's just a test, not a definition of who you are or your character," Winn said. "Don't be too hard on yourself. Remind yourself this is a learning moment."
First-year College of Veterinary Medicine student Samuel Munoz said he picked WesternU because CVM is much more hands-on compared to other veterinary schools, and he learns quicker by doing, he said. Donning the white coat will be important.
"It definitely means that I put a lot of blood, sweat and tears into where I am now," Munoz said. "I think that will prove to myself dreams do come true."