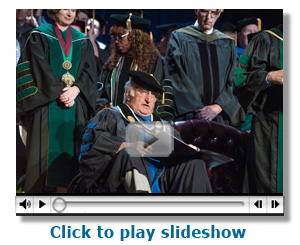 The newest generation of health professions students will learn to rely on one another across disciplines to provide the best possible care for their patients, WesternU's incoming class was told by one of Southern California's leading physicians.
Pedram Salimpour, MD, president of the Los Angeles County Medical Association, underlined the importance of interprofessional education — and of failure — during his keynote address at WesternU's Convocation ceremony Saturday, Aug. 8 at Fairplex for more than 1,000 new students.
Salimpour — an associate professor at two universities — has owned, owns, or has co-founded several health-care related companies, and has written major grant awards from the National Institutes of Health. He told WesternU's first-year students that they are about to experience a unique brand of health sciences education, thanks to the university's interprofessional orientation. After reeling off the names of all nine of WesternU's health professions colleges, Salimpour pointed out that, "I named them all, because in my heart of hearts, I believe that you're all lucky to be in the distinguished company of your colleagues from the very beginning of your training. You may know nothing about each other now, but in four years, or two years, or three years at graduation, you'll be sitting here because of each other."
Health care has never been more challenging than it is now, Salimpour said, not least because of the staggering numbers behind the activity of care itself: 14,000 different diseases and types of injury. Six thousand different drugs. Four thousand different medical and surgical procedures. "The permutations are in the trillions, and are incomprehensible," he said. That makes well-trained, "big picture" health care professionals even more important, because "it's only human beings that can mitigate the errors other human beings can make in these highly complex, highly volatile, highly ambiguous real-life scenarios of medicine.
"The only way to create the best clinical outcomes for your patients is to create teams of teams," he said. "That's where you come in. And that's why this place is so unique."
Salimpour also advised students to be accepting of the problems, mistakes and failures that lie ahead, because they are a critical part of learning. "You'll have setbacks. But your setbacks are meaningful only in the sense that you'll grow because of them.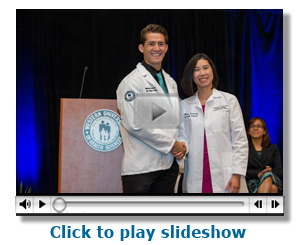 "I wish for all of you the bad as well as the good. Because when you look back, years from now, your toughest days — I promise you — will have been your best days. Your experiences here with each other will soften the sharp edges of your grand ambitions.
"Welcome. You're exactly what we've been waiting for."
Salimpour also made a point of acknowledging the upcoming retirement of WesternU Founding President Philip Pumerantz, PhD, who presided over Convocation for the final time and who was presented with a special resolution at the ceremony by the university's Board of Trustees.
"President Pumerantz, your work here over the course of the last four decades is the stuff of legend. As one of the most distinct and revered figures in American higher education… you're leaving office with an extraordinary legacy of achievement and success," Salimpour said.
"I continue to be energized when I look at the faces of our future health care professionals," Dr. Pumerantz said as the Convocation program drew to a close. "Thank you all for your attention, and I welcome you to the WesternU family."
The ceremony also included the presentation of awards to university faculty, including the Harriet K. and Philip Pumerantz Award for Leadership and Service, given to Dr. Fadi Khasawneh of the College of Pharmacy; the Provost's Distinguished Scholar Award, to Dr. Kabir Lutfy of the College of Pharmacy; and the WesternU Distinguished Teacher Award, to Dr. Janice Blumer of the College of Osteopathic Medicine of the Pacific (COMP).
Convocation marks the opening of the academic year at WesternU. The white coat ceremony, where students formally don the short jackets they frequently wear while in school, acknowledges and honors their entry into the health professions. Each college held individual white coat ceremonies after Convocation. WesternU's COMP-Northwest campus held its Convocation and white coat ceremonies Aug. 1, 2015 in Lebanon, Oregon.
At the College of Optometry's white coat ceremony, David Krasnow, OD, MPH, MBA, founder of the nonprofit global vision program VOSH International, told the new students that "you've chosen a phenomenal profession … You are not just optometrists. You're doctors. You're actually RDs — you're Real Doctors. … I'm here to tell you that you will take a back seat to no one. You will be well-trained, and you will take your place among all other health care practitioners. And you will do that as soon as you leave this institution."
Krasnow emphasized the supportive and family-like atmosphere that are hallmarks of the College of Optometry and of WesternU, and lauded the qualifications and experience of the optometry faculty and administrators. "You're surrounded by faculty who you'd better admire, because they're the best in the business, and you're fortunate to be here," he said.
Krasnow also urged the students to rely on one another, and on the other students and professionals they meet along the way, so that their professional and personal worlds are expansive and of best use to themselves and their patients. He then urged them to always be in pursuit of excellence,
"Being average is not an option," he said. "You have to be the very best you can be."
Cody Alvarado, OD '19, said he chose WesternU because of its access to his home community of San Bernardino, California, which is underserved medically. "Being here will allow me to immerse myself in a larger community, in surrounding communities, as well as give back to where I'm from."
He described Convocation and white coat as unique and "a great time. It's really given me a lot of encouragement as to our position in the medical field, and that we're really going to be able to make a difference."
Arnold Tabuenca, MD, FACS, Medical Director, Riverside County Regional Medical Center Chair of Surgery & Associate Program Director, University of California, Riverside, gave the keynote address at the College of Podiatric Medicine (CPM) white coat ceremony. He told CPM students that the next two years will be the toughest. There will be long nights of studying where your brain seems ready to explode, but be assured that you made the right choice, he said.
The obesity epidemic that affects our society has really increased the number of diabetic patients, he said. Last year, there were an estimated 25,000 patients just in the Inland Empire with foot ulcers, he said.
"Podiatrists have been leaders in the implementation of most successful limb salvage programs," Tabuenca said. "Have you thought that you would ever be saving lives? No, podiatrists don't save lives, they only save feet. Wrong assumption.
"Between 13 and 40 percent of diabetic patients with an amputation will die within one year of the amputation," he said. "So by you working with a patient to avoid an amputation, educating them, helping them change their lifestyle, you will literally be saving lives. Exciting, isn't it? You have chosen the right profession."
First-year College of Podiatric Medicine student Trent Brookshier said he was attracted to WesternU because of interprofessional education and its humanistic approach. He also met CPM Dean Lawrence Harkless, who was very personable.
"After I shadowed people I realized how many different facets you can do on the job – radiology, dermatology, surgery – all in the same setting, or you can just do general medicine," he said.
First-year Master of Science in Medical Sciences student Parveen Hussain said after the Graduate College of Biomedical Sciences white coat ceremony that donning her white coat for the first time was very empowering.
"I feel privileged and humbled to be in a place where I can develop and grow as a person," she said. Her goal is to become a physician and develop as a researcher and as a leader. "The campus is very supportive and welcoming. We have a very intelligent class. I feel blessed to be part of this diverse group. I feel we can grow together on this journey."
New students spent the past week learning more about the campus and their colleagues during Welcome Week. First-year College of Dental Medicine student Ben Thomas said this was one of the most fun weeks of his life.
"It seems like it's going to be like a big family," he said. "It's the place I felt like I fit in the most. Everyone seems like they care about people and patients.
"I've been waiting for this day since I was in seventh grade," he said. "I've wanted to be a dentist my whole life."
His father, Dave Thomas, said he and Ben's mother, Joanne, were thrilled to share this moment.
"We're proud of Ben and the hard work he's done to get here," Dave said. "Many times I asked him what would be 'Plan B.' He never wanted to hear about it. There was no Plan B. He wanted to be a dentist."
First-year COMP student Neda Arora said the staff and classmates she has met so far have been very kind.
"They're just very open to getting to know you and wanting to help," she said. "They're very friendly."
She hopes to make new friends and build close relationships with her classmates, and she is grateful to be in the position of putting on a white coat and starting her osteopathic medical career.
"It definitely makes me want to be the best of myself and be the best caretaker I can be," Arora said.
COMP, WesternU's founding college, made a special presentation honoring the legacy of Dr. Pumerantz and his wife, Harriet, during its white coat ceremony. COMP Department of Family Medicine Chair Emeritus Alan Cundari, DO, MSHPE, a 1985 COMP graduate, said the Pumerantz family took on a bold undertaking 38 years ago, packing up and moving from Chicago to Pomona. Dr. Pumerantz was tasked with serving as the bold new leader in establishing a new outpost for the education of future osteopathic physicians.
"You took on that responsibility and along with your primary support, Harriet, you went about the business of making it happen," Cundari said. "If you and Harriet had any personal doubts about what you could accomplish you kept them to yourselves. You established ideals, values and traditions that continued to nurture the school and the profession along the way.
"Under your dedication and leadership we have grown from one college to nine and a university in the process. You audaciously continued to push forward," he added. "Your legacy cannot be measured in money, plaques, or statues. When you pass the mantle all you can hope for is continuation of those ideals, values, and traditions that you and Harriet established. Mr. President, Harriet, I present to you your legacy."
Cundari then read the names of 27 COMP faculty and administrators who graduated from WesternU programs, including COMP Dean Paula Crone, DO '92. The faculty members stepped down from the stage and surrounded Dr. and Mrs. Pumerantz, who were seated in the audience.
"Mr. President, thank you for being the strong shoulders that all of us have been standing on for so very long," Crone said. "We are grateful and we give you our word we will continue to make you proud."