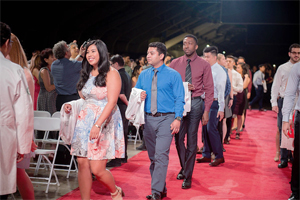 Welcome Week and Convocation at Western University of Health Sciences is a time when lifelong friendships are forged, a path to becoming a healer is blazed and dreams are realized.
WesternU welcomed about 1,000 new students at Convocation and White Coat Ceremonies Aug. 11, 2018 in Pomona, California. Convocation serves as the traditional opening to WesternU's academic year and is the culmination of Welcome Week, which introduces students to campus life. WesternU's Lebanon, Oregon campus welcomed 107 new osteopathic medical students on Aug. 3, 2018.
"I want to assure each and every one of you we are in this together," WesternU President Daniel R. Wilson, MD, PhD, said at Convocation to incoming students. "A family-like culture has ever been and will forever be a hallmark of WesternU. The staff and faculty of WesternU are committed to your success, and will do everything possible to help you on your journey through school and beyond. We are here for you, of that you can be sure."
Many students said WesternU's family atmosphere is a primary reason why they decided to come here.
"I feel welcome here. Everyone is willing to help you out and help you prepare for your career," said first-year College of Pharmacy student Ronnel Valenzuela. "WesternU has a family vibe that really brought me in."
WesternU Student Government Association President Julissa Hoogeveen, DVM '21, told incoming students they should put themselves in situations that will allow them to grow – to make friends with students from different colleges, strike up conversations with faculty members, and always believe that they belong here.
"The success you find from this point forward should not be about receiving an 'A,' but about the knowledge you obtain that will enable you to help others," Hoogeveen said. "Do yourself and your patients a favor. Do not cram. Be proud of the material you're learning and understand its future application. Success will come if you believe in the WesternU way. And someday, sooner than you think, you will make a difference in somebody's life."
WesternU Academic Senate Chair and Associate Professor of Optometry Joshua Cameron, PhD, announced three faculty awards. College of Pharmacy Associate Professor and Chair of the Department of Pharmacy Practice and Administration Donald Hsu, PharmD '03, received the WesternU Distinguished Teacher Award. College of Osteopathic Medicine of the Pacific Professor Edward Wagner, PhD, received the Provost's Distinguished Scholar Award. College of Veterinary Medicine Professor Malika Kachani, PhD, DVM, received the Harriet K. and Philip Pumerantz Award for Leadership and Service.
Following Convocation, each college held a White Coat Ceremony to welcome students into the health care professions. COMP's White Coat keynote speaker was J. Michael Finley, DO, FACOI, FACP, FACR, recently retired as COMP Associate Professor of Internal Medicine and Associate Dean, Graduate Medical Education. He is the inaugural Senior Vice President for Assessment at the National Board of Osteopathic Medical Examiners in Chicago.
Some people argue that white coats might be a source of infection-transmitting pathogens from one patient to another as a physician conducts their rounds. They suggest the coats should be a different color, or have shorter sleeves, or be abandoned altogether, Finley said.
But studies have shown that patients expect and prefer doctors to wear white coats. The white coat also symbolizes purity and a link to scientific inquiry, he said.
"The experience of putting on a white coat in a few moments will change how you see and feel about yourself. Medical students surveyed about the highlights of medical school rate the white coat ceremony in the same grouping as commencement and residency match," Finley said. "You, your experience, your knowledge, your skills, your osteopathic practice, your passion, your humanity, cloaked in white is what you bring to each patient encounter. Never take that opportunity and privilege for granted."
First-year COMP student Hanni Newland said he wanted to become a doctor because it combines his love of science with his dedication to helping others. Putting on the white coat signifies the start of his personal journey in medicine, he said.
"It's beginning to learn how to heal, something a lot of us have wanted to do for a while," Newland said. "This is the chance to finally learn skills I will be applying for the rest of my life. It's a new beginning to start to help and to heal others."
College of Podiatric Medicine White Coat Ceremony keynote speaker Melinda Maggard-Gibbons, MD, MSHS, Professor of Surgery, David Geffen School of Medicine at UCLA, said she did not have a white coat ceremony when she began her medical training and wished she had.
"Today truly is a milestone in your journey. I tried to look up another word for journey because I knew we were all going to use it throughout the day, but it really is the best word to encompass what you're embarking on – to become a physician and, for you all, podiatric surgeons," Maggard-Gibbons said. "You're going to be pledging in your statement an intent to adhere to the most ethical and honorable behavior. This is an opportunity for family and friends, and the medical community, to come together to witness and celebrate all of you as new students who begin this path."
First-year College of Dental Medicine student Triston Nguy said he didn't know what to expect when he first arrived, but got a lot more comfortable once he met his classmates.
"I feel really close to everyone, even though we just met a few days ago," he said. "I'm in awe. I feel like I'm dreaming. It doesn't feel real. But this jacket represents so much to me. I put in so much energy and time in school and volunteering. This coat represents all of that. This is my past and my future. This is it."