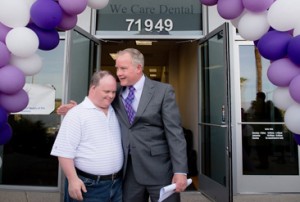 Western University of Health Sciences and We Care Dental held a ribbon-cutting ceremony March 2, 2016 celebrating a partnership that provides dental care for developmentally disabled and low-income clients as well as learning opportunities for WesternU College of Dental Medicine (CDM) students.
One of We Care Dental's original clients, Paul Maloney from Palm Desert, was one of the special guests at the ribbon-cutting. He was asked to stand next to CDM Dean Steven W. Friedrichsen, DDS, as he welcomed those who attended the ceremony.
"Paul, this is for you and everybody who needs care here," said Friedrichsen, who gently put his arm around Maloney's shoulders to embrace him. "This is a place that will provide care for people like Paul who really need excellent dental care. This is an excellent opportunity for Western University of Health Sciences to go into collaboration with We Care Dental and Desert Friends of the Developmentally Disabled to have this beautiful facility."
The two entities, through an expanded affiliation, moved We Care Dental's operations to 71-949 Highway 111, Suite 100-B, in Rancho Mirage. The new site has 11 dental chairs, significantly expanding the number of clients who can be cared for simultaneously.
We Care Dental has provided low-cost dental care to more than 3,500 developmentally disabled or low-income patients during the past four-and-a-half years.
Marianne Benson, executive director of Desert Friends of the Developmentally Disabled, said she and her husband, Russ, came up with the idea for We Care in 2009, after California legislators made major cuts in Medicare and Denti-Cal insurance for people 21 and older, including the developmentally disabled.
WesternU Interim President Gary M. Gugelchuk said this is an exciting time for the University and Desert Friends of the Developmentally Disabled, since they will be able to continue the legacy and care provided by We Care Dental.
"I saw the challenges of the old place, and it gives me great enjoyment in seeing how a problem is turned into an opportunity in care and education," Gugelchuk said. "The merging of WesternU and We Care strengthens the service here."
Volunteer dentist Melvin Glick, DDS, said it was a long road getting to this spot, and several people helped make it happen.
"We have staff, dentists, volunteers, residents, and we have students from WesternU all learning (about) working on needy and disabled people," Glick said. "Once these patients get love, these patients will open their mouth for you, but it takes time and training."
Laurie Baldwin, president and CEO of the Palm Desert Area Chamber of Commerce, presented Friedrichsen with a plaque, welcoming WesternU as a new member. Dozens of Chamber members and ambassadors were also introduced.
Friedrichsen made sure to acknowledge CDM supporters Josephine Yeong and Kon Leung, DDS, for providing a gift that "helped make this a reality."
"It's very important that we graduate students who have a heart," Yeong said. "I think this is a great place for them to demonstrate heart, and that they put that into action in the patients they are seeing here."
Click here to read a previous story announcing the partnership.
Categories: