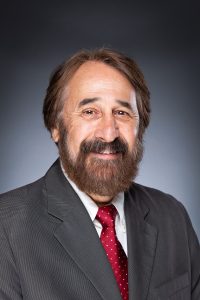 POMONA, Calif. – David Baron, DO, MSEd, Vice President for Clinical and External Relations at Western University of Health Sciences, will become Senior Vice President and Provost of the University effective July 1, 2019. 
Baron was selected by WesternU President Daniel R. Wilson following a national search that began in fall 2018. He joined WesternU in May 2018 after serving for eight years in a variety of roles within the Department of Psychiatry at the Keck School of Medicine, including as Vice Dean for Global Health, Professor of Psychiatry and Neurosurgery, Vice Chair of the Department, and Chief of Service at Keck-USC Hospital. 
Baron previously was Deputy Clinical Director and Director of Medical Student and Residency Education at the National Institute of Mental Health, and served for 12 years as Chair of the Department of Psychiatry at Temple University School of Medicine,
Baron will succeed Gary Gugelchuk, PhD, who since 2012 has served as Provost and Chief Operating Officer of WesternU and has held various administrative positions at the University over the past 33 years. Gugelchuk will step down from his Provost/COO duties following WesternU Commencement exercises in June. He will remain with the University as Professor and Provost Emeritus as well as Special Advisor to the President.
"Dave Baron rose to the top of a superb cadre of candidates for the length, breadth, and depth of his career in academic health sciences. He also stands out as a true pioneer – the first DO resident at USC, the first DO section chief at NIH, the first DO chair of an allopathic medical school department, and the first DO adviser to the International Olympic Committee," President Wilson said. "Moreover, for more than 30 years he has led large clinical services at three major academic health centers while also gathering accolades for teaching, clinical care, and service.
"As I have come to know him better these last few months, I have been impressed by his profound orientation to mission and his desire to 'get things done.' I also applaud the search committee who brought four superb candidates to campus, any one of whom could do this difficult job well. Finally, genuinely 'hats off' to Provost Gugelchuk for a job well and truly done."
Baron holds a Doctor of Osteopathy degree from the Philadelphia College of Osteopathic Medicine and a Master of Science in Education from the University of Southern California. Over the course of his career, he has held academic and administrative positions of increasing responsibility and impact in higher education, government, and clinical settings, and is an internationally recognized authority on concussion in sports, ADHD, global mental health literacy, drug addiction and treatment, and the role of mental health in primary care. He is a past president of the American College of Neuropsychiatry and the Group for Advancement in Psychiatry. He is certified by the American Board of Psychiatry and Neurology, the American Osteopathic Board of Neurology and Psychiatry, and is licensed to practice in California, Nevada, and Pennsylvania.
Baron was named a National Fulbright scholar in 2017-18 and conducted his research as Distinguished Chair in Brain Research at the University of Calgary. He also is the recipient of a Fulbright Specialist Award for 2016-21.  He is happily wed to his childhood sweetheart, Patti, and they have two adult sons.
As Senior Vice President and Provost of WesternU, Baron will serve as chief academic officer of the University responsible for academic, accreditation and budgetary affairs, and will help propel all academic priorities.
"I am deeply honored to be selected by President Wilson to be the next Provost and Senior Vice President of Western University of Health Sciences," Baron said. "Since joining WesternU 10 months ago, I have experienced firsthand the total commitment of the University family to innovative scholarly pursuits and interprofessional graduate health education in our nine graduate health sciences colleges.
"WesternU is a very special place that celebrates a commitment to its core mission while never forgetting the role of humanism in training the next generation of graduate health providers and researchers. I am very fortunate to be given the opportunity to contribute to this unique university as it continues to grow and mature into a world-class institution of health education."