WesternU, U of R sign linkage agreement to enhance diversity in the health care workforce
Leaders from Western University of Health Sciences and the University of Redlands (U of R) will collaborate to enhance diversity in the health care workforce, emphasizing health provision to the medically underserved and creating opportunities for populations underrepresented in health care fields.
The two schools' presidents and other administrators formalized their memorandum of understanding and linkage agreement during a ceremony Wednesday, March 7, 2018, on the WesternU campus in Pomona, California.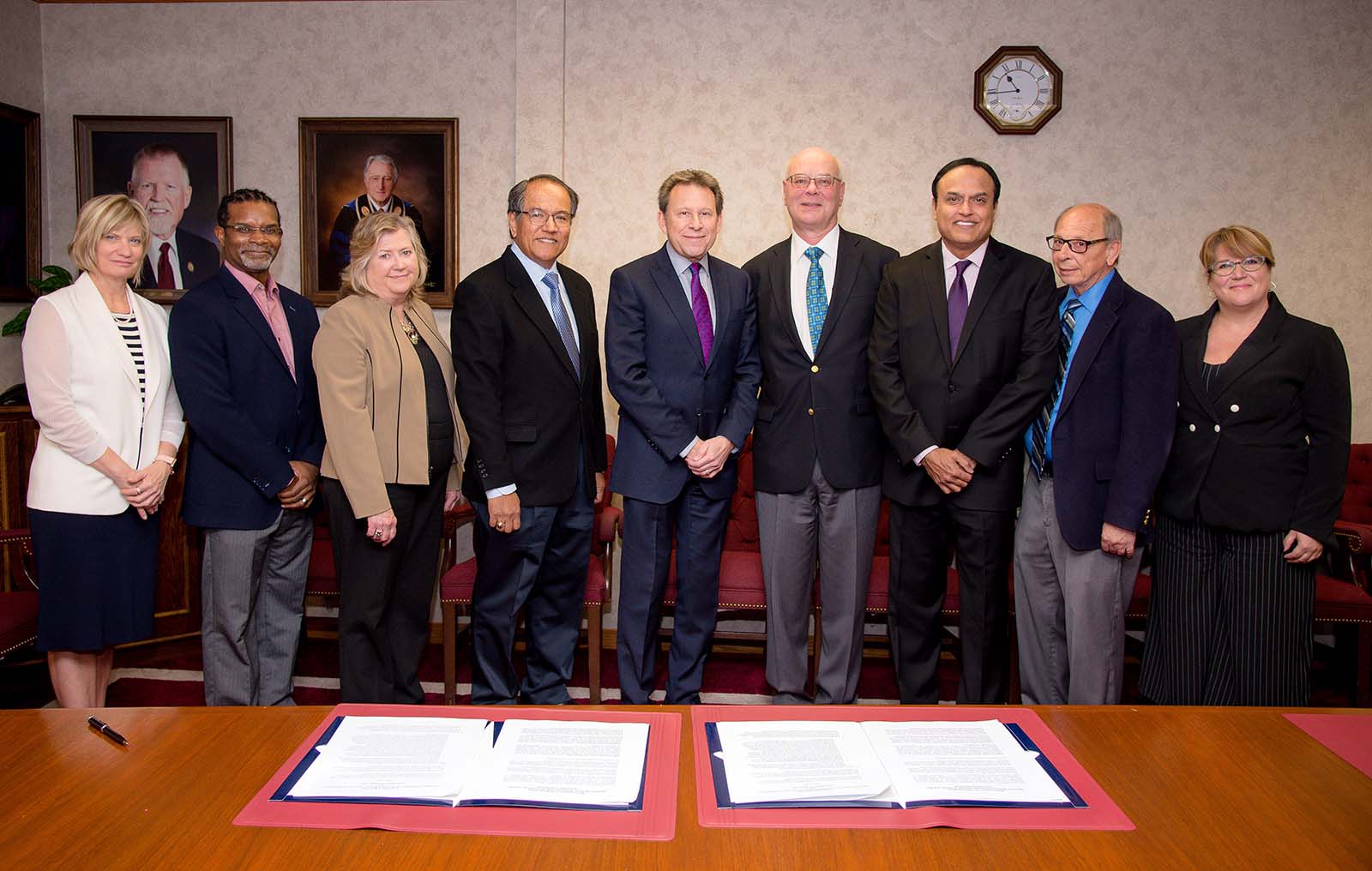 The universities came together after recognizing what was described as a "small-town humanism atmosphere" that is part of each campus' educational environment, creating a natural pathway for students to follow from U of R to WesternU.
The WesternU College of Pharmacy (COP) was the first college to establish a joint program with Redlands, creating what will be known as the Redlands/WesternU Pharmacy Early Assurance Program (EAP). The EAP is designed for pre-health professions students at U of R who wish to matriculate as candidates for the Doctor of Pharmacy (PharmD) degree at the WesternU COP. A total of five seats will be designated to eligible U of R students each academic year.
Officials from both universities hope the linkage agreement will expand throughout WesternU's nine colleges and 21 degree programs.
On hand for the ceremony were WesternU President Daniel R. Wilson, MD, PhD; U of R President Ralph W. Kuncl, MD, PhD; WesternU Provost/COO Gary M. Gugelchuk, PhD; U of R Provost Kathy Ogren, PhD; WesternU COP Executive Associate Dean Sunil Prabhu, PhD; WesternU COP Director of Diversity Initiatives Mario Jimenez, PharmD; U of R College of Arts and Sciences Dean Kendrick Brown, PhD; WesternU Vice President for University Advancement Diane Abraham, PhD, and WesternU Associate Vice Provost for Academic Development Elizabeth Rega, PhD.
Categories: