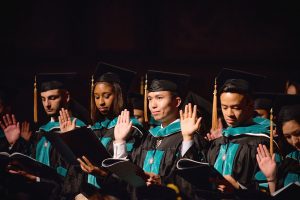 Western University of Health Sciences will award more than 1,000 degrees in Pasadena, Calif. and Lebanon, Ore., marking the first Commencement ceremonies presided over by WesternU President Daniel R. Wilson, MD, PhD.
The ceremonies kick off at the Pasadena Civic Auditorium at 9:30 a.m. Wednesday, May 17, 2017 with the College of Podiatric Medicine and the College of Allied Health Professions. William E. Simon Jr., co-chairman of William E. Simon & Sons, will give the keynote address. The College of Pharmacy and College of Dental Medicine ceremony follows at 3 p.m., with Rear Admiral Pamela M. Schweitzer, PharmD, BCACP, giving the keynote address. Schweitzer was appointed in 2014 as the first female Chief Professional Officer of Pharmacy for the United States Public Health Service (PHS) with a temporary promotion to Assistant Surgeon General.
The ceremonies resume at 9:30 a.m. Thursday, May 18 with the College of Optometry and the College of Graduate Nursing. The keynote speaker will be Jacob Green, MPA, assistant city manager for the city of San Juan Capistrano. The College of Veterinary Medicine ceremony begins at 3 p.m., with keynote speaker Dr. Justine Lee, a board-certified veterinary specialist in emergency critical care and toxicology.
WesternU's final Commencement ceremony in Pasadena will begin at 9:30 a.m. Friday, May 19 for the College of Osteopathic Medicine of the Pacific and the Graduate College of Biomedical Sciences. Rocky Vista University President/CEO and former COMP Dean Clinton Adams, DO, will give the keynote address.
WesternU's COMP-Northwest campus in Lebanon, Oregon will celebrate Commencement at 10 a.m. Friday, June 2. American Osteopathic Association CEO Adrienne White-Faines, MPA, will give the keynote address.
We encourage all WesternU faculty, staff, students and family members attending Commencement to join us on social media by tagging and mentioning us on Twitter and Instagram, and find us on Facebook. Please use the hashtags #WesternU2017 and #COMPNW2017.
Click here for more information about the Pasadena Commencement ceremonies: http://commencement.westernu.edu/pomona/
Click here for more information about the Lebanon Commencement ceremony: http://commencement.westernu.edu/lebanon/