More than 1,000 degrees will be awarded during Western University of Health Sciences Commencement Exercises in Pasadena, California and Lebanon, Oregon in May 2019.
WesternU will award diplomas to nearly 1,000 graduates during five Commencement ceremonies for its nine colleges May 22-24, 2019 at the Pasadena Civic Auditorium. More than 100 COMP-Northwest graduates will celebrate Commencement Friday, May 31, 2019 on WesternU's Lebanon campus.
"Our Commencements are landmark events for many reasons, not least of which is as a symbol of our WesternU commitment to ensuring future health professionals have the best possible skills, knowledge and support to ease suffering for those needing care while also enhancing health and wellness," said WesternU President Daniel R. Wilson, MD, PhD. "As we celebrate our graduates, we celebrate our special University, and the effort all of us make toward advancing the WesternU mission and philosophy throughout our region and increasingly across the world."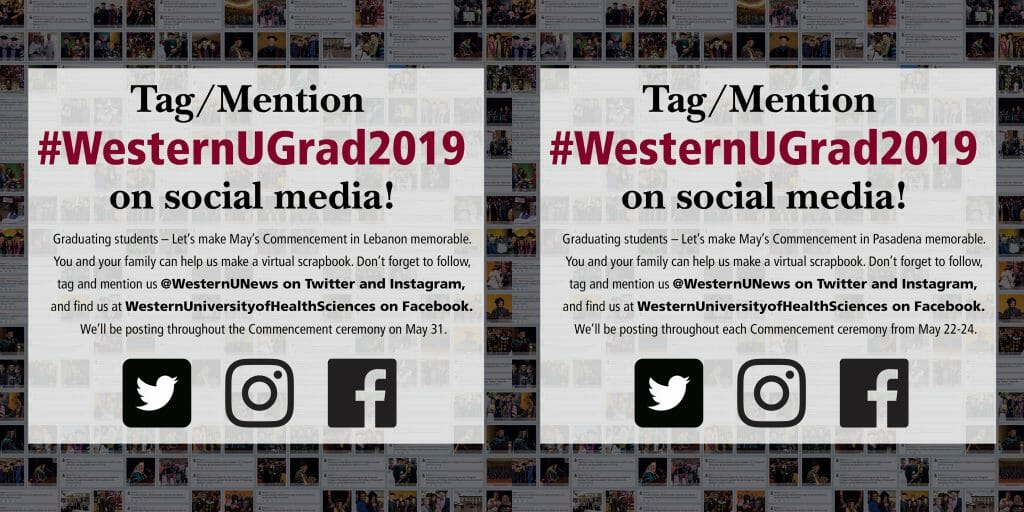 Commencement begins with the Graduate College of Biomedical Sciences and College of Health Sciences at 9:30 a.m. Wednesday, May 22. The keynote speaker is Christopher J.L. Murray, MD, DPhil, Professor of Global Health at the University of Washington and Institute Director of the Institute for Health Metrics and Evaluation. A physician and health economist, his work has led to the development of a range of new methods and empirical studies to strengthen health measurement, analyze the performance of public health and medical care systems, and assess the cost-effectiveness of health technologies.
The College of Pharmacy and College of Dental Medicine Commencement ceremony will begin at 3 p.m. May 22. The keynote speaker will be Robert S. Pugliese, PharmD, Director of Innovation Design at Thomas Jefferson University and Jefferson Health, where he co-founded the Health Design Lab, a creative space built with the purpose of merging design-studio ethos with science-oriented discipline to foster innovation in health care.
The College of Graduate Nursing and the College of Optometry will hold Commencement at 9:30 a.m., Thursday, May 23. The keynote speaker will be Melvin D. Shipp, OD, MPH, DrPH, who is an Emeritus Professor and former Dean of The Ohio State University College of Optometry.
The College of Veterinary Medicine will hold Commencement at 3 p.m. May 23. The keynote speaker will be Dr. Temple Grandin, a renowned leader in animal welfare and autism advocacy whose life story was the subject of an award-winning HBO film.
WesternU's Pasadena ceremonies conclude with the Graduate College of Biomedical Sciences and the College of Osteopathic Medicine of the Pacific (COMP) at 9:30 a.m. Friday, May 24. The keynote speaker will be COMP alumnus Habib Sadeghi, DO '00, FACEMIP, who is the founder of Be Hive of Healing Integrative Medical Center in Agoura Hills, California. He specializes in a multidisciplinary approach to chronic illnesses such as cancer and autoimmune
Sadeghi is the author of two books, The Clarity Cleanse: 12 Steps to Finding Renewed Energy, Spiritual Fulfillment and Emotional Healing, and Within: A Spiritual Awakening to Love & Weight Loss. He is a regular contributor to the Huffington Post and the lifestyle website goopand serves as editor-in-chief and publisher of the annual health and wellness journal MegaZEN.
The COMP-Northwest Commencement ceremony will begin at 10 a.m. Friday, May 31 on the WesternU-Oregon campus. Oregon Gov. Kate Brown will deliver the Governor's Address and the keynote address will be delivered by Oregon's 34th governor, Barbara Roberts.
Click here for more information about Commencement.