WesternU tech leader named 2022 Info-Tech CIO award winner
November 15, 2022
Read 3 mins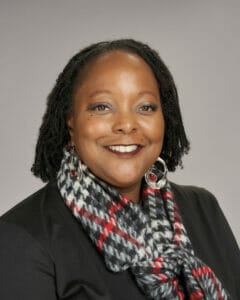 Western University of Health Sciences Associate Vice President of IT & Deputy Chief Operating Officer Denise (NeeCee) Cornish, DBA, MBA, has been named a 2022 Info-Tech CIO Award winner by Info-Tech Research Group, one of the world's leading IT research and advisory firms.
Dr. Cornish has been recognized as one of the top winners for the Large Business division.
Since 2016, the Info-Tech CIO Awards have recognized outstanding industry leaders for delivering exceptional value to their organizations and achieving high scores in stakeholder satisfaction in Info-Tech's CIO Business Vision program. This program measures an organization's satisfaction with IT's core services and provides CIOs with the foundation to jump-start a successful IT strategy.
"We have an incredible and extremely talented WesternU IT team. I am continuously impressed and grateful for the dedication this team demonstrates to our WesternU community," Dr. Cornish said. "This honor belongs to them, because without them, we would never be able to serve our community."
Dr. Cornish has worked at WesternU for more than 20 years, starting as an Oracle database programmer developing customized databases for finance and human resources. She took on more responsibilities and was promoted to project manager, then Director of Information Systems, and then Senior Director of Enterprise Applications and Databases. She was promoted to her current position in July 2020. WesternU's Information Technology department has about 55 employees overseeing about 500 applications.
"I am not surprised that Dr. Cornish is being recognized as one of the top winners in this year's InfoTech CIO Awards process," said WesternU Senior Vice President and Chief Operating Officer Clive Houston-Brown, EdD. "She is a dynamic and engaging mix of technologist and relationship-builder. Her focus on stakeholder satisfaction, internally amongst the IT staff and externally amongst the campus community, is part of her DNA. She stands out not just as a strong and vibrant leader, but as an individual who genuinely cares about and advocates for each person she deals with. Staff appreciation of this heartfelt outreach is clear in the results of the monthly IT staff engagement survey. I am proud to have a colleague of this caliber on our staff."
The winners of the Info-Tech CIO Awards were selected from hundreds of eligible contenders and were determined based on IT satisfaction and value scores, as assessed and quantified by their direct business stakeholders.
"The most critical metric for any IT leader is stakeholder satisfaction. The 2022 Info-Tech CIO Award recipients have demonstrated excellence through this key outcome and delivered exceptional value to their organizations," said Geoff Nielson, senior vice president, global services and delivery for Info-Tech Research Group. "It is our privilege to recognize and honor this year's award winners for the business and industry value they have delivered, and we wish them continued success."
To see the full list of winners and learn more about the awards, please visit here.
About Western University of Health Sciences

Western University of Health Sciences (www.westernu.edu), located in Pomona, Calif. and Lebanon, Ore., is an independent nonprofit health professions university, conferring degrees in dental medicine, health sciences, medical sciences, nursing, optometry, osteopathic medicine, pharmacy, physical therapy, physician assistant studies, podiatric medicine and veterinary medicine. WesternU is home to WesternU Health, where the best in collaborative health care services is offered.
About Info-Tech Research Group
Info-Tech Research Group is one of the world's leading information technology research and advisory firms, proudly serving over 30,000 IT professionals. The company produces unbiased and highly relevant research to help CIOs and IT leaders make strategic, timely, and well-informed decisions. For 25 years, Info-Tech has partnered closely with IT teams to provide them with everything they need, from actionable tools to analyst guidance, ensuring they deliver measurable results for their organizations.
Categories: