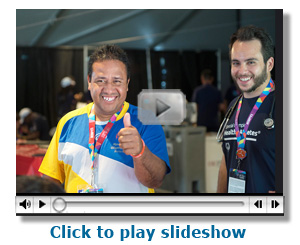 Western University of Health Sciences faculty, students and alumni were a critical part of the success of the 2015 Special Olympics World Games, the largest sports and humanitarian event in the world this year and the single biggest event in Los Angeles since the 1984 Olympic Games.
The World Games, held July 25 through August 2, 2015, benefited from the participation of WesternU's colleges of osteopathic medicine (COMP), graduate nursing (CGN), pharmacy (COP), allied health professions (CAHP), dentistry (CDM), podiatric medicine (CPM) and optometry (CO). Students, faculty and alumni from the colleges played key roles in organizing volunteer efforts and ensuring the health and well-being of athletes before and during the Games.
Leading the way was COMP Director of Clinical Education Natalie Nevins, DO '97, MSHPE '97. She served as medical director for MedFest, which provided the physical exam that all athletes needed prior to participating in Special Olympics sports programming. The exam was sometimes the first exposure the athletes had to medical care, according to the MedFest website.
Nevins and her team reviewed all medical records for about 7,000 athletes from 177 countries, with an initial goal of finding high-risk athletes, or ones who had incomplete paperwork. Health care providers and students then evaluated the athletes during MedFest so they could be cleared to participate in the Games.
"We have to take into consideration their special conditions and needs, as well as what type of athletic sports they're playing, so we can weigh the risks of any medical conditions they have that will still allow them to play safely and to fully enjoy the Games," said Nevins, whose team examined 600 to 700 athletes at MedFest in two days at two sites – USC and UCLA.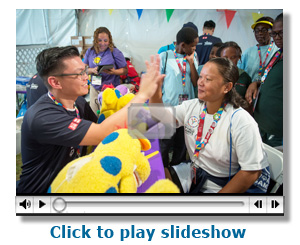 Special Olympics reached out to Nevins because of her experience with Care Harbor/LA. Nevins has been running Care Harbor – which provides free medical, dental and visions care to thousands of uninsured, underinsured and at-risk individuals and families – since 2007.
Dr. Matt Holder, global medical advisor for Special Olympics International and head of the Medical Advisory Committee, helped found MedFest in 2007.
"I can't imagine it being done without Dr. Nevins and without the support of WesternU," Holder said. "Ultimately, between MedFest at USC and UCLA, we have 200 to 300 health care volunteers that are pulling off this event for our athletes. We can't do it without the volunteers. There is no way you could pay for all this."
Second-year student pharmacist Nicole Mercado was determined to be part of the pharmacy team at MedFest. While in college in Puerto Rico, she worked with children with physical disabilities to develop motor skills. When she moved to City College in San Francisco, she did drama therapy to help her patients develop social skills.
"MedFest is just the start of something special," Mercado said. "I see this as an opportunity. If I could find a mentor to guide me into something related to both pharmacy and athletics in this population, it would all come together for me, like it was meant to happen."
Kevin Mai, a second year student pharmacist, said a lot of work happened before the Games began: His team compiled a list of nearly 700 medications from around the world, which allowed the health care staff at MedFest to determine needed medications quickly.
Second-year COMP student R.J. Stowe helped recruit several COMP students to volunteer at MedFest.
"We came out to be part of a social event with special people, but also an athletic event to gain more clinical experience," Stowe said. "We get to give back and serve the community during the summer when we have free time away from school. This is special, because they have a different kind of health need than your typical athlete. That becomes a unique learning experience serving a different kind of population."
WesternU faculty and students provided health examinations during the Games in special tents set up in and around USC's McCarthy Quad, organized by discipline — Fit Feet for podiatric medicine, Special Olympics–Lions Clubs International Opening Eyes for optometry, and Special Smiles for dental medicine. Physician Assistant Studies faculty, students and alumni provided first aid services during FanFest.
As the WesternU liaison to the advisory board for the Special Olympics, Dr. Karen Hanford, Dean of the College of Graduate Nursing and a member of the medical advisory board for the Games, gathered representatives from all of the colleges to explore WesternU's collective support leading up to the Special Olympics.
"The spirit of enthusiasm from our colleges to 'step up to the plate' was overwhelming," Hanford said. "It was a natural fit to demonstrate our support of interprofessional practice and to work with our colleagues to support the athletes, as well as the mission of Olympic Games."
The Special Olympics provides year-round sports training and competition to more than 2.5 million children and adults with intellectual disabilities. Eunice Kennedy Shriver founded it in 1968.
The number of volunteers from WesternU varied each day. On Tuesday, July 28, 2015, Opening Eyes had about 35 faculty and students volunteering from WesternU. Healthy Smiles and Fit Feet each had six.
According to its website, 30,000 volunteers and 500,000 spectators were expected at the Special Olympics World Games.
Special Olympics athletes lined up along the fencing surrounding the Healthy Athletes tents before the exams got underway, and quickly filled all the tents of each discipline.
The so-called language barrier was a common thread running through the exam process for WesternU volunteers.
"Our students, and pretty much any of the volunteers, have been able to use languages that we probably haven't used since we were very young," said CDM Assistant Professor Marisa Watanabe, DDS, who was clinical director for Healthy Smiles on July 28. "Several of our athletes are deaf, so I was able to use sign language, which I hadn't used since elementary school. We also spoke Spanish and French and we (were) able to use all the languages, even hand signals."
She said students helped with recording, oral hygiene instruction (OHI), translation, and directing the athletes throughout the dental screening area. Volunteer dentists were present to examine teeth and perform any dental emergency treatment in designated areas. CDM fourth-year student Mark Alex Stevens was student coordinator.
"WesternU is doing what we do best — serving the community," Watanabe said.
Fourth-year College of Optometry student Amanda Setto speaks Arabic and Turkish, and said she "was able speak with some athletes in their native languages." One of the athletes gave her a scarf from Palestine to show their appreciation, and several returned with their medals to take photos with the volunteers, she said.
College of Podiatric Medicine second-year student Peyman Danesh easily found ways around the language barrier.
"You can really communicate with them easily, get your point across and get the screening that needs to get done, while having fun at the same time,' Danesh said.
CPM Assistant Professors Rebecca Moellmer, DPM, and Jennifer D'Amico, DPM, shared duties overseeing students volunteering for Fit Feet. Screening consisted of a lower extremity vascular, dermatological and neurologic examination, as well as a musculoskeletal exam with biomechanical/gait evaluation.
"This is beneficial for students because they are introduced to common lower extremity maladies and understand treatments. More important, they get eight hours a day of biomechanics, which is a critical component of our specialty," Moellmer said.
College of Optometry Associate Professor Robert Lee, OD, was one of the clinical directors for Opening Eyes on July 28. This was his 10th year working with Special Olympics, and first time working the Special Olympics World Games.
"I don't know who's getting more out of this, me or the athletes," Lee said. "I'm having a really good time."