WesternU surrounds Board of Trustees Scholars with love and support
September 14, 2023
Read 1 mins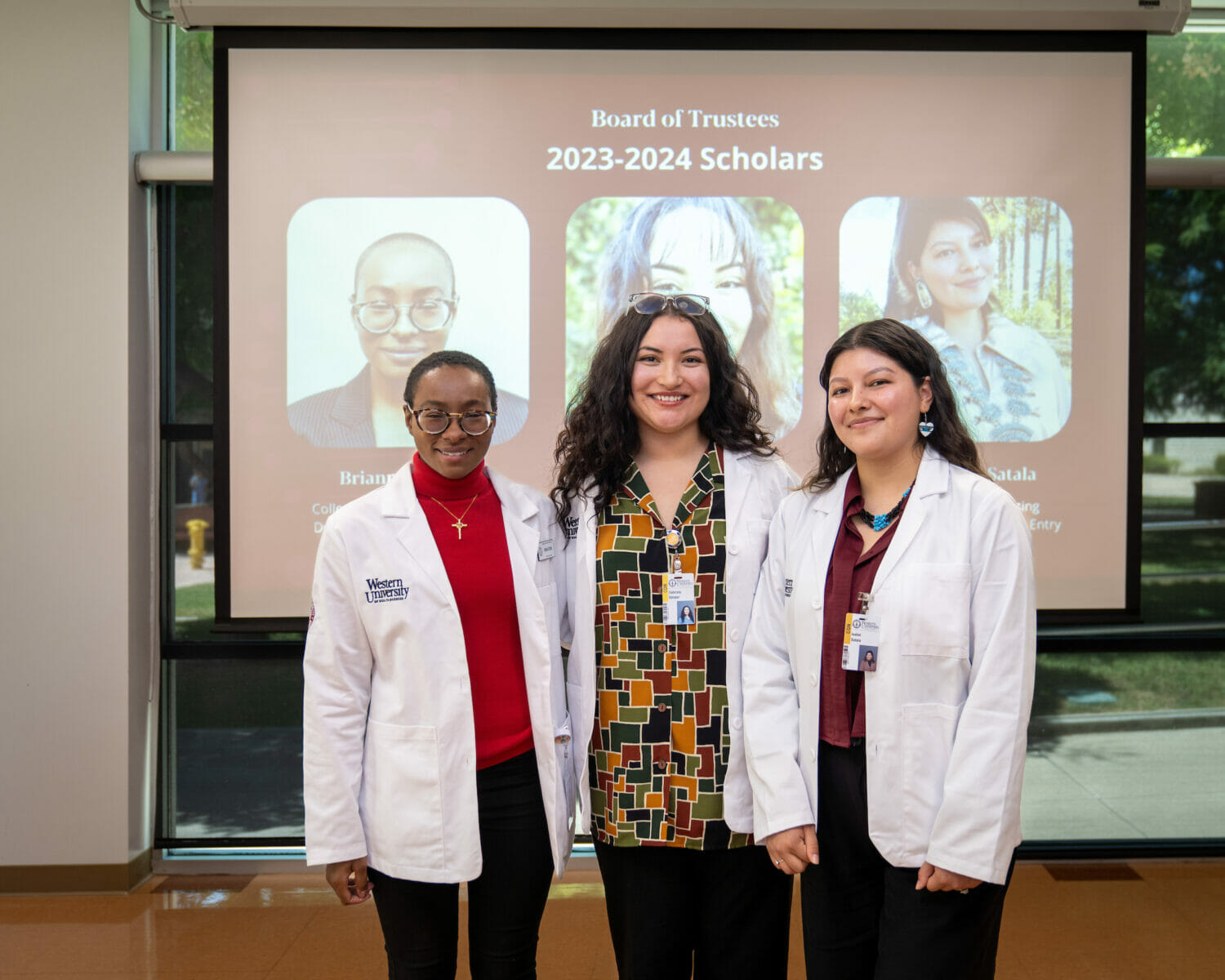 Western University of Health Sciences celebrated three new Board of Trustees Scholarship recipients by providing them encouragement and support.
College of Veterinary Medicine student Brianna Etienne, College of Dental Medicine student Gabriela Salazar, and College of Graduate Nursing student Isabel Tabaha Satala joined WesternU administrators, faculty and staff at a welcome luncheon on Aug. 30, 2023, on WesternU's Pomona, California campus.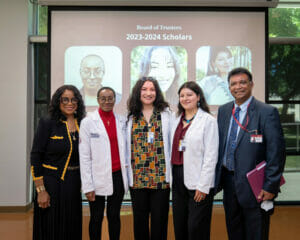 WesternU Senior Vice President of University Student Affairs Beverly Guidry, EdD, serves as the co-chair of the Board of Trustees Scholarship Committee and the Board of Trustees Scholar Success Circle along with WesternU Vice President for Humanism, Equity, and Anti-Racism (HEAR) Suresh Appavoo, EdD.
"The Board of Trustees Scholarship Fund was established in November 2021 for the purpose of supporting and empowering students from economically disadvantaged and underrepresented groups within the WesternU student body," Guidry said. "This scholarship endowment is a Board commitment to the WesternU core value of humanism and an investment in people of exceptional promise and intentional action toward removing structural barriers that impede the access and success of systematically excluded students in the health sciences. The Board remains committed to sustainable growth, not only in the diversity and number of scholarship recipients, but also to enabling the growth of the fund over the long term. We applaud and we are extremely proud of our students who have earned and who deserve their place as a BOT Scholar."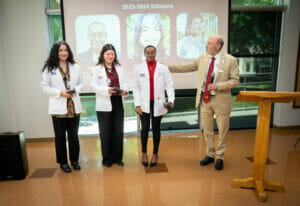 WesternU President Robin Farias-Eisner, MD, PhD, MBA, told the Scholars that they symbolize "who we are and who we aspire to become."
"Our three Scholars – Brianna, Gabriela, Isabel – you embody both the possibility and the promise of our commitment to humanism, to recognize the humanity inherent in all of us, providing access and education for success and to strive for health and educational equity for those that for so very long have been ignored," Farias-Eisner said. "Please join me in demonstrating to our three Scholars how much we cherish their accomplishments, their hard work, their determination and their will to succeed in healing this world."
The audience joined Dr. Farias-Eisner in applauding the Scholars. He then presented to each student a message and a gift – a hand-made Myrtlewood pen – from Board of Trustees member Catherine Mater, MSCE, and all the Board members from Oregon.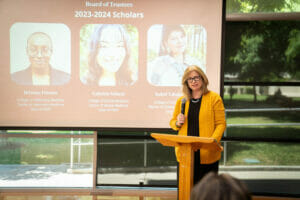 WesternU Provost Paula Crone, DO '92, said WesternU students, and especially the Board of Trustees Scholars, represent the top percentage of health sciences students in the nation.
Their commitment to a career of service as they join their respective health professions programs is even more special now, when our communities, both human and animal, need skilled and compassionate health care professionals more than ever before.
"Our Board of Trustees Scholars represent the hopes and dreams of ours and their communities for the future," Crone said. "They serve as important emblems of how we learn from an unequal past and take intentional action in the present to ensure a future that is inclusive and diverse. Brianna, Gabriela and Isabel – you represent the best of WesternU.
You have already demonstrated your extraordinary skills and passionate determination in your journey to get here. The hope and promise of the future lie before you. I have no doubt you are going to be among our very best ambassadors of the high standard of excellence and the distinctive humanistic caring and compassionate preparation that WesternU is known for. I look forward to watching the paths that you take and I'm confident you will help shape and remake our world into a better place."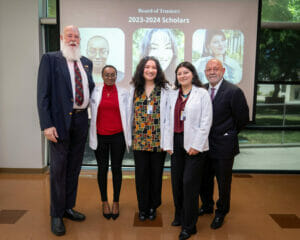 WesternU Senior Vice President of External Affairs Elizabeth Zamora, MBA, LHD (Hon.), introduced the two Board members in attendance – John Forbing, LHD (Hon.), and Vice Chair James Lally, DO'91, MS '93, who is an alumnus of both the College of Osteopathic Medicine of the Pacific and the College of Health Sciences.
"The important thing is that you're here," Lally said. "You're going to thrive."
Each Trustee Scholar was then asked to speak to the luncheon guests.
"I'm grateful for the people who believed in me, who never gave up on me," said CVM student Brianna Etienne. "I'm just grateful to be here and I hope to make a difference not only to people who are in underrepresented communities, as well as in future I want to make a huge impact for everyone. I just want to say thank you."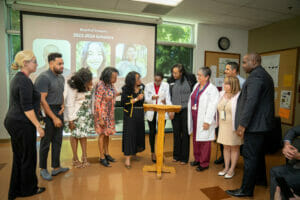 Etienne's emotional speech prompted Dr. Guidry to ask the Board of Trustees Scholar Success Circle, made up of faculty and staff from multiple colleges and departments throughout the University, to gather around Etienne and show their support.
"Let's show Brianna what we're going to be doing for her all year long," Guidry said as the committee stood with her in the front of the room. "We love you. We are so glad that you are here. We are going to be here for you all the time. Not just your college administration but all of these people. This is your circle of support. And we are going to encircle you to let you know you have so much support here at WesternU. You belong here. You belong here. You belong here."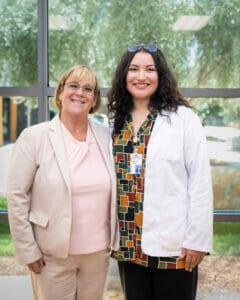 The support shown to Etienne was so beautiful, said CDM student Gabriela Salazar. Salazar said one of the lessons she learned from childhood was that everything happens for a reason.
"We might not ever know what that reason is, but it is for a reason," she said. "It's part of a path. It's part of a master plan. We just have to be patient. Things won't always work out but it's all going to be worth it in the end."
If she could change one thing in the world, Salazar said she wants everyone to not only be kind to one another, but be kinder to themselves.
"Sometimes we're very hard on ourselves," Salazar said. "Mental health is vital. I do wish that everyone was kinder to themselves. So we could start with everyone in this room. Just be nicer to yourselves."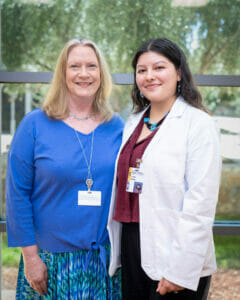 CGN student Isabel Tabaha Satala said her first name was selected by her mom, who picked a name out of a book. Tabaha is her grandmother's maiden name from her Navajo side and Satala is from her grandfather's Hopi side. She learned valuable lessons during childhood when going back home to Houck, Arizona.
"Learning the significance of our land and being thankful for that because it provided a lot of access for water and plants for us back home," Tabaha Satala said. "Another big thing I continuously am taught is teaching and giving back. There are a lot of women in my life who shaped me to be who I am today and have influenced me to take the path that I'm taking. So just remembering who you are and where you come from. They've always told me they're an improvement of their ancestors and I'm an improvement of them. And my sister and my siblings and students that I interact with will always be an improvement of me as well."
One thing she would change is more representation for health care professionals. Students should have access to support after high school, Tabaha Satala said. Not all students know what to do or where to go, even though they're considered an adult when they turn 18.
"That's some of the advocacy I'm continuing to do. Part of my education is continuing to be a part of that pipeline program and being a mentor for other Native students to find their journey to have someone to share that they can go there," Tabaha Satala said. "They can go to higher education. There's support. There are resources. Just combining those with your traditions and your goals. That's one thing I will continue to contribute."
Dr. Farias-Eisner closed the luncheon by telling the Scholars that their new WesternU family will support them and ensure their success.
"Don't you worry about a thing," Farias-Eisner said. "We are here for you and we will take you all the way through graduation and beyond because that's what we're here to do. Everyone in this room is here for you, and we are your new family and your community. So please know that."