Western University of Health Sciences' 2022 Student Technology and Research Symposium (STRS) highlighted the research accomplishments of the University's Student Summer Research Fellowship recipients.
Thirty-two students presented at STRS on Nov. 7, 2022, representing a broad range of topics and disciplines. STRS is presented by the Office of the Vice President for Research and Biotechnology. Click to view the Zoom recording of STRS.
Click to view a list of student presenters, mentors and project titles, and abstract award recipients.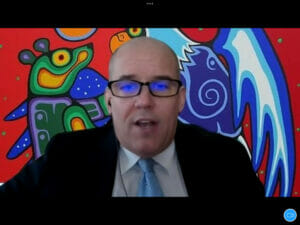 "Today's research symposium is one of the most exciting days of the year. It is a day where we all come together to celebrate the dedicated efforts and creativity shown by our research students and their mentors," said WesternU Interim Vice President for Research and Biotechnology Bradley Henson, DDS, PhD. "And students, I ask that you reflect today on the experiences you've had, and how unique and what a gift it is to be in medical school, or dental school or health professions programs, and have this close relationship with your mentor to really learn to be an academician. It's truly a unique opportunity that not everybody has in their health professions program…Trust me, you're going to be a stronger health care provider, academician, or whatever career path you choose as a result of your devotion to conducting cutting-edge biomedical research."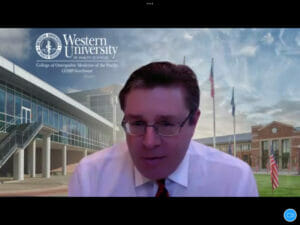 COMP Professor Hendrik Szurmant, PhD, who serves as the chair of the WesternU Research Committee, said there has been a shift at WesternU in the past year where the focus and the importance of research is being realized.
"I think we will all be seeing the fruits of that here today and in the years to come, that WesternU can grow to become an institute where real interesting and important research can be done and students are a major part of this," Szurmant said.
College of Veterinary Medicine student Alexandra López de Victoria served as a Veterinary Student Research Program Fellow at AO Research Institute in Davos, Switzerland. She learned how research, using animal models, is essential for health care and how much their welfare is taken into consideration in these projects, which is something people are generally unaware of, she said. Her research project focused on bacteriophage therapy, where she learned about their structure, purpose and how they can be used therapeutically, as an alternate or adjunct to antibiotic therapy.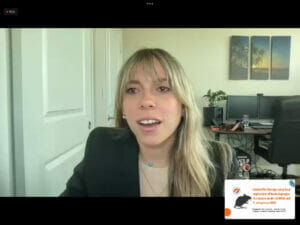 "My interest in research sparked from my interest in orthopedic medicine. I plan to specialize in surgery once I graduate," López de Victoria said. "I believe it is important for my future patients that I keep up to date with the latest research findings to improve their care, management, and treatment of various disease processes. I do see myself involved in future research projects, especially if it means I can help improve the health and well-being of my patients."
She said she really enjoyed presenting at STRS and felt very fortunate to have the opportunity to share her project with the WesternU community.
"It was interesting to learn about the different types of research projects being conducted by students within the different disciplines of WesternU, but I was also able to see how a lot of those projects can be translated into veterinary medicine," López de Victoria said. "The symposium also re-enforced the idea of One Health for me. It made it clearer how not only this approach is necessary clinically, but how the advancement of the medical and scientific community heavily relies on the collaboration of multiple disciplines."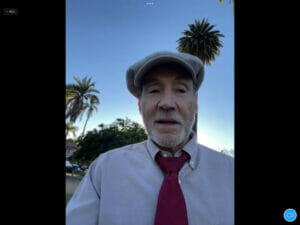 WesternU President Robin Farias-Eisner, MD, PhD, MBA, engaged in the discussions following the students' presentations, and also expressed to the students that he is delighted and honored to be part of this symposium. He said he is a strong advocate of all forms of research – basic science, translational, and clinical research, and STRS included all three.
"I would like to indicate to you all that I believe we have a tremendous opportunity in our growth and expansion to focus on research and to ramp up our research process and our granting opportunities, both intramural and extramural," Farias-Eisner said. "Through our Capital Campaign, one of my focuses and targets will be specifically to enhance the bandwidth of our research opportunity. I'm very grateful to all of you for what you're doing. And I encourage you to continue this outstanding work. Thank you again for putting this together."
A faculty committee evaluated all STRS presentations and awarded three prizes:
Tied for second place are CVM student Alexandra López de Victoria for her presentation "Antibiofilm therapy using local application of bacteriophages in a mouse model of MRSA and Pseudomonas aeruginosa ODRI" and COMP-Northwest student Hamsat Anwar for her presentation "Production of Motor Capsular Responses with Asleep Deep Brain Stimulation in Patients with Parkinson's." They each received a $300 prize.
COMP student Alan Hsieh earned the $500 first place prize for his presentation "Transcriptional Profiling of Germline-Encoded, Mycolyl-Reactive Cells in Previously Mycobacterium tuberculosis-Exposed Peruvians."