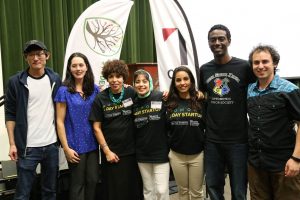 A group of Western University of Health Sciences students participated in 3 Day Startup (3DS) Pomona, where they learned entrepreneurial skills in a hands-on environment.
Pomona 3DS, which took place Oct. 28-30, 2016 at Cal Poly Pomona, was sponsored by WesternU, Cal Poly Pomona, the city of Pomona and the Pomona Chamber of Commerce. College of Veterinary Medicine students Hayley Sullivan and Oren Ofer, College of Optometry student Fayiz Mahgoub, and College of Osteopathic Medicine of the Pacific (COMP) student Gene Yoo participated. WesternU faculty members Ed Wagner (COMP), Munish Sharma (College of Optometry), Adam Hain (Center for Academic and Professional Enhancement), and Hannah Mirrashed (College of Veterinary Medicine) served as mentors.
"Even though this 3DS did not necessarily pertain to medicine, it was a wonderful experience that helped me to realize the importance and need for more physician entrepreneurs in the medical field as we continue to combat the rise of older and newer diseases," said Yoo, a first-year COMP student. "I see a great future for this event, and I hope that it comes back and more people are made aware of the opportunities here and the potential it has to better treat our future patients."
"I believe that there are many ambitious students at WesternU who would like to make a positive change in the world," said Mahgoub, a third-year student. "3DS is a great opportunity for those students to learn what it takes to transform their big ideas into real-world solutions for today's problems."
COMP Professor Edward J. Wagner, PhD, described his experience as "very rewarding to participate as a mentor for this very successful event, and to see how the entrepreneurial skills of the students evolved and improved over the course of the weekend."
CVM classmates Sullivan and Ofer signed up for 3DS because they have ideas for veterinary businesses and inventions that they want to collaborate on, Sullivan said. Their team worked on one of their ideas, a special kind of veterinary pharmacy. The final presentation went really well, she said.
"I plan on having other business endeavors when I am a veterinarian to supplement my income of the future," Sullivan said. "This helped me realize that this is possible, and that our idea was well received."
Each team fleshed out an idea, went into the community to talk to potential customers about it, then presented their idea to a panel of investors, business people and entrepreneurs. CVM Research Laboratory Manager Hannah Mirrashed, PhD, served as a mentor to the students.
"The main goal was to encourage students to be creative and follow their dreams, and more important, to help students learn how to create a startup within a tight deadline," she said.
"They were looking for the best marketing strategy in order to be able to open a business in their professional field. Based on their business plans, all mentors structured them via questioning their strategy, intermediating pitches, and giving them constructive feedback."
Serving as a mentor gave her the opportunity to help and encourage students to be creative.
"It was a wonderful and rewarding experience for me to observe all those brilliant ideas," Mirrashed said. "(3 Day Startup) was an amazing journey in helping young students to follow their dreams and working hard in making a fruitful career."
In October 2015, WesternU agreed to sponsor 3DS with other community partners. WesternU's organizers were CVM Professor of Parasitology & Global Health Malika Kachani, DVM, PhD, COMP Assistant Professor and Director of the Global and Community Health Center Maryam Othman MD, MPH, and second-year CVM student Christina Trabanco, president of WesternU's Parasitology Club.
Speaking on behalf of Trabanco and Kachani, Othman said, "Introducing entrepreneurship in the medical discipline, which traditionally lacks entrepreneurship teaching, is an essential component in health care innovation. What's so special about this 3DS is that there was a partnership between a health sciences school and engineering, computer science and business schools, which probably allowed the students to innovate at a rapid pace, and to understand the complex problems by interviewing the community. For that reason and more, we are planning on having the Pomona 3DS as an annual event in October."