WesternU students, faculty volunteer at Care Harbor LA
January 21, 2017
Read 3 mins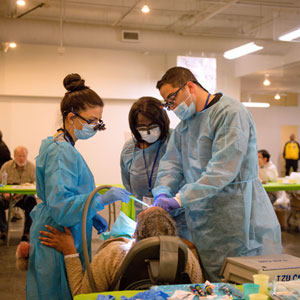 Care Harbor Los Angeles is providing free medical, dental, vision and preventative care to more than 3,000 Angelenos who have nowhere to turn for the health care they need Jan. 20-22, 2017 in downtown Los Angeles.
Western University of Health Sciences student volunteers are providing a valuable community service while also learning about the importance of continuity of care, preventive medicine and compassion.
This year's event placed a special focus on preventing type 2 diabetes. Patients were connected to several resources on site, and diabetic retinopathy eye exams were available.
"We want to make sure those patients are captured," said WesternU College of Osteopathic Medicine of the Pacific (COMP) Director of Clinical Education Natalie Nevins, DO, MSHPE, who serves as Care Harbor's medical director "Often they actually know they're diabetics, but they can't afford their medication, and they've just given up. Our goal is to make sure that doesn't continue to happen."
Students learn valuable lessons by volunteering at Care Harbor because "when you train in service, you stay in service," Nevins said. "The whole point is to get exposure to what it means to care for our most vulnerable populations as soon as possible, to see what an impact we have.
"It's about compassionate care. There are flowers here. Every patient is hand walked where they need to go. They are not pointed. They are not cattle. They are treated with compassion and caring and respect, and that's what we want our students to learn about: how to take care of patients."
West Los Angeles resident Lloyd Stronach, 68, was given an exam and will receive a free pair of new glasses.
"I'm on a fixed income. I don't have money for that service," he said. "I think they're doing a beautiful job here helping people."
Care Harbor will provide dental care to the more than 60 percent of clinic patients who request dental services, including cleanings, fillings, extractions, simple root canals, denture repairs and partial dentures, made overnight and fitted the following day.
A group of students and faculty from WesternU's College of Dental Medicine provided extractions, restorative fillings and cleanings Jan. 20, and another group was scheduled to volunteer Jan. 22. Participating in Care Harbor is important because dental care is one of the largest unmet health needs, said College of Dental Medicine Associate Professor Bertha O. Alarcon, DDS.
"It is important for me as a provider to participate and help relieve that unmet need, and make a change in someone's life," she said. "For students, I think it's very important for them to realize their services are in great need. WesternU has woven service to the community into our goals."
Third-year College of Podiatric Medicine student Jano Boghossian, who volunteered Jan. 20, said Care Harbor provides an opportunity to put skills he learned in the classroom to use with patients.
"It's good to be part of these types of community outreach events," he said. "Not only can we provide our services, our patients get exposure to our field, people who may not know about podiatry."
COMP alumna Vera Valdez, DO '13, chief resident of internal medicine at Community Memorial Hospital in Ventura, California, said patients are thankful for the help.
"Most of them give you a hug and say, 'Thank you for listening to me,'" Valdez said. "They want to be heard, and here they see doctors putting in extra time to listen to them."
Care Harbor's six previous clinics have treated a total of 18,872 patients, providing 94,356 medical, dental and vision services. Care Harbor has connected more than 4,200 patients to medical homes — approximately 25-30 percent of patients at each clinic. Care Harbor has provided free care valued at more than $10.6 million (based on Medicare reimbursement or regional mean costs of care), according to Care Harbor.
Certified insurance navigators provided by L.A. County were on site to educate and enroll patients into the coverage programs available to them. Each patient gets a community clinic referral to a medical home, Nevins said.
"Because we're using an electronic medical record along with our paper record, they will get that sent directly to their receiving clinic, and they will receive text messages reminding them to show up for their clinic appointment," she said. "We're excited about making sure we capture these patients and refer them to a medical home for the future, and not just do Band-Aid therapy."