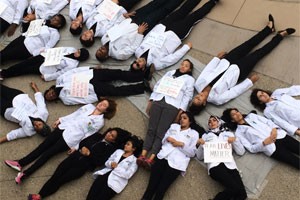 About 30 Western University of Health Sciences students lay down on the ground for 10 minutes to show solidarity in decreasing gun violence.
The #WhiteCoats4BlackLives "Die-In" demonstration Dec. 10, 2015 was organized by WesternU's Student National Medical Association (SNMA).
"We want to continue to emphasize that we as health professionals, regardless of what college you're from, have influence over our patients," said SNMA President and first-year College of Osteopathic Medicine of the Pacific student Etuajie Oiyemhonlan. "And we will have patients that will come in with disparities and it should be our due diligence to treat them equally, and as physicians to be directed toward social progress for all, particularly those most affected by '–isms' and burdened by poor health outcomes. It does affect us all. Injustice anywhere is a threat to justice everywhere."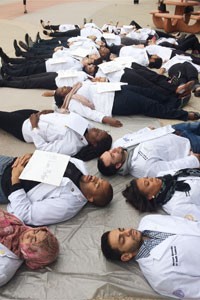 The #WhiteCoats4BlackLives movement started a year ago on the campuses of Harvard University, Weill Cornell Medical College and the UC San Francisco School of Medicine in response to the non-indictment of officers responsible for the deaths of Michael Brown in Ferguson, Missouri and Eric Garner in Staten Island, New York, Oiyemhonlan said.
"It was an open letter calling for public response and attention to a lot of the violence that we're facing as communities," she said. "Last year, over 3,000 students at more than 80 medical schools across the country participated in the action, demonstrating solidarity with communities, protesting against disparities in medicine, racism, decreasing all of the '–isms,' decreasing brutality and publicly stating that health professionals must confront violence and institutionalized disparities. This message is not confined to just African American lives. It's not confined to just Asian lives. This message is for all. And gun violence affects us all."
Dec. 10 was selected because it is International Human Rights Day, and organizers thought it was an appropriate day to move toward creating a positive atmosphere, Oiyemhonlan said. WesternU students were also deeply affected by the recent mass shootings in San Bernardino and Paris, France.
"Having created a national network of justice-minded medical students, we wanted to build on our classmates' energy around these protests and make sure White Coats for Black Lives was not just a one-time action but an ongoing movement to emphasize how important it is for us as health professionals to help in decreasing gun violence in our communities," Oiyemhonlan said.