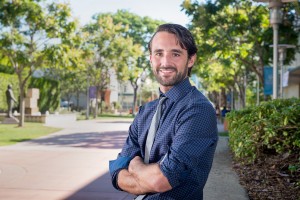 Third-year College of Osteopathic Medicine of the Pacific student Shawn Whelan has been named a recipient of the Soozie Courter Hemophilia Scholarship. He is one of five graduate students across the United States to be recognized with this award, which was established by Pfizer Inc. to inspire deserving students living with hemophilia to achieve their educational goals.
Hemophilia, which affects predominately males, is a type of bleeding disorder that causes the blood to take a long time to clot as a result of a deficiency in one of several blood clotting factors. While there is no cure, with knowledge, healthy choices, and proper treatment, patients with hemophilia can effectively manage their disease. There are approximately 20,000 individuals in the United States living with hemophilia, according to the Centers for Disease Control and Prevention.
Whelan has lived with hemophilia since birth, which came as a surprise to his parents. His maternal grandfather had hemophilia, but a prenatal screening for hemophilia came back negative. When Whelan was born he did not stop bleeding after his circumcision. He was put on life support and received blood transfusions from family and friends.
"Early on, it was really difficult for my parents to navigate where to find treatment," he said. "Every time I would have an injury, I would experience internal bleeding. We would have to go to the emergency room. It was happening on a weekly basis. That was a real burden."
One of the first milestones in Whelan's treatment happened when he attended a weeklong camp for hemophiliacs at age 7. At first he didn't want others to know he had hemophilia.
"I wanted to be normal and fit in. I thought everyone there would be disabled. It wasn't something I wanted to associate with," he said. "My parents bribed me with a Nintendo to go.
"I saw capable people there. They would run around and have fun. We'd go to the infirmary to get our medication. There I learned to do intravenous infusions myself," Whelan said. "I learned to get more independence and to take more responsibility to manage my condition myself. I made a lot of friends in the community and became a mentor to other kids there. It was really rewarding."
Having to limit his activities was difficult while growing up, and the lessons came with a price. He once fell on his hip while skateboarding at age 12. The next day his uncle took him wakeboarding, and Whelan didn't tell anybody his hip hurt.
"My hip became so swollen I couldn't walk for a few months," he said. "It was really a wake-up call that what I was doing had consequences. I had to own my responsibility a little better. I learned the hard way, but I eventually got the message."
Whelan became interested in science and research, and decided to pursue biology and medicine at UC San Diego. After graduation, he conducted research for four years in Vienna, Austria on ways to improve hemophilia treatments. He published his work in the scientific journal Blood.
He also wanted to have a direct impact on patients' lives, which brought him to WesternU.
"The philosophy of WesternU is to take a holistic approach to medicine," Whelan said. "Being able to take a hands-on approach was really exciting, and something I wanted to incorporate into the type of physician I aspire to be."
Whelan was inspired by the medical professionals who were truly compassionate and understanding in helping him through the years.
"They allowed me to overcome a lot of challenges of my disorder and live an active, healthy life," Whelan said. "I wanted to be able to do that for other people, as well. I do a lot of counseling on diet and exercise to motivate change. Seeing the same patient come back with improved outcomes is really cementing what it is I'm doing, and why it is I'm pursuing medicine."
Categories: