Second-year Western University of Health Sciences College of Dental Medicine (CDM) student Amanda Puustinen and first-year CDM student Vineza Reduta, who are part of the WesternU club American Student Dental Association (ASDA), created a "survival guide" on ideas to stay safe and healthy during the COVID-19 quarantine. It was part of their weekly Instagram campaign called "Wellness Wednesdays."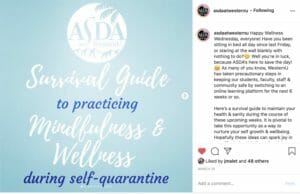 Puustinen says she enjoys being able to share wellness content through ASDA social media, inspiring wellness during stressful times.
"Despite social distancing, it is nice to see our members staying active, trying new things like workouts and recipes, and using this time to decompress from our rigorous schedules," Puustinen said. "Wellness is one of the major aspects of our daily lives that we are solely in charge of as individuals. As health care students, we are taught to put other's needs before our own, but in a time of crisis such as now, it is increasingly important to focus on not only our own wellness but also the wellness of those in the community around us."
Second-year CDM student Michael Yoo also created content for the WesternU ASDA Instagram page and its blog. He created four infographics on basic preventative measures following CDC guidelines.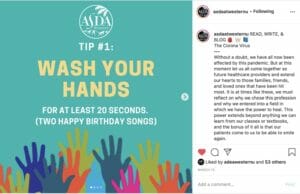 Dental student starts viral Instagram campaign
Third-year College of Dental Medicine student Gregory Marchese started an Instagram campaign with a hashtag #BeAwesomeToOneAnother, showcasing how humanism is imbued as a rich tradition in WesternU's mission statement.
Marchese (@marchesedmd) is an influencer on Instagram and challenged fellow influencers, both WesternU students and fellow community influencers, to participate, hoping to reach more than 250,000 Instagram users.
College of Graduate Nursing MSN-E student Erica De Haro (@themindfullnurse_), College of Veterinary Medicine student Jaky Wilson (@thesustainablevet) and College of Optometry student Nadia Afkhami (@eyeamnadia) were among the WesternU students participating in this campaign.