WesternU stocks Care Cabinets to address food insecurity and inflation
December 12, 2022
Read 4 mins
Western University of Health Sciences has created Care Cabinets on its Pomona, California and Lebanon, Oregon campuses to provide food and supplies to those who need it.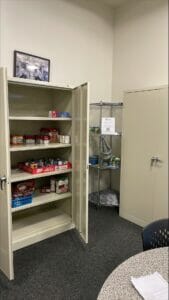 The Pomona Care Cabinet, located in the Health Professions Center (HPC) Student Commons, opened in November 2022 in response to an emergency initiative from WesternU leadership as a way to address food insecurity on campus.
Anyone on campus can take what they need, no questions asked. University Student Affairs (USA) will check the Care Cabinet regularly to ensure food has not expired and to restock it. Food donations should not be left at the Care Cabinet. USA is developing a procedure to donate items, which is expected to be in place after winter break.
"With rising inflation and the pandemic going on almost three years, people are experiencing difficulties," said Assistant Vice President for University Student Affairs Christy Ho, MS. "We're hoping to address food insecurity and access to essential hygiene products for our WesternU family."
University Advancement has created a fund and raised $4,600 to support the Care Cabinets. Visit https://alumnifriends.westernu.edu/WUSES to support the Care Cabinets and the WesternU Student Emergency Support Fund.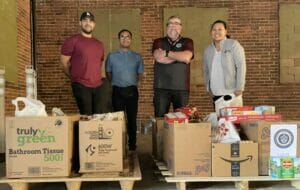 The Pomona Care Cabinet was jumpstarted by a large donation of non-perishable food from the Rotary Club of Pomona on Nov. 18. The food was collected during a food drive by students at Pomona Catholic High School, which has a long association with Pomona Rotary thanks to Rotary's student programs and Student of the Month awards. Pomona Catholic students asked for Rotary's help finding a worthy recipient for the food, as Rotary is broadly connected throughout the community and we always find a good home for such donations, said WesternU Vice President of Community and Governmental Affairs Jeff Keating, MA, who also serves as a Pomona Rotary board member.
"Rotary chose WesternU as the recipient this year in appreciation of the longtime support the University has given to Rotary and to the community, the respect the University has throughout the city, and because of awareness of the need that led to creation of the food pantry," Keating said. "All of us in Pomona Rotary hope this donation will help the pantry get off to a good start."
COMP-Northwest started a Care Cabinet in October 2021 as a way to support students.
"We wanted to create a food and nutrition resource for students, and we knew faculty and staff wanted to be part of the solution," said Mirabelle Fernandes Paul, EdD, WesternU Oregon Assistant Vice President for University Student Affairs and COMP-Northwest Associate Dean of Student Affairs. "We initially called it a pantry, but realized we were not just addressing food insecurity. For example, we realized students who are parents need essentials like diapers, wipes and toiletries. 'Care Cabinet' covers food, hygiene products and other life-essentials."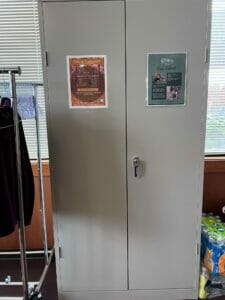 The Care Cabinet in the Student Center at COMP-Northwest is left unlocked and available to anyone who needs it. COMP-Northwest and CHS-Northwest students are invited to utilize the Care Cabinet, and WesternU Oregon Student Affairs has ordered a Care Cabinet for the CHS-Northwest building to be stocked after the winter break.
For now, non-perishable donations can be brought to Student Affairs in the administration area on the second floor of COMP-Northwest. The College has received a monetary donation from the Oregon Association of Family Physicians for the Care Cabinet. Monetary and gift card donations also help provide groceries to students going through a crisis so they can focus on taking care of themselves and their family. Email StudentAffairsOR@westernu.edu to inquire about monetary donations.
Student Affairs and SGA work with local farmers markets to request fresh produce donations. They are also looking to create opportunities for students to promote health eating choices and osteopathic medicine at farmers markets in Albany and Lebanon, Fernandes Paul said.